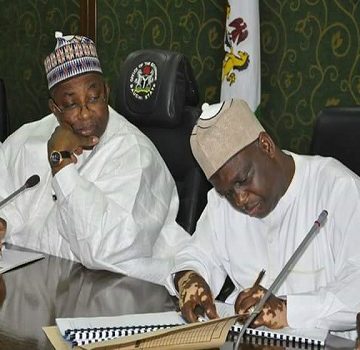 DETERMINE to reduce unemployment, rural-urban drift and diversify the economy through boosting agriculture, Bauchi state government has signed an agreement for the supply of 500 units of tractors for distribution to farmers through Public-Private-Partnership (PPP) system of government.
The State Governor, Mohammed Abdullahi Abubakar white signing the agreement explained that the epoch-making event for the supply of the 500 tractors was meant to boost agriculture and widen the opportunities for youth employment in the state.
A statement signed by the Press Secretary to the Governor, Abubakar Al-Sadique, contained that the tractors are to be distributed to registered farmers and farmers' cooperatives on loan to be repaid over a period of three years.
The statement further contained that the agreement with Hakar Engineering Limited tagged "Subsidized Agricultural tractorization ownership programme," involves the supply of 500, 75 horse power tractors, fully equipped with a plough, ridges, harrow and trailers which are to be sold to farmers.
The Governor also said that the supply of the tractors was the first time Bauchi state government is making such massive efforts to promote agricultural mechanization, in line with the APC manifesto and the campaign promises they made.
Mohammed Abubakar, however, observed that Nigeria, especially its Northern part, must make concerted efforts to engage its unemployed youth through agriculture, noting that his administration has embarked on the mechanization of the sector to attract other people to the sector.
ALSO READ: Bauchi Governor moves to reconstitute Executive Council one year after
"This administration pilot the transformation of agriculture from subsistence level that 80% of our farmers are known for decades to a real business that will create thousands of jobs and boost our economy," Mohammed Abubakar said.
He added that "That Nigeria is projected to be the third most populous country in the world by the year 2050 is a reason for us to pause and think. The north is also projected to have most of the nation's population and there are no jobs to engage that population influx. We must, therefore, take full advantage of the comparative advantage our conducive environment offers for the cultivation of most crops in commercial quantity."
Managing Director and Chief Executive Officer of Hakar Engineering Ltd, Engineer Shuaibu Abdullahi said the tractorisation exercise will further equip rural farmers and boost agriculture.
While assuring of quick delivery of the tractors, the contractor noted that the administration of Governor Mohammed Abubakar will be leaving a lasting legacy for the next generations.