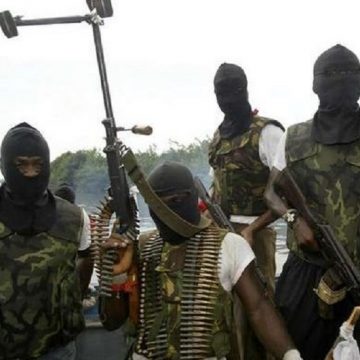 J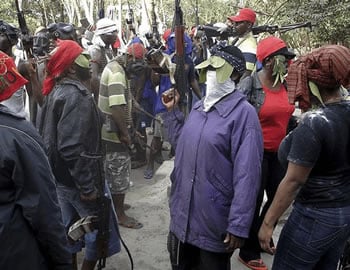 ust when Nigerians thought peace has gradually returned to the Niger Delta region, members of the Niger Delta Avengers (NDA) have, at 1:15a.m on Sunday blown up Chevron's two major oil well 7 and 8 close to Abiteye flow station in Delta State.
The group also reported through its tweeter handle late Saturday at 11:26p.m that its strike team had blown up two major crude oil trunkline belonging to the Nigerian Petroleum Development Company (NPDC) close to Batan flow station in the oil-rich state.
At about 11:30p,m of Saturday, the avengers also tweeted that it blew up the Nigerian National Petroleum Corporation (NNPC) Crude Oil Trunk Line to Warri Refinery at 9:15p.m on Friday.
All the operations, the group boasted, were carried out by its strike team whom it commended for a job well done in another tweet.
"At 9:15p.m on Friday, the @NDAvengers blow up Nigerian National Petroleum Corporation (NNPC) Crude Oil Trunk Line to Warri Refinery," the group, which has claimed responsibility for previous pipelines bombings, tweeted.
Continuing, the group tweeted thus: "At 11:26pm on Saturday @NDAvengers blow up two NPDC major crude trunk lines close to Batan flowstation in Delta state.
"At 1:15am on Sunday @NDAvengers blow up two major Chevron Oil Wells. WELL 7 and WELL 8 close to Abiteye flow station in Delta state.
"ALL FIVE OPERATIONS WAS CARRIED OUT BY @NDAvengers STRIKE TEAM. WELL DONE SOLDIERS," it concluded.
The group, however, did not give further details of the sabotages, five of several already accomplished this year alone which have nearly crippled the country's revenue base.
Meanwhile, none of the destructions could be confirmed from officials of the Nigerian Army, Nigerian Navy and the oil companies as they could not be reached as of the time of filing this report.
It will be recalled that the incidents occurred few hours and a day after the visit of the new acting Inspector General of Police, Ibrahim Kpotun Idris, to Ugborodo and Gbaramatu kingdom in Warri South West Local Area of the state to clamour for peace and partnership with the Itsekiri and Ijaw natives.
The avengers had rejected dialogue with the Federal Government, insisting on self-determination for the Niger Delta region owing to environmental degradation, underdevelopment and lack of infrastructural development in the area among other reasons.
The group had, on Friday, denied the alleged arrest of two of its members as claimed by the Department of Security Service (DSS) in the media, calling DSS liars who are deceiving President Buhari and Nigerians.
The group also boasted that "the Nigeria army will never get us (Niger Delta Avengers), let them go and settle with their sleeper agents and stop deceiving the general public and their President."
President Buhari, had, recently in Abuja, begged the Avengers to halt all onslaughts on the nation's oil economy, promising to address all grievances.
With the nation's economy already down on its knees, coupled with constant electricity generation problem through gas, more woes may just be awaiting it. End