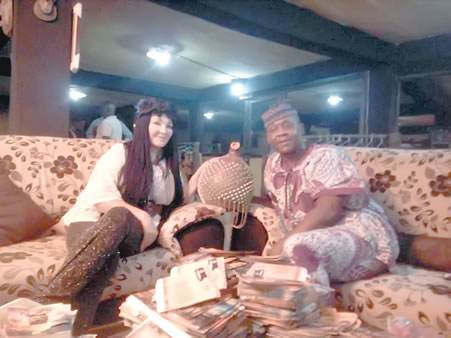 The promoter of Atunda Entertainment group, Ambassador Wanle Akinboboye, has described the totality of African music and lyrics as a potent cache for the mobilization of tourists across the continents of the world to Africa.
Dr Akinboboye made this observation at La Campagne Tropicana Beach Resort, Ikegun Village, Ibeju-Lekki, Lagos, on Friday while signing an MOU with an international French Music act, Afri Bee, in preparation for the 2018 African International Music, AIM Festival, scheduled for the first week in December
He pointed out "Africa as a continent has been psychologically subdued and culturally disconcerted to believe that the totality of its spiritual and physical identity which is exemplified by its culture is crude, primitive, archaic and uncivilised, having been privileged to the research that Africa continent is blessed with an incomparable cultural value and asset if blossomed will dominate the socio-cultural firmament of the world."
Dr. Akinboboye disclosed "Atunda Entertainment has been over the years exploring  and redefining music, not only as a medium of entertainment, but a potent instrument of building intercontinental relationships, cultural  networking and mobilizing periodic migration between continents."
He revealed that "It is in the course of our desire to show the world that Africa's  music is a powerful tourism instrument which actuated us hosting the African International Music Festival last year, an event attended by  music acts from 48 African countries."
Dr. Akinboboye disclosed "the spectacular success recorded by AIM Festival last year and in our bid to further strengthen the intercultural relationship with Europe, I am happy to inform you that Atunda has not only signed an MOU with three talented music acts from Europe, but is happy to unveil one of the acts who is here today, not only to tell the world that she will be performing but also to learn how to infuse African music and dancing style into her brand."
While introducing   Queen Afri Bee, one of the acts, Dr. Akinboboye said  the idea is to  add to the fold of Atunda Entertainment musicians from other parts of the world with the intention of luring them African beat and music and adopt it as one of their businesses in their locations.
He said the decision is  geared towards the  plan of  French President Emmanuel Macron who is the opening door of opportunities  for Africans in Europe to unite and showcase their tradition and culture through a festival which he tagged 'Let them be.
Speaking on the development, Shopie Assas, whose stage name is Queen Afri Bee, said "coming to Nigeria is like a film," "Coming to Nigeria is like a drama, it's something I have been dreaming about and I thank God that it has come to fruition and I will forever be grateful to Atunda Entertainment group for accepting me as one of their own."
She said: "I am ready to work with the group, I have watched their performances on YouTube and I love their style, I believe joining them will afford me opportunities to explore the African music industry and at the same time initiate cultural exchange with Nigerians."
Queen Afri Bee, a multi-talented songwriter, producer, builder, and architect,   disclosed that she has been singing and writing music since age 13 and has never enjoyed any beat like African beat 'Africa is the root of music and beat, so coming here is like coming home to the root of music and beat which I believe will be an interesting exposure."
The French singer said, "apart from enjoying the beat, I have also been privileged to learn new dancing steps and style which is more energetic than what I am used to over there. I love it and I enjoy every bit of my stay in Nigeria which I am visiting for the first time. Before the journey, I had no idea of what I was going to meet or see but I came here because I believe I am going to meet a capable and responsible person and I have had a lot of good impression about Nigeria."
Speaking on 'Let Them Be' festival, Queen Afri Bee said "the festival is part of vision 2020 initiated by President Macron, which is purposely to give African in Europe and other parts of the world a voice, in the entertainment world, a platform to showcase and promote their culture in the Western world, and I will be involved I will use that occasion to also further promote Atunda Entertainment group."