Attacks on 'Resume or Resign' protesters is height of dictatorship —Fayose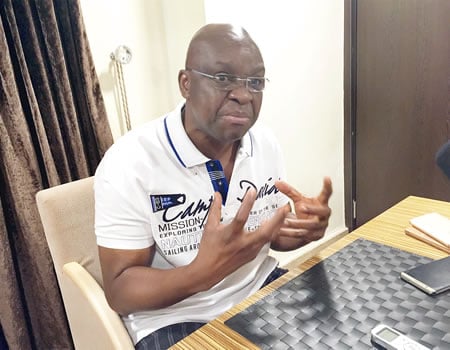 Ekiti State Governor, Mr Ayodele Fayose, has condemned the attacks on the 'Resume or Resign', protesters, describing it as the height of dictatorship and demonstration of intolerance to opposing views by the All Progressives Congress (APC) government.
The governor, who said he was particularly miffed by what he called orchestrated attack on the protesters at Wuse market, Abuja on Tuesday, added that: "By arranging hoodlums to attack Nigerians who were exercising their fundamental rights to protest against the government, the APC government has shown that it has lost support and trust of Nigerians.
Special Assistant to the governor on Public Communications and New Media, Lere Olayinka, said in a statement issued 
on Wednesday
 that Governor Fayose told journalists that any attempt to silence Nigerians, especially those opposed to the APC government will fail.
He said it was now more obvious that the APC-led Federal Government do not have anything in stock other than destruction of the country.
The governor, who maintained that demanding for the health status of the President was the right of Nigerians, said it was funny that armed policemen were available to protect those who protested in support of the APC government, but the same police attacked the "Return or Resign" protesters.
He said; "When PDP was in government, these same people in government now held series of protests against the government then. They held 'Occupy Nigeria' to protest against fuel price hike and the Bring Back Our Girls protesters were everywhere then.
"Even, President Muhammadu Buhari led protests in Abuja against PDP government. The President led protesters to the National Assembly to protest against the continued absence of the late President Umaru Yar'Adua from the country and went ahead to call for Yar'Adua's impeachment.
"Then, no one was attacked by security men and hoodlums were not set after the protesters as was done in Abuja yesterday.
"It is therefore shameful that the same people who rode on the back of democratic principles to power are now standing against the rights of Nigerians to complain and the international community should pay special attention to the rule of brute force going on in the country."