At festival, traditional rulers, others harp on relevance of Ifa divination
From 1962 when one of Yoruba's foremost culture enthusiasts and promoters, the Araba of Osogbo, Ifayemi Elebuibon started, he has not missed his yearly Ogbeyonu Festival, a cultural gathering which is now assuming international status. TUNDE BUSARI reports the recently held edition in Osogbo, the Osun State capital amidst glamour.
One after the other, the trio of the  Olowu of Owu-Kuta, Oba Adekunle Oyelude, Olufon of Ifon-Orolu, Oba Almaruf Magbagbeola and the Oludo of Ido-Osun, Oba Aderemi Adedapo, arrived at Adebimpe Events Centre in Osogbo, where the Araba of Osogbo, Ifayemi Elebuibon, was hosting the grand finale of this year's Ogbeyonu Festival.
The setting was a mix of tradition and style as Ifa priests blended well with others who travelled from different parts of the South-West to witness the festival, which has arguably promoted the Ifa corpus as a religion to reckon with in Osogbo.
The elegance of the event could be spotted right from the entrance where state-of-the-art automobiles were parked with broad-chested men who were engaged from a private security outfit positioning themselves at strategic places. The stocky and business-like men were keeping an eagle eye on all guests coming to honour the invite of the Araba of Osogbo.
One of the fiery-looking guards who declined to disclose his name to our correspondent described Osogbo people as peaceful who would not test their will at entrance of event, making reference to his previous assignment in the town. "All I can say is that the people here unlike other places where I have worked, are always cooperative with us. I always say it that nobody needs to be scared of us if they are law-abiding," he said.
Buhari replaces Osinbajo's economic management team with Salami-led economic advisory council 
Nigerian Tribune recalled that past editions of Ogbeyonu Festival were usually staged in the family compound of Elebuibon at Elebuibon Street, off Osogbo-Ikirun road, Osogbo.
Oba Oyelude justified the use of the new venue as a child of necessity, which, he said, demonstrated dynamism of Elebuibon as a traditionalist, yet open to demand of modern trend. Oba Oyelude added that the likes of the Araba is easy to relate with because of his level of exposure to new things of life.
"He is brilliant to know and appreciate the danger of being at the same spot. This is the result of his dynamic view on life. He could have insisted on holding this event in his compound but he realised that his guests were expanding every year, which means the guests need a space like this. And with the way things are going, it will come to a point where he would also need a bigger space because what he is doing is being appreciated by everybody who comes his way," he said.
Similarly, the Olufon, Oba Magbagbeola affirmed the genuineness of Elebuibon as a revered Ifa priest whose tentacles spread beyond the shores of Nigeria, also painting him in the image of a faithful traditionalist who does not speak to impress or patronise.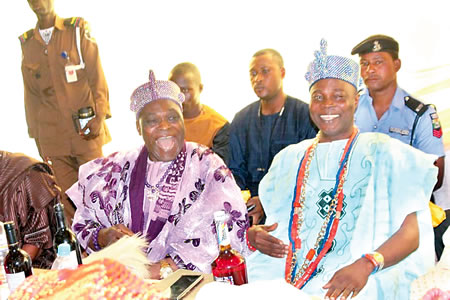 "There are many lessons one can learn from Elebuibon, especially in the area of moral uprightness. Despite his global reach, you hardly see it in him. He is quite unassuming, observing his divination without condemning or insulting other religions. He is a peace-lover and one we need in this society. I can only wish him many more Ogbeyonu festivals on the surface of the earth," he prayed.
An American traditionalist, Ekundayo Fademilade, also showered encomium on Elebuibon whom he regarded as his spiritual father having learnt the rudiments of Ifa divination from him. Ekundayo urged his fellows in the United States of America to make it a point of duty to travel down to Osogbo to witness Ogbeyonu Festival as well as Osun-Osogbo Festival to further appreciate their faith.
"I am here in Nigeria to celebrate with Araba Ifayemi Elebuibon, and I am happy that I am here. I will return to the US a better person because of what I have seen here. I will impress it upon my colleagues to also come down and see their roots. It is good to be part of this festival here in Osogbo," he said.
There were cultural performances and there was a live band of Alhaji Sefiu Alao, a fuji act from Abeokuta, the Ogun State capital. Alao did not hide his reverence for Elebuibon as he descended from the stage to pay homage to the Araba who was seated in between his two wives, both of who were decked in white uniform attire.
When it was time to dance, Elebuibon showed he is a man of arts with his gentle steps complemented by his wives and guests appreciating him with crisp naira notes of different denominations. The musician, who is reputed for lacing his lyrics with traditional content, sang the praise of Elebuibon as culture ambassador and liberator of human being in need of rescue from affliction.
The ebony fuji star said that he was not performing for Elebuibon for the first time, revealing that he was also on the bandstand last year on account of his relationship with the Araba and by extension the respect he has for him as a straightforward Ifa priest whose words are matched with right action.
Alao also said because of his respect for Elebuibon it would be difficult for him to turn down his invite to feature at any of his occasions, saying that the way the Araba goes about Ifa religion makes it attractive and also clarifies misconceptions about traditional religion.
"Look at the setting here. Is there any fetish thing in sight? I am appealing to our people to open their eyes and promote what belongs to them. Custom and tradition are our own, which we must not run down for other religion. I am here now and I will continue to be here because Baba Araba has distinguished himself as a genuine father to us. I wish him many more celebrations of Ogbeyonu Festival in good health and all other things his heart desires," Alao prayed.
Describing himself as equivalent of Archbishop and Chief Imam, the Araba said the significance of the festival could be found in his belief that all humans have what he calls Iseda or Odu associated with their births.  In his natural calm mien, he specifically likened Odu with the zodiac signs or stars in horoscope, adding that the festival is also to express gratitude to Olodumare and Ori for his guide so far in life's journey.
"What does horoscope mean to you? It is the same thing only that we have little knowledge of what it is here. I want to encourage people to do findings on their Odu in order to know how to navigate their lives. Some people do what their Odu doesn't permit them; and the result is that they don't experience remarkable difference in their lives. They would be living in ignorance.
"Anyone who knows his or her Odu will not just be wandering about. He or she will know what to do and what not to do; what to wear and not to wear; who to marry and who to avoid. All these are what attach with Ogbeyonu which we celebrate. What we need is adequate education about our being and existence. Since I observe this festival every year, I know the role it plays in my life and those of my wives and children. I thank all those who came to honour us today," he said.
The Araba used the occasion to remind Ifa priests as well as adherents to be faithful with the religion, just as he appealed to them to remember that they have a big role to play in providing solutions to the problems plaguing the society.
The joy of Elebuibon's two wives knew no bounds while the well-attended event lasted. The first wife, Ekundayo, said since she married the Araba in 1972, Ogbeyonu has always been the annual calendar of the family. The second wife, Oyelola, implored everyone to know their Odu in order to lead meaningful lives.
Politicians, businessmen and women and different associations joined the Elebuibon family at the grand finale which rounded off the 2019 edition of Ogbeyonu Festival.