Inside Ogun community where lack of water, electricity, healthcare facilities is a way of life
For the people of Baba Pupa community in Odeda Local Government Area of Ogun State, basic amenities are luxuries they will pay anything to get. YEJIDE GBENGA-OGUNDARE, after a tour of the community, reports that in its 300 years of existence, residents of the community have barely had the fortune of living a qualitative life like other communities as civilization though near, seems far from their reach due to circumstances beyond their control.
Baba Pupa village, an ancient community of over 300 years in Odeda Local Government Area of Ogun State, is a 15-minute bike ride from Olodo community, which is also not far from Abeokuta in the same state. What they have in common is being in the same state and being neighbours; the difference in the quality of life cannot be measured in minutes but in decades.
This is due to the fact that in spite of its 300 years of existence the only thing that stands this village out aside its age is its dilapidating buildings, and its status as an important ward when it comes to elections. Indeed, the town is acclaimed to be one where every party must hold its campaign since the era of the Western Region. But this has in no way raised the standard of living the people despite being on the popular Alagbagba road, which at present is in bad condition and home to kidnappers.
Baba Pupa community, with its extension, Abule Ojo, has over 200 old houses, some of which are falling apart and like countless villages in that vicinity, there   is nothing to show for being part of a civilised world; all forms of development are alien and basic social amenities continue to elude the community and its people. Indeed, the community has never experienced power supply. The nearest they have come close to having electricity is the set of the poles that dot the road from Olodo to the community on the Alagbagba road. But these poles have never been wired.
Nigeria is largest donor to my United Nations General Assembly's office ― Prof. Bande
Speaking on the poles, Hon. Olusola Obadimu, a grandson of the former baale stated that, the poles have been installed for close to 30 years. "I grew up seeing these poles without wires, when my grandfather was the baale, we used to come here for holidays and I always met the poles without wire, I don't know why it stopped at that, but that has been the lot of this community when it comes to getting amenities," he stated.
Explaining the circumstances surrounding the failed electricity project, Mr Alao Oduoye, who was magnanimous to set aside what he was doing to guide Nigerian Tribune round the town and is also the son of the current baale stated that, "the light project was being sponsored by an illustrious son of the town, but as soon as he finished installing the pole, he died and the work couldn't continue because every other person ran away, they were afraid.
"And that is part of the issues this community has been facing, there are many well-to-do people that come from here but they never come home, rather, they take their parents out of here. I think it's only this young man who is the grandson of our former baale that has always shown interest despite the fact that he is quite young. As you can see, the troubles facing this community are numerous," he said.
Indeed, for the people of Baba Pupa village, everyday life is an uphill task, as a purely agrarian community and one of the  breadbasket of Ogun state, getting their produce out of the village is not an easy task. Aside the bad road, there are no cars and the few bikes that ply the village from Olodo town cannot carry the produce, consequently, they have to sell at ridiculous prices to anyone that comes to the town to buy.
"Things were not so bad when we had a market here; people used to come every market day and this helped but now, no one comes here, this community is abandoned in every way possible," Oduoye explained.
And his observations cannot be said to be far from the truth. Baba Pupa has no functional health centre as the one built in 1996 has been taken over by rodents and community goats, the community has only a primary school, a community church, no source of water and no secondary school after the government took away their secondary school with the structure is now taken over by thick forest and trees.
According to the people, cancelling the secondary school and moving it to another community has affected the education of the children in that community because many cannot stand the stress of walking hours to Olodo or Alagbagba daily because there is no source of transportation. Consequenly, some, if not most of them, dropped out after primary school.
Explaining further on how a community that once had a borehole, secondary school and health facility moved down to depending on the brownish water of Gbeleshe river which is quite a distance or lying flat at the hole of the borehole to scoop water from its tiny hole in the bush, the baale of Baba Pupa's village  Pa Emmanuel Olumide Oduoye, stated that his community had always been at the receiving end of terrible treatments despite being important to politicians during elections.
"It is true our situation is terrible, though we have many illustrious children, but I think it is the responsibility of government. On your way, you would have seen caterpillars abandoned at Soderu village; just before the election, they started grading the road from Olodo, we were happy that by June, it would reach here and get to Alagbagba, but they just stopped halfway and this has been the situation, we have heard the government claimed many times that they had fixed the Alagbagba road but those given the job never carried out the assignment and they get away with it because government does not monitor.
"Water is important but we don't have it; the Federal Government once gave us borehole here, it is located a bit away from here with about 500,000 litres tank and we were getting potable water, even people from surrounding communities used to come there, but at a point, the engine developed a fault and rather than fix it for us, then officials of the Ministry of Environment from Ogun state, came and removed everything. We don't know how it became their issue, the first time they came to remove it, we sent them away and even involved the police.
"But when they came back, it was with armed officers, I can't allow the people to be killed, so they spent a whole day removing the tanks, the poles and stand, machine and left behind the hole which you will see if you can get there.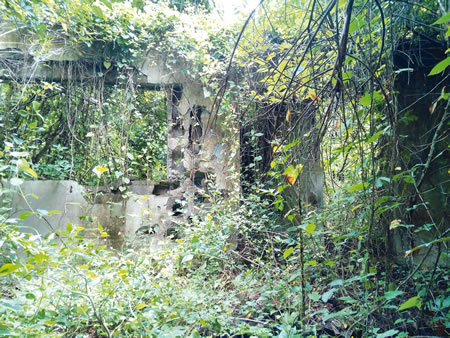 It is almost blocked now, but that's the only place we get little water, though it can't serve the whole community because if you want to get water there, you have to lie flat to scoop with small cup and that takes a long time, people now drink water from Gbeleshe River and it is not clean.
"We also don't have light, what we have are poles sitting without wires and no hope. On education, our primary school is doing well and the ministry monitors it but I am pained that there is no secondary school and I want government to help on this. We had one before government took it away, we don't know why, government should help us. The school building is still there, though it has been overtaken by thick bushes. The stress our children go through is too much; they must leave by 5.00am to trek to Olodo or Alagbagba because there are no bikes early in the morning.
"Also, we do not have a health centre or even first aid centre, we used to have because one of our honourables, Tosin Oyekan facilitated one for us, but the contractors didn't do a new job and the building started breaking up and because there was no conducive accommodation for the health workers, they left and the house is now dilapidated because we got tired of renovating for goats to inhabit. Government should help us, last year, the chairman of Orile Ilugun Local Council Development Area came and promised to do something but we are still waiting.
"This lack of development is killing us; when we have health emergencies, we run round village to village looking for someone with bike to help us to Olodo. We are suffering and government should consider our plight; no road, no water, no light, no health centre, no secondary school, we just live like we are not part of the world," Baale Oduoye stated.
Speaking further, Sola Obadimu, stated that, "I know you have gone round and seen the situation on the ground, as big as this community is, the education system is bad; we only have a functional primary school with no basic amenities for the students to learn, they have taken our secondary school away and the school compound is now a forest, no light. I was about five years old when the poles were erected but till now, there are no wires on it. The water situation is terrible, villagers drink from Gbeleshe pond; also, the tank and borehole installed in the 80's were taken away by government agents long ago.
"The health centre is in a shambles, now occupied by goats and rodents. So the villagers have no access to healthcare. I will be glad if government can do something for the people here, aside the fact that the government owes the people basic amenities and quality living, this place is also important to the economy of the state because it is a purely agrarian community," he concluded
The villagers are also of the opinion that if government could rehabilitate the Alagbagba road, it will make life easier for the community as it is more central to getting to Ibadan because taking the route cuts off areas like Omi, Apata, etc and one comes straight into the heart of town through the Akala/ New Garage way.
Communicating with people outside the town is also not feasible as there was no mobile network, the people explained that the railway channel being constructed at Olodo community affected the mast serving Baba Pupa and they have since had to go to other communities to get network.