As new faces take charge in states
The 2019 elections, though yet to be concluded, have been a mixed bag, throwing up some new faces as governors in some states across the country, even as some of the incumbent also retained their seats. Deputy Editor, DAPO FALADE, examines the backgrounds of some of the new faces who would be taking charge of the affairs of their states from May 29.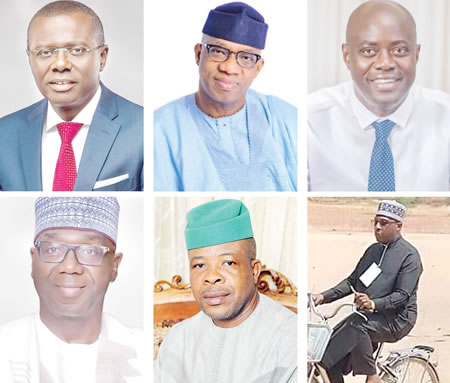 The 2019 elections have continued to generate controversies and ripples across various parts of the country. This is not unrelated to the manner of the conduct of the elections by the Independent National Electoral Commission (INEC), under the leadership of Professor Mahmood Yakubu. However, in spite of the noticeable lapses in the electoral process, fate and destiny have entrusted the leadership of some states across the country into the hands of some new faces who, though not unknown in the political circle, are coming in for the first time, having won the governorship election, would be sworn in from May 29.
Among these states are Lagos, Ogun, Oyo, Kwara, Borno, Imo, Gombe, Yobe and Zamfara where Babajide Sanwo-Olu, Dapo Abiodun, Seyi Makinde, Abdularahman Abdulrazaq, Babagana Zullum, Emeka Ihedioha, Mai Mala Bunu, Inuwa Yahaya and Muktar Shehu, respectively, would, all things being equal, take charge and oversee the affairs of their respective states as first term governors from May 29.
These new personalities are not really new faces on the bloc as they have been around in the politics of their respective states for quite some time. Some of these governors-elect were elected on the platform of the All Progressives Congress (APC), while some others won their elections on the ticket of the Peoples Democratic Party (PDP).
Babajide Sanwo-Olu, Lagos State
Born on June 25, 1965, in Lagos, Sanwo-Olu is a trained surveyor, an expert in human resources with vast experience in both the private and public sector and an entrepreneur who later took to politics.
For his education, he obtained a Bachelor Degree from the University of Lagos and also an MBA in Surveying from the same university. He is an alumnus of the Kennedy School of Government, USA, the London Business School and the Lagos Business School.
In the private sector, he had an enviable background with almost 10 years experience in the banking sector and he is reputed to have contributed immensely to the growth and development of the defunct Lead Bank Plc, United Bank for Africa (UBA) and First City Monument Bank (FCMB).
As a major player in Lagos politics, he has had a very robust public service experience which has spanned over eight years. He has also served in several ministries in the three administrations in the state since 1999 and rose to variously become Commissioner for Commerce and Industry; Commissioner for Budget and Planning and Commissioner for Establishment and Training.
Married to Dr Ibijoke Sanwo-Olu, with four children, the Lagos State governor-elect was, in 2003, appointed Special Adviser (Corporate Matters) by the then deputy governor of the state, Mr Femi Pedro and became the Commissioner for Commerce and Industry in 2007. He also served as the Commissioner for Establishments, Training and Pension, during the Babatunde Fashola administration between 2007 and 2015.
An associate member of the Institute of Training and Development (NITAD) and Chartered Institute of Personel Management (CIPM), Sanwo-Olu has won numerous awards in recognition of his contribution to the socio-economic development of Lagos State. After a fiercely contest primary for the APC governorship ticket with the incumbent Governor Akinwunmi Ambode, he emerged as the standard bearer of the party and went on to win the governorship election on March 9, defeating his closest rival, Jimi Agbaje of the Peoples Democratic Party (PDP) by a very wide margin.
Dapo Abiodun, Ogun State
A billionaire oil mogul from Iperu, the 58-year-old Dapo abiodun has been around in the political circle of Ogun State for close to three decades. A man with an impeccable pedigree on the social scene, the businessman cum politician is the chairman of Heyden Oil and was, until he came out to contest the governorship election, the chairman of the Corporate Affairs Commission (CAC), an appointment he got from President Muhammadu Buhari in 2018.
He has served as a member of various presidential committees and organisations, including the Presidential Think Tank in 2001. He started his career with Glock Inc. USA as a cost accountant and, upon his return to Nigeria, he established his own enterprise.
Dapo Abiodun is an entrepreneur with keen interest in the oil, technology and energy sectors. He founded several companies, among which are Heyden Petroleum, Alarmnet and Innovative Ventures Limited.
He served as a member and chairman of several companies, including Crestar Hydrocarbons Ltd, Oms-Heyden Exploration and Production Limited and First Power Limited. He was also appointed chairman, Oil and Gas Committee, Ogun State (2009) and Chairman, Depot and Petroleum Product Marketers Association (DAPPMA) in 2012.
The Ogun State governor-elect is widely recognised as a philanthropist of note, even as he had been in the politic of the state since 1998 when he became the youngest person to be elected a senator in the country at the age of 38. He won the election as the candidate of the then UNCP. He was also the runner-up in the PDP governorship primary in 2002. He was the APC candidate for Ogun East Senatorial District in the 2015 elections, though he failed to win the election.
He emerged as the APC governorship candidate for the 2019 elections after a bitter contest between the party leadership and incumbent Governor Ibikunle Amosun. While the party leadership pitched its tent with Dapo Abiodun, the governor had his preferred choice in Honourable Adekunle Akinlade who later became the governorship candidate of the Allied People's Movement (APM). Abiodun had a narrow victory over Amosun's candidate as he won with a margin of a little over 19,000 votes.
 Seyi Makinde, Oyo State
He was born into a humble but  proud family of a teacher, Pa Olatunbosun Makinde, in Ibadan on December 25, 1967. He had his secondary school education at the Bishop Philips Academy, Monatan, Ibadan where he obtained his WASCE Certificate in 1985. He had his tertiary education at the University of Lagos. In his quest for more knowledge, he was trained at Industrial Control Services in Houston, Texas on Safety Shutdown System; and Development of Analytical Competence for Managing Operations at Lagos Business School (now Pan-Atlantic University) in 1999.
In 2000, he underwent training in automation. He later proceeded to Jiskoot Auto Control Training Centre, Kent, England to study Fundamentals of Crude Sampling. In 2005, he studied- Understanding and Solving Complex Business Problems at Massachusetts Institute of Technology (MIT), USA.
Without mincing words, the Oyo State governor-elect who, against all odds, defeated the APC candidate in the election, led credence to the saying that it doesn't matter where and how one starts, but where one ends depends on one's ability. A man with spartan life and self-discipline, Seyi Makinde, by his leadership example, stands out as a great testimonial to the strength of character of a conscientious self-made man that is not given to frivolities.
He did his compulsory National Youth Service Corps (NYSC) with Shell Petroleum Development Company (SPDC). During his service year, he was engaged as a pupil engineer and he served in different capacities, handling several key projects between 1990 and 1992. From 1992 to 1997, he worked as a field engineer (Eket operations) for Rebold International Limited and, in 1995, he was appointed as Field Manager in the same company.
He established the Makon Group Limited; indigenous oil and gas companies in Nigeria at the age of 29. It is on record that he established his first oil and gas private Business, Makon Engineering and Technical Services (METS) in 1997 after earning years of work experience with international oil and gas companies after working for five years (1992-1997) with various international oil and gas companies (IOCs) as the Engineering Manager.
Makinde is a member of several national and international professional bodies, including the Nigerian Society of Engineers (NSE), Council for Regulations of Engineering in Nigeria (COREN), Oil and Gas Design Engineers of Nigeria (OGDEN), International Society of Automation (ISA), Institute of Measurement and Control UK; and American Measurement Institute (AMI).
As a public figure, he demonstrated a high level of commitment, accessibility, tolerance and service. He is a reputed philanthropist who has been helping the less-privilege in the state.
He entered into politics and in 2007, contested for the Oyo South Senatorial District election on the platform of the All Nigeria Peoples Party (ANPP) but lost.
He remained undeterred and contested for and lost in the PDP primary for the same district in 2010. In 2014, he upped the ante as he sought the governorship ticket of the same party but he, again, lost out. Determined to fulfill his ambition, he defected into the Social Democratic Party (SDP), but lost out in the 2015 governorship election.
Beyond the rhetoric of politics, mudslinging and the ranting of lazy critics, Seyi Makinde has, through sheer determination and sincerity of purpose, embarked on a silent revolution to reposition Oyo State. In fact, in the build up to the 2019 elections, he was seen as the new face of politics in the state. And it was, indeed, not a surprise that he eventually won the governorship election on March 9.
Known for his numerous charitable and philanthropic deeds, the governor-elect has clearly demonstrated a strong character as a good visioner and a man with a large heart. He had made donations and awarded scholarships to students across Ibadan, Oyo States and beyond, even as widows and individuals were not left out from his charity programme.
In recognition of his remarkable contributions to the socio-economic development of the state, especially grassroots development and uplifting the downtrodden, the Oyo State governor-elect is a recipient of several innumerable awards and honours.
Babagana Zulum,  Borno State
His story has been described as that of a typical from grass to grace personality and a man who has brought a breath of fresh air into the Nigerian politics which has been a heavily money-induced venture over the years. From a very humble background, Professor Babagana Zullum, the Borno State governor-elect, was reputed to have trekked seven kilometre daily to school in Mafa, in Borno State and covered same distance to help his father, a peasant farmer, on his farm.
He paid for his secondary education and his National Diploma (ND) programme was self-sponsored. He attended the University of Maiduguri (UNIMAID) for his B.Agric, while working as a commercial taxi and farm produce driver as he could not even afford hostel accommodation.
Zullum, who was elected governor on the platform of APC, extended his commercial driving trade to Lagos, precisely at Alaba-Rago to raise his tuition fees for his MSc program, three weeks after resumption. He returned to Maiduguri for his PhD program, moved through the ranks until his appointment as a professor in 2014.
In 2015, Zullum was appointed the pioneer Commissioner for Reconstruction, Rehabilitation and Resettlement by the Governor Shettima administration. The governor was reported to have said that he was fascinated by the fact that, despite being in control of billions of naira for reconstruction of thousands of homes, schools and hospitals, "He [Zullum] neither bought a personal house, nor a personal car for himself. He also came under attack from Boko Haram twice, but didn't stop in his efforts to rebuild substantial parts of Borno."
He is a lover of bicycles as he was seen riding one after casting his vote in the election. The state government and the party leadership were said to have gotten a house and car for him after he emerged as the flag bearer of APC. Indeed, the man who is taking over the helms of affairs of Borno State is a man to watch, as many people averred that he does not appear as the typical governor who would get carried away by the lucre of office.
Abdulrahman Abdulrazaq, Kwara State
The Kwara State governor-elect, Abdurahman Abdulrazaq, is by every definition, a man of no little mean as he the son of Ambassador Abdul-Razaq SAN, the first lawyer from Northern Nigeria. The family is also blessed with six other children who are doing well in their various fields of endeavour, cutting across legal practice, property development, finance and account and food and hospitality businesses.
Abdulrahman, the Chief Executive Officer of First Fuels Limited, was said to have ventured into the importation of petroleum products at a relatively very young age. He was in the news sometimes ago when his company attended to the needs of independent marketers in the South-West through several million litres of petroleum products stored in the NNPC tanks at the Ejigbo and Mosimi depots in Ogun State.
A recent report has it that "again, eyes turned on him when Mobil Oil wanted to export its first batch of condensate out of Nigeria, as he succeeded in getting the best international prices and buyers for the product."
It was said that the Kwara State governor-elect has a pocket deep enough to own a private depot or oil refinery in the country and he was said to have had made several positive impacts in the lives of many younger businessmen across the country.
He however dumped oil business and became an active participant in the political scene.  In 2011, he contested the Kwara Central Senatorial District election on the ticket of PDP but failed to make any significant impact. Against all seemingly good advises, Abdulrahman, an undeterred rich business magnate, continued with his politics. Rather than facing his businesses; he trudged on to win the ticket to fly the APC flag and eventually defeated the hitherto massive and dreadful Saraki dynasty in the governorship election in Kwara State.
Emeka ihedioha, Imo State.
Born on March 24, 1965, Chukwuemeka Ihedioha is a businessman and veteran politician and an active participant in the nation's political firmament. Of the PDP extraction, he emerged as the governor-elect of Imo State, after having previously been elected as a representative of the Aboh Mbaise/Ngor Okpala Federal Constituency in the House of Representatives from 2003 to 2015 where he served as the deputy speaker. He was preceded in that position by Honourable Usman Nafada and succeeded by Honourable Yusuf Lasun.
Ihedioha, a native of Mbutu Aboh in Mbaise Local Government Area, attended Town School Mbutu and completed same at SDA Primary School Abule Oja, Yaba Lagos in 1976. He had his secondary education at St. Ephraim's Secondary School, Owerrinta in present day Abia State and proceeded to the Univeristy of Lagos where he obtained a Bachelor of Science Degree in Food Science and Technology in 1988. He took an executive certificate course in financial management from the Stanford University and a leadership certificate course from Harvard Kennedy School of Government, Harvard University.
His political career started in 1992 when he was appointed press officer to the then Senate President, Dr Iyorchia Ayu. He was a year later appointed as chief press secretary to the Deputy Senate President. Following military incursion in the polity in November 1993, Ihedioha returned to his communications practice as Chief Executive Officer of the First Page Communications. He became the Director of Publicity of the People's Democratic Movement (PDM) which metamorphosed into the Peoples Democratic Party in 1998.
He was variously the special assistant to the Presidential Adviser on Utilities (1999); special assistant of media and publicity to the President of Senate (1999); and special assistant on political matters to the Vice President (2001). He was the deputy speaker of the House of Representatives from 2011 to 2015. He also served as the Speaker, following the defection of Aminu Tambuwal APC and choice to stand down.
On April 11, 2015, Ihedioha contested for the governorship seat of Imo-State and lost to the incumbent Governor Rochas Okorocha. He again contested last Saturday and he was on Monday declared the governor-elect after defeating his closest rival, Uche Nwosu (son-in-law of the incumbent governor) who ran on the platform of the Action Alliance Party (AA).
As a federal lawmaker, Ihedioha, between 2003 and 2007, was credited with the passage of two key legislations which allowed for increased participation of Nigerians in that sector of the economy. He re-contested and won back his seat in 2007 and served as Chairman House Committee on Cooperation and Integration in Africa and was later elected Chief Whip of the House, a position he held till the expiration of that term.
The governor-elect is a Knight of the Order of St. Christopher of the Anglican Communion; he was conferred with Diocesan Merit Award by the Diocese of Mbaise, Anglican Communion and is a recipient of several chieftaincy titles. A fellow of the Chartered Institute of Shipping, he was awarded the Most Outstanding Maritime Legislator by the Maritime Reporters Association of Nigeria; Distinguished Service Award from the Nigerian Institute of Public Relations and recently as One of Nigeria'50 Most Outstanding Legislators. His business interests cover real estate development, industrialized farming, hospitality and petroleum sectors and he is married to Ebere, with four children.