Anybody can beat Buhari in next year's election —Turaki, PDP presidential aspirant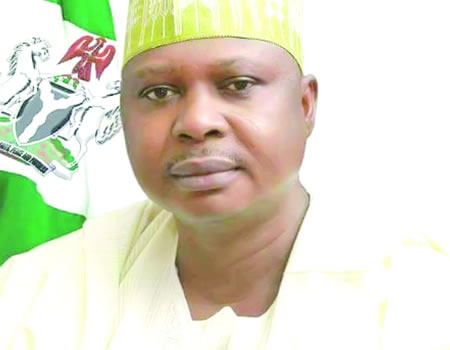 Kabiru Turaki is one of the serious contender for the presidential ticket of the People's Democratic Party (PDP) in the coming election. The chairman of the influential former PDP Ministers' Forum and The former Minister of Special Duties under President Goodluck Jonathan spoke with Deputy Editor, LEON USIGBE, on the presidential contest and the performance of the President Muhammadu Buhari-led APC federal government. Excerpts:
What is your motivation for wanting to become the president of the country?
I think the motivation arose from the realisation of people that things cannot be done like we have been doing them. People believe that things must be done differently. People believe that this government is not doing what it should be doing. People think that somebody must come that can make a difference and people felt that in my own modest way that I have the capacity to add value, that I have the capacity to build strong bridges across the various divides. I have what Nigerians are looking for now: dynamism, knowledge, experience, integrity, credibility.
When I sat down, and I also had a deep thought of what the present APC-led government is doing, I felt more encouraged not only to agree with the various entreaties that people had been making to me but indeed, to accept to come into the fray and then seek for the ticket of my party to vie for the presidency of this country.
So, it's about ensuring that we move this country forward. It's about ensuring that our country does not collapse. It is about ensuring the confidence of Nigerians is rekindled not only to believe in themselves once again but to believe in their country, and they cannot believe in the country until they believe in the system and the system is presently ruptured by the inept and clueless APC leadership. And so, anybody that really has the love of this country at heart will not, in a situation like this, refuse to rise to the occasion of finding himself or herself of saving this country from imminent collapse. And so, for me, this has been the motivation. That's why I felt that I will find it quite irresistible to come into the contest.
PDP has been battered, labelled as a corrupt party. How good a vehicle is it for the realisation of your presidential ambition?
The greatest advantage that PDP has, despite the maligning and propaganda against it, is that PDP has a lot of history behind it. PDP has had this connect with Nigerians for a period of 16 years. PDP has been able to ensure that there is uninterrupted democracy in action in Nigeria. We have been able to conduct elections from civil to civil governments. We have been able to do transition from one party to another which no other party in Nigeria's political history has been able to do. Number two, our achievements are there and so it is not about what people will say about PDP. It's about what Nigerians now know about PDP. Because in the build up to the 2015 elections, a lot of lies were orchestrated about PDP that some gullible Nigerians then believed only for them to come and discover they were led into a one-chance vehicle. So, Nigerians are now wiser. Nigerians have been shining their eyes and will continue to shine their eyes till May 29, 2019 when PDP takes over.
People are talking about corruption against PDP and PDP leaders. Nigerians have seen what corruption in this government is. If Nigerians are talking of cluelessness, indeed, they have seen what is cluelessness in this government. If Nigerians are talking about non-delivery of democracy dividends, at least, we have legacies all over. For one, PDP government ensured that there was a federal university in every state in Nigeria. PDP ensured that there was one teaching hospital or a federal medical centre in every state of the federation.
Even the way the issue of corruption was being fought, what we discovered like indeed every other developing country, there were infractions in the system arising from some gaps here and there, that people who had been given the opportunity were taking advantage of. We said we would fight corruption big time, we would fight both official and unofficial corruption. And what PDP did was to first and foremost set up critical institutions that would ensure corruption was fought and fought well. Apart from setting up these institutions, PDP was able to strengthen them and then, was able to get people that were not only well trained but indeed people that were also able to train other people in the skills of war against corruption. And so, we were now able to say, 'do not rush in the process of war against corruption to malign and assassinate the characters of individuals without proper investigation. Do your homework, carry out your investigation. When you feel that there is a prima facie case, you can then take people to court.'
But what is happening today is that people are tried on the pages of newspapers. And I dare say, this government has not been able to get one single conviction in all the anti-corruption cases it started. People may quickly say 'o, what of (Joshua) Dariye? Or what of Jolly Nyame?' These were people that were taken to court by PDP Federal Government. These were cases that PDP had filed. And PDP filed these things to show Nigerians how to fight corruption, to say that corruption should be fought holistically, to say that corruption should be fought fairly, honestly and transparently. And we did it by looking inwards. We did it by looking first at the people who were members of the party against whom allegations had been made. And so, we tried with them.
Never in the 16 years of PDP did we harass any member of the opposition. We wanted to be seen to be doing it honestly, fairly. And so, we started from within because charity begins at home. But what is happening today? What is happening today is that you have one million allegations of corruption tabled against you. As soon as you join, or you profess that you join APC, then you become a saint. Even in situations where people have been arraigned in court and they are being prosecuted and some of their property have been forfeited on the orders of the court, the mere fact of their being members of the APC has gotten this government to have those property returned to them and their cases withdrawn. So, as far as we are concerned, regardless of what other people will say against PDP, which is just nothing but pure lies and propaganda, Nigeria will still remember what PDP has done. Nigerians will therefore give PDP an opportunity to come back because there has been an opportunity to compare and contrast. And what PDP has done is something that can only phenomenally be done by PDP because if it is not PDP, then certainly, it cannot be PDP.
ALSO READ: 2019: Tanimu Turaki declares for presidency 
But this same PDP has lost a lot of members and some suggest that the exit of some key members has weakened the party. How do you react to that?
It's a normal process in a political set up particularly at an election year. Some of the people that left PDP to APC are back. Some people that were original members of APC are leaving the APC and going to other party and some people are coming. Now, in an election year, a lot of politicians look for platforms to stand for election and the most important thing is that, if the party you are in will not give you that veritable vehicle to drive your aspiration, you will leave and go to others. But beyond this, in the beginning of the 4th Republic, there were three political parties that were registered. You had PDP, you had AD and you had APP. Today, where is APP? APP has changed its name to ANPP and got itself divided into two: ANPP and CPC and none of them is in existence today. You had AD. AD became AC and became ACN and now went into APC. The only party that has stood the test of time is PDP. PDP has been the same PDP, same name, same logo, same slogan and same flag. And so, PDP will continue to weather all storms.
And I bet you, wait and see in the next one month or so the kind of people that will come back into PDP will surprise everybody. And that was why the present leadership of PDP said 'yes, let us prepare ground for them.' The restrictions that were in our constitution about individuals not contesting for elections until they stay in the party for two years have been removed. The ground has been liberalised to make it easy and possible for everybody. Those that were members of PDP before that want to come back, those that are in other political parties that want to come and those that are coming into politics for the first time to come to PDP and aspire to become anything they want. It is only PDP that can guarantee that. So, I want to assure you that PDP is still very strong. Even those that have left PDP now will come back to PDP either directly or indirectly because if you don't come back into PDP, then you go into another party that will at the end of the day enter an alliance with PDP as a lead political party in 2019, it's like you are coming back or you are working with PDP.
Beyond being a former minister and the chairman of ex-PDP Ministers' Forum, what pedigree do you have to leverage on in this contest?
I think it's my robustness. I think it's my experience. I think it's about my knowledge. I think it's about my capacity to build strong bridges of friendship across the various divides. I think it's about my integrity. I think it's about my credibility. We set up the PDP former ministers' forum when we were leaving office because we knew and we had cause to believe that the incoming APC-led federal government was not going to allow President Jonathan and indeed, PDP as a political party to get away with all the legacies we had been able to build over the years. We knew that they were going to destroy those legacies, we knew that they were going to attack us and we knew that they would come in the guise of fighting corruption, leveraging on the propaganda that they made during the campaign to begin to clamp all of us into detention. And so, we needed a platform that will not only defend and protect our legacies but would stand up against lopsided war against corruption which is now manifest.
And what is happening? At the end of the day, you discover that to be able to achieve their purpose of destroying PDP legacies of rubbishing all PDP leaders that the APC must continue with their lopsided and despotic forms of war against corruption. But to be able to do it, they needed also to disarm the Nigerian judiciary, they needed to destroy the judiciary like they had been able to inflict monumental wound on the Nigerian legislature, to do same to the judiciary so that they would cow the judiciary to be able to get convictions. As soon as they clamp people into detention, they will arraign them before the courts and they will have them convicted and have them sent to jail.
But that has not been possible because Nigerian judges and jurists are upright despite the damage they sought to do to them, in spite of the way they went in commando-like manner in the middle of the night to harass and arrest some of them, but Nigerian judiciary has stood the test of time. And so, that is why the plan by APC-led Federal Government to continue to bastardise the judicial system, to continue to destroy the rule of law, to continue to destroy the system and strong institutions that have been built over the years like the legislature, like the judiciary is not working because people are resisting. And so, we feel the wisdom behind the forming of the former ministers' forum has come to pass. Nigerians have seen that wisdom because without the forum, am sure everybody who has held one position or another either at the state, national or at the local government level would have been sent into detention by APC using their Gestapo tactics with an otherwise harassed and distraught Nigerian judiciary.
What's your relationship with other PDP presidential aspirants? Are you confident at the end of this contest there will still be harmony among you?
You see, that is the thing with PDP. First, everybody that is in the race now is eminently qualified not only to be the PDP flag bearer but indeed, to be president of Nigeria and they will perform 1000 times better than the present APC-led federal government is doing. For us, it is not about us as aspirants, it is not even about parties, the PDP. It is about Nigeria. Nigerians have found ourselves in a situation where nobody ever imagined. Nobody ever thought that Nigeria could be reduced to this low level. Our economy has been shattered, businesses have been destroyed, Nigeria that used to be the third most sought-after investors haven has been made unattractive both to local and foreign investors. Nigerians are today suffering from the twin malady of hunger and poverty. Nigerians today are groaning under draconian policies which are being churned out by APC-led Federal Government. So, for us, we are looking at the bigger picture. Anybody who gets the ticket, I can assure you other aspirants in the PDP are willing to support him faithfully, honestly and truthfully. What is even strengthening this understanding among all the aspirants is the assurance that we have that the present set of leadership in the PDP is going to ensure that there is level playing ground for everybody. So, if anybody in the election is beaten fair and square, he will have no cause to fault the candidate that has emerged. So, we've been talking to ourselves, we've been comparing notes, we've been isolating and looking at the critical problems that are facing Nigeria today and believe you me, all of us in our own respective ways have been churning out probable solutions that will take Nigeria out of the present situation that we found ourselves.
If you get the PDP presidential ticket, what chances do you have against President Muhammadu Buhari?
Anybody can beat President Buhari. For one, President Buhari is confused. Let me use that with a lot of respect. Number two, his advisers are not helping him. He doesn't even know what is happening because he will give instructions for critical members of his government to do one thing, they will do another. And they will also shield him from knowing what is happening. Number three, it's about service delivery. What has President Buhari APC Federal Government done from 2015 to now. And I can give examples from my own area, the north west zone. In the three states of Kebbi, Sokoto and Zamfara, not one project has been done by this federal government since inception. In Katsina, beyond the helipad which was built in Daura and the prison that is being built in Katsina, nothing is being done. In Kano, nothing has been done. In Kaduna, what has been done is to demolish people's houses, to destroy people's businesses, to visit a lot of pain, anguish and anger on Nigerian citizens living there. So, given the situation, most of the people that were President Buhari's fanatical supporters and followers, have left him. I hope he knows that. I hope the people around him are not also shielding this one from him. So, if the incumbent president has not been able to meet the irreducible minimum expectation of Nigerians, then certainly, Nigerians will ask him to go and rest. And when you compare me against him, I'm bringing in a lot of dynamism and that is what is needed. Also, a lot of action. Nigerians are tired of talk, Nigerians want people to act the talk and that, I will bring.
What's your perspective on Buhari's recognition of June 12 as Democracy Day?
June 12 was a watershed in many respects. But my pain today is that June 12 was never made a campaign issue by the APC, not even by the president. APC celebrated May 29th as Democracy Day in the first year, 2016. 2017, they celebrated May 29th as Democracy Day, they still forgot about June 12. Is it today when the APC-led federal government is realising that indeed, they are losing much of their supporters and followers in the south west that they are now saying 'ok, oh, there is June 12, we can dust it, we can bring it up and then make some gains out of it.' But the beautiful thing is that there is no way the APC or even President Buhari will make any gain out of June 12 because the principal actors know that there is no sincerity in it. Nigerians, particularly from that area which is the south west geo-political zone and other watchers of events in Nigeria are fully aware of the fact that this thing is being used for the purpose of election. People will even look beyond the mere declaration of June 12 as Democracy Day and ask themselves what is there at the end of the day.
Issues have been raised by Wole Soyinka for instance, which neither the president nor his party, the APC nor his handlers have been able to respond to, that is the apparent contradictions. You are hunting with the wolves and then playing with the sheep. One of the closest person to General Sani Abacha was President Buhari. I can recall even as recently as a fortnight ago, President Buhari had come out to praise Abacha. He had said that General Abacha was not corrupt and here again is him saying 'oh, I'm not happy with what has happened to June 12, June 12 should be celebrated as a holiday, as a day of democracy.' How do you reconcile that? I'm not the one raising this issue, it's Prof. Wole Soyinka. Up till now, nobody has been able to give an answer to that. Meaning that indeed, like most Nigerians are alleging, that the resuscitation of June 12 is a mere political gimmick by the APC-led federal government to score cheap political goals in the south west. Thank God the leaders in the south west are beginning to see beyond that and will not allow themselves to be taken so cheaply.