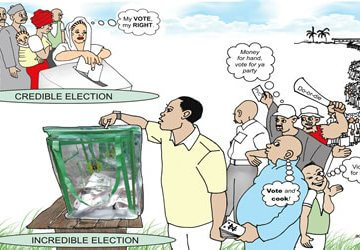 THE United Global Resolve for Peace (UGRFP), an NGO, has warned against any form of financial and material inducement of voters in Saturday's Anambra governorship election.
Mr Olaseni Shalom, UGRFP's Executive Director, who briefed newsmen on Friday in Abuja, called for the peaceful conduct of the election and for proper handling of threats by some groups to disrupt the process.
He said that UGRFP believed in `one man, one vote' and not external influence as the international best practice of elections.
"We wish to denounce the disgraceful act of sharing money and gifts during elections, especially with regards to Anambra State.
"Over the years, aspirants shared items like money, bags of rice, bread, clothes among others.
"These actions are calculated to buy the collective conscience of Nigerians and such individuals cannot be said to vote out of their conviction in the capacity of the candidate.
"We have written to the Independent National Electoral Commission to engage the commission in dialogue on strategies to eradicate this disgraceful act.''
Shalom said that the group was also collaborating with political parties and law enforcement agencies to prevent inducement of voters in Anambra.
He urged the candidates to stand on the strength of their credibility instead of the flagrant display of wealth.
The executive director commended the military for its response to the threat of the Indigenous People of Biafra (IPOB), to disrupt the election.
"However, we advise that actions of the military should conform to international human rights standards.
"We also call for a more articulate and enhanced security mechanism to rise up to the challenge and eliminate all forms of threat.
"On the other hand, such threats should not be treated with levity; we also call on all stakeholders to sheathe their swords for the sake of peace and democracy," he said.
Shalom said that the voter turnout in previous elections in the Anambra state had been below 50 percent and urged the voters to come out and en masse to exercise their franchise.
UGRFP promotes a peaceful resolution of crisis generated as a result of human activity, civil unrest, agitation, conflict of interest, among others, in line with UN Charter on Conflict Resolution.