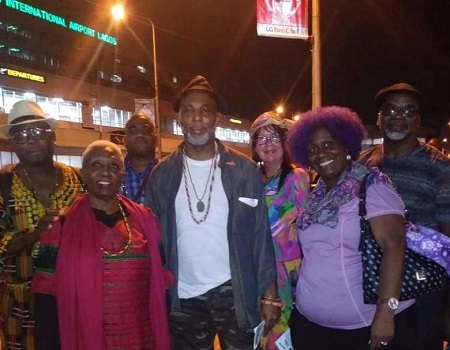 A team of American delegates have arrived for the grand finale of the 2018 Osun Osogbo festival among other historic, entrepreneurship and to establish robust cultural understanding and mutual promotion.
The team who arrived a few days ago and at the Osun Osogbo festival grand finale include the community builders South Florida delegation led by High Chief Nathaniel B. Styles, Jr, Chief Executive Officer of Community Builders HDC and Executive Director of the State of Florida Designated African Caribbean Cultural Arts Corridor Initiative.
Otunba Styles is an International Trade, Travel and Tourism Strategist, with a background in product design and global distribution of indigenously made products.
The delegates are James Baldwin, Home Healthcare Administration; Darren Green, Master Craftsmen, Artist, Carver and Jeweler; Dr Mae Rene Leonard, Genealogist and Coordinator of the Poinciana Industrial Park Intermodal Logistics Project; Kamili Nilata, Emmy Award Winning Television Producer, Dancer/Choreographer, Arts Educator and Natural Health Enhancement Specialist.
Others include Portia Shipman-Healthcare Administration, Women's Anti Violence Advocate; Presley Souffrant Junior from the Caribbean Island of Haiti, the first free black republic in the world, Vodoun Spiritual Leader/Priest and Junior Diplomat in Training; Jeanne Christine
Tegler, Del Campo- Businesswoman/ Cosmetologist; Jason Vincent- Law Enforcement and Security Specialist and Harlan E. Woodard, Architect.
In an exclusive chat with Travelpulse&MICE, the leader of the delegation, Otunba Styles disclosed that "I am pleased to express my strong support for the "Living History Museum Project, as submitted by my constituents led by High Chief Nathaniel B. Styles, Jr.'s Community Builders HDC Organisation and their African Caribbean Cultural Arts Corridor Initiative, unanimously passed by the Florida Senate and House and signed into law by Governor Busch in 2006.
"It brings great pride to our community when our community leaders took an initiative to establish and cultivate international relationships that ultimately lead to trade, investment, travel and tourism exchange and opportunities between our communities and industries.
The Living History Museum initiative will create economic development opportunities and cultural exchange and collaboration among international artists, historians and people interested in heritage tourism throughout the African Diaspora.
"Rarely has one initiative touched upon so many of my major concerns as a member of the Florida Senate as has the Living Museum Project and its international collaboration with artists, cultural preservationists, economic development experts and scholars.
Additionally, the State of Florida recently appropriated Poinciana Industrial Park Intermodal Logistics 10 centres as defined in the rules of 11 the Florida House of Representatives and is described in 12 appropriations project request 872, HB 2767 and is being represented in Nigeria by one of the Florida delegation members, Dr Mae Leonard Christian.
This visit to Nigeria is the first outreach engagement of the initiative, which became Florida Law, July 2018," Styles added.
He explained that Miami Dade County is a culturally diverse community.
The Poinciana Industrial Park will include culturally sensitive design elements: Connect traditional culture with modern values; offer more opportunities for people to participate in cultural activities, finance and document the trade and commerce transactional activity
between multicultural and international companies and nations.
Sense of place, culture keepers program, monthly African Diaspora mini-festivals/films, However, Chief Nathaniel Styles, CEO of CBHD has established high-level international support needed to ensure the success of this mission and has assembled a stellar team comprised of highly respected
scholars, cultural preservationists, performances and fine artists.
The mission of the Living History Museum project aimed at increasing economic development strategies that are modelled after successful projects in cultural community building which supports heritage tourism.
Also, it is focused on marketing Afro-Cuban arts and culture and providing an immersive experience while studying, highlighting and preserving the synergy of the African Diaspora in America and the Caribbean which is a major goal of the project.
He added that by assisting young and emerging artists, designers and artisans learn the business of art and art marketing while helping cultural community residents develop small businesses that will cater to the needs of international tourists, artists and scholars to the
concept as proposed, provides a dynamic catalyst to energise the local economy.
"The Living History Museum will also provide extraordinary opportunities for intensive multi-cultural exchange, trade and investment.
The group, however, extend their congratulations to Governor Rauf Aregbesola of Osun State, government and tourism board on Osun Osogbo Festival and invitation to the South Florida delegation to witness and participate in the season of festivities while exploring trade and
investment opportunities.
In the same vein, styles laud the Alaafin of Oyo, Oba Lamidi Olayiwola Adeyemi III for his preparation on his forthcoming World Sango Festival, expressing the team appreciation of His Majesty's invitation to the Florida Delegation.
"We also send our greetings to Oba Ganiyu Adekunle Salau, the Aseyin of Iseyin on the ribbon cutting of the Aso Oke International Market and upcoming inaugural Aso Ofi International Festival 2019.