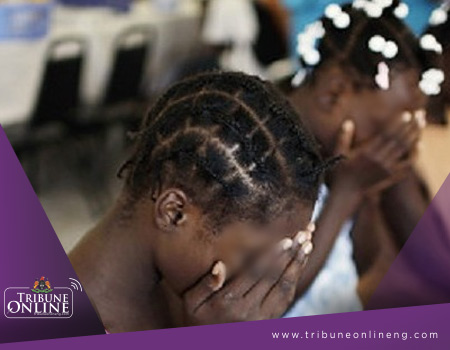 THE Nigerian Immigration Service, Murtala Muhammed International Airport Command has again arrested four Ghanaians for attempted human trafficking two weeks after eight from the same country were earlier nabbed at the same airport for the same offence.
The four Ghanaians who were nabbed on Friday were between the ages of 22 and 25 years and were on their way to Europe for prostitution before they were stopped after interrogation by the officials of the service.
Just like the previous eight, the latest four had entered Nigeria through road from Togo and Benin Republic, while they also planned to travel out of Nigeria through Egypt Air before they were apprehended by the immigration officials at the airport.
ALSO READ: Best times to have sexz
Two out of the four culprits were identified as; Asare Mary, 24 and Ameyaa Naomi, 23.
The four who were with Ghanaian international passports in their statements, confessed to the crime, saying that they had attempted to use Nigeria as a transit point to connect Europe via Egypt Air.
The ladies, on further interrogation attributed the hardship in Ghana to their decision to try the illegal business just as they declared that their sponsors who they declined to name bought them air tickets.
After interrogation, the four ladies were handed over to officials of the National Agency for the Prohibition of Trafficking In Persons (NAPTIP) for possible deportation back to their country.
According to an immigration source: "Once again, our officials at the Lagos Airport have stopped four Ghanaians from using our country as a transit point to Europe to engage in prostitution.
"Our investigation has revealed that some unscrupulous elements within the West Coast want to use our country as a transit point to Europe or even Middle East, but our officials have been trained to detect such people, either Nigerians or foreigners. We consistently stop them and we will continue to do that."
Eight Ghananians were two weeks ago arrested at the Lagos airport while attempting to pass through the Airport to Kuwait where they hoped to cross to Europe for prostitution before they were intercepted.
The ladies were booked on Egypt Air out of Lagos to Cairo, from where they had hoped to transit to Kuwait before departing to Europe.