Ayobamidele Aladekomo popularly known by her stage name, Aduke, is set to release her long-awaited debut album, Peace and Light, in February 2020.
Aduke dazzled with the video of her daring single Hear the Voice in 2012 which was shot and directed by DJ Tee right in the middle of the Occupy Nigeria protest.
Peace and Light will be Aduke's first album in hee music career that has spanned the better part of a decade, with about five singles already to her credit.
Some of her singles include Made in Lagos and the one that frankly, could be mistaken for an Asa's masterpiece, Far Away.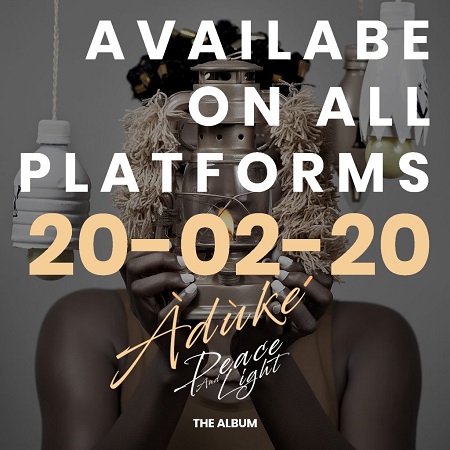 Aduke is also an art educator who strongly believes in shaping young minds. She has an interest in working with young people and engaging in teaching the art of performing for musicians.
Peace and Light couldn't have come at a better time especially now that her music has started gaining global Brazil after her recent performances in Brazil, China, the United Kingdom and other parts of Africa.
According to her, "it is the season of light, of self-discovery the album is a long time coming and I am finally excited to be able to give this music offering to those who have followed my career all these years."
The album is a heartfelt expression and means of sharing her truth with the world.
ALSO READ: Kcee, Zlatan shine at Access the Stars concert in Onitsha
Born to a dentist father and a lawyer mother in Osun State, Aduke has become a strong and distinct voice for art, as well as social and political reforms, using Neo Afro-soul/ afrobeat music to convey her message.
The versatile performing artiste has a background in dance theatre and worked with the renowned Crown Troupe of Africa and exceptional Creative Director Segun Adefila for almost seven years now.
Recently, she was in China where she performed and was honoured with the award of "Shining Star 2019". She was also made a honourary member and international consultant of the Shenmo Women League, by the Shenmo Education.
Aduke has also explained her involvement with a project between Brazil, Nigeria, Germany and Pakistan with the Goethe Institute, researching on a project called "How Free Are The Arts".
She has visited Rio de Janeiro, Sao Paulo and Salvador as part of her research for the project. She was a visiting professor at the Art school in Parque Lage, she was also a presenting artiste at the Museu do Amanha, Rio De Janeiro.
Having shared the stage with big names such as Femi Kuti, Seun Kuti, Ade Bantu, Nneka, Ekow Alabi, Ebo Taylor to mention but a few, the neo Afrosoul music star believes Peace and Light is just a starting point for a long and illustrious musical career ahead.