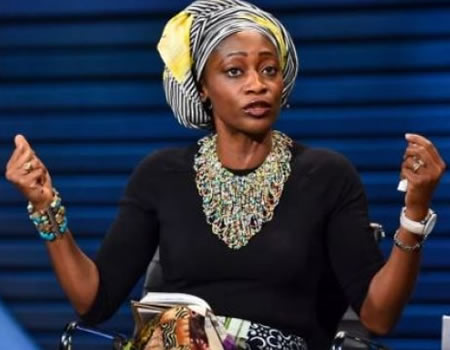 Hafsat Abiola has apologised to President Muhammadu Buhari for what her father, the presumed winner of the June 12, 1993, presidential election,  Chief MKO Abiola, might have done to him.
Speaking during the Special national honours investiture of her late father during which the president apologized for the election annulment, she said she did what her father would have done if he was still alive.
She added: "Who would have ever believed given the relationship that you (President Buhari) had with Chief MKO Abiola that you would be the instrument God will use to honour this man and to bring recognition and healing to the country.
"You apologized to my family and it touched my heart. You know that I also lost my mother in this struggle so that apology meant so much.
"Let me use this opportunity, on behalf of the Chief MKO Abiola because I know what he would have done, I use this opportunity to apologize to you, to apologize to your family, anything that he might have done to harm you and to harm your family.
"Let me also say at this juncture that Chief MKO Abiola was so committed to us saying farewell to poverty in Nigeria and today we have more people in poverty in Nigeria than we had in 1993.
"I read the statement that you made where you said we should prepare now to wage a battle for the defence of the people of Nigeria against those who think of themselves as the landlords of Nigeria.
"Let me say to you that by recognizing June 12, you awaken so many heroes and heroines of Nigeria's struggle who have shown because they stood firm on June 12 that money cannot buy them.
"If there is any march that we need to march, if there is any protest that we need to be present to protest, you have called up your own new Army for the defence of this country.
"And President Muhammadu Buhari, this fight will not take you, God willing, as it has taken MKO but let us fight and bring about the conclusion of MKO struggle that the Nigerian people should be the ones in full control of this country.
"It is not for a few landlords whoever they may be, it is for the 200 million people of Nigeria."
Also speaking, a human rights lawyer, Femi Falana, urged the president to prevail on his security agencies in the country, in the spirit of June 12, to start to respect the fundamental rights of all Nigerians.
According to him, the human rights community will work assiduously with the Buhari's administration to end the reckless killings in the country.
He noted that seven administrations before Buhari's administration pretended over the June 12.