June 12: It's impossible to honour Abiola and admire Abacha, his tormentor —Soyinka tells Buhari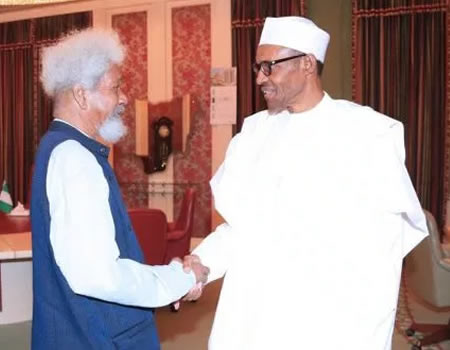 Nobel laureate, Professor Wole Soyinka, has spoken against President Muhammadu Buhari's recent public defence of former military Head of State, General Sani Abacha, saying it was impossible to praise Abacha while honouring the late Chief MKO Abiola.
Soyinka stated this at the Presidential Villa, on Tuesday, while speaking at the investiture ceremony for the Abiola, where President Buhari conferred on him the posthumous award of Grand Commander of the Order of the Federal Republic (GCFR)
Abiola was the presumed winner of the June 12, 1993, presidential election described as Nigeria's freest and fairest election, but which was annulled by the then military dictator, General Ibrahim Badamasi Babangida.
For his refusal to renounce his mandate, Abiola was incarcerated in 1994 by the late General Sanni Abacha who had taken over government for Chief Ernest Shonekan, who was handed over to by Babangida as head of the interim national government.
Sadly, on July 7, 1998, Abiola died in custody under suspicious circumstances, and a month later Abacha also died mysteriously.
Soyinka, who had earlier praised President Buhari for his recognition of the June 12 mandate given to Abiola, frowned at President Buhari's defence of Abacha, advising him to stop his "professional loyalty" to Abacha.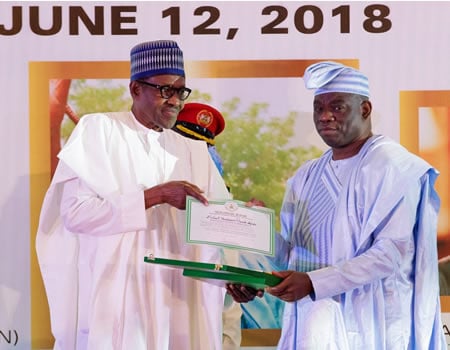 The Nobel Laureate who described Abacha as Nigeria's worst dictator told Buhari that it's impossible to hold Abacha and Abiola in the same high regard.
"I'll like to make a request, Mr President, that you manage to stop creating confusion in the minds of Nigerians. It is not possible to honour MKO Abiola in one breath and then admire his tormentor in another breath.
"Loyalty is all very well, but it can become perverse if that loyalty is retained to an individual if he were alive today would be before the international court of crimes against humanity, one who broke the laws of Nigeria and international law, pauperised this nation, and committed crimes against humanity.
"It is confusing if professional loyalty is carried so far as to be accorded to such an individual," Soyinka said.
President Buhari had earlier in his speech condemned the annulment of the election as a perversion of the free will of the electorate and urged Nigerians to accept the recognition of the events trailing June 12 in good faith.
The president has made recent public statements that have appeared to praise Abacha's regime despite that he was noted for overseeing widespread violation of human rights as well as looting of the national treasury.
June 12 Annulment: Buhari offers apology to Abiola's family
President Muhammadu Buhari on Tuesday in Abuja offered an unreserved apology on behalf of the Federal Government to the family of MKO Abiola, over the annulment of June 12, 1993, poll, presumably won by late Abiola.
The President apologised at the Special National Honours Investiture and award presentation to heroes of June 12, 1993, poll which was annulled by the defunct Ibrahim Babangida regime.
ALSO READ: June 12: Immortalisation best option for MKO Abiola ―NLC boss tells Buhari
He said the decision to hold the event was not to open old wounds but to bury negative sides of June 12 and it ill-feelings, hates frustration and agony.
He, therefore, called on all Nigerians across national divides to accept the decision to correct the annulment of the June 12, 1993, poll in good faith.
"I honestly invite all Nigerians across all our national divides to accept it in good faith. Our action today is to bury the negative sides of June 12, the side of ill feelings, hates, frustration and agony.
"What we are doing is celebrating and appreciating the positive sides of June 12.
"The June 12 which reinstates democracy and freedom, the June 12 that overcome our various divides and the June that produces unity and national cohesion.
"This is the June 12 we are celebrating today and we will nurture it to our next generation
"Accordingly, on behalf of the Federal Government, I tender the national apology to the family of late MKO Abiola who got the highest votes and to those that lost their loved ones in the course of June 12 struggle,'' he said.
President Buhari asked for minute silence in honour of late MKO Abiola and those that lost lives in the struggle for the actualisation of June 12
The News Agency of Nigeria (NAN) reports that former President Olusegun Obasanjo tendered an apology for not being a presence at the event because of his involvement in a book launch outside the country.
Former President Ibrahim Babangida equally tendered a similar apology for his absence because of some prevailing issues touching on his health conditions.