A woman can make it without compromising on principles —Prof Oyedunni Arulogun, Director, UI Centre for Entrepreneurship and Innovation
Professor Oyedunni Arulogun of the Department of Public Health, University of Ibadan and the Director of Centre for Entrepreneurship and Innovation (CEI) of the premier university, in this interview by TAYO GESINDE, speaks about her childhood fantasy, her most defining moments, women's roles in societal development and how she juggles her career with the home front, among other interesting issues.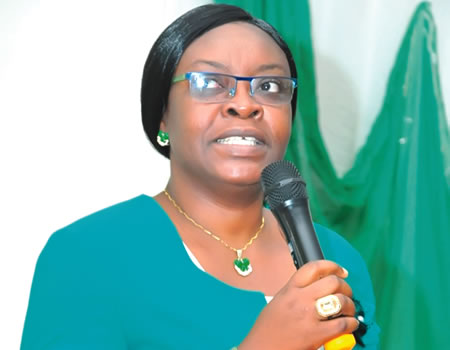 WHAT was growing up like for you?
I am the second of five children. My dad is from Awe in Oyo State while my mum is from Ijebu in Ogun State. I had my primary education at UMC Demonstration School, Molete, Ibadan, and my secondary school at Federal Government College, Bida, Niger State. I  did my higher school at the defunct Oyo State College of Arts and Science, then had  my first degree in Special Education and a Masters degree in Public Health, as well as a PhD in Health Promotion and Education  from the University of Ibadan.
What was your childhood fantasy?
I toyed with all kinds of professions. I wanted to be a doctor, lawyer, accountant and so on. In my secondary school, we had an arm where you could do Physics, Chemistry, Biology, Further Mathematics, Literature, Geography, Economics  and  Religious Studies. I loved Literature and Mathematics, so I naturally belonged to that class. Being in that class, I could fit into all my childhood dreams. When I went for A Levels, I had the combination of Social Sciences which made me to have a broad background. At some point, I just told myself that it didn't matter what I became, what would be my priority is excellence and wherever I found myself, I would excel. That was my driving force, excellence. When I was doing my HSC, I had a teacher who taught me  unseen poetry, in  unseen poetry, you are expected to visualise the story but this teacher would pick up his chalk and draw what the poem was saying. As a young girl, I would sit back and say, if I ever become a teacher, I would make sure that my students enjoy my class the way I was enjoying his class. That teacher is a professor in the University of Ibadan today. He didn't recognise me but I went to him and introduced myself as one of his students and told him the impact he made on me. While in the university too, some lecturers too impacted my life. One of them was Professor Asaolu in English. I have never seen any man who is as meticulous as him. His office was always sparkling clean and when you want to sit for his exams, he would use his hand to write our matriculation numbers on our answers booklets and on the chalk board. All you need to do is enter the class, look at the chalk board and you know where to seat. That was extraordinary. These teachers made an impression on me. Though teaching was not in the scope of what I wanted to do but I found myself in the academia and I have enjoyed it because beyond teaching, I am able to talk to young people and encourage them to pursue their dreams..
Why did you move from education to public health?
When I gained admission to read Special Education, my uncle told me I could only get a job at the Federal College of Education, Special (SPED), Oyo. I looked at him and told him I was going to get one of the best jobs in the country. I didn't know what I was saying then but I didn't like the fact that he was trying to run my course down. I  have never taught at SPED though I had been there as a facilitator some times.  My choice of Special Education was divine in the first place so also my Public Health. I wanted to study English but I didn't meet the cut off mark, so I had to decide on the spur of the moment the course to change to. I was given three options;  Special Education, Physical/Health Education and Adult Education, so I picked Special Education. When I got in, I discovered different specialisations and I went for Speech Pathology and Audiology  that would make me work in a hospital.  That was how I started my career as a speech therapist at the University College Hospital (UCH) in 1989. While there, I completed my Masters and had just began my PhD when my HOD advised me to do Masters in Public Health. That was how I suspended the PhD and went for Masters in Public Health, then did a PhD later. I was in UCH till 2002 when I joined UI as a Lecturer 1 in the Department of Health Promotion and Education. I rose through the ranks and became a professor in 2012.
What price did you pay to get to where you are today?
It is tough but with determination and support from people, especially my mum, I was able to be who God created me to be. We were three girls and two boys. My mum used to tell us that we were not different from the boys and the three of us rose to become professors, though one is late now. My parents gave us equal opportunities. Whoever got home first prepares the meal, whether it was the boy or girl. We all knew how to wash the car, change tyre and all that. That made us realise that we might be the weaker sex but we have the same potentials as the male child. So, I have always told myself, I would make it, I will excel. It is tough being a woman, I told myself, I can do it. I also wanted to show young girls that one could make it without compromising. It might take longer time but keep your prestige as a woman. One of the things that affect women is the cultural mindset of the level a woman is allowed to reach. We were brought up to say we were the weaker vessels and we were not supposed to do some things but unfortunately things are changing and that is why we are having domestic violence and it will continue if care is not taken because many more women are attaining positions that were traditionally meant for the men and most men are fast losing their jobs. The man who used to be breadwinner becomes bread eater, while the woman is now the breadwinner. If the woman doesn't have native and emotional intelligence to manage that success there is going to be trouble.
What are the most defining moments of your career?
I have two. When I wanted to leave UCH for UI, we had done the interview and usually, you must give three months notice that you are going. Within the three months, the university wrote to say that the Federal Government told them to put new employment on hold so I was jobless for two weeks. I had to run back to my previous place of employment. I was asked to write a letter that I wanted to be reinstated, I did and started praying. Fortunately,  I was reinstated. The second one had to do with promotion. It was delayed and people were asking what was happening. Eventually when it came, it was like, so this is it after all!
How were you able to combine the home front with your career?
It is even much more difficult when you are married and you are still building a career but God blessed me with older women who told me; "when you are at work, you are the boss, when you are at home, you are not the boss." So, when I am going home, I remove the gown of the boss and hang it in the office and when I get home, I wear the gown of the wife. I had people around me who were supportive and a husband who allowed me to be who God wants me to be and I appreciate him for that and I say it anywhere I go. Many times, I travel  and he allowed me to do so. I don't take his support for granted. I respect and honour him. If he says sit down, I sit down.  Whenever he gives me advice and I don't take it, I always regret it. The  cliche 'women empowerment' has been bastardised. Women empowerment does not mean you don't show regard to people anymore. What it means is that you are able to take decisions that affect you, your health and peace of mind. I always tell people I am a core traditional African lady, at home, after God, it is my husband, he has that respect, his ego is protected. I have been able to divide the two responsibilities, when I am at home, I am a wife and mother. At work, I am the boss. If my husband is around,  I don't do office work.  I don't mix the two. Unfortunately, it is difficult for many people to strike a balance, especially if one is still building a career. It is tough but with God's help and supportive people around, one can combine the two.
How has the journey been like since you became the director of CEI?
As the director, I oversee the activities of the centre. We run postgraduate programme and general studies course, Introduction to Entrepreneurship. The director is in charge of the day-to day running, making sure exams run smoothly. We also have collaborations with businesses, we help innovators register their patent so their intellectual property is kept safe. We do trainings and we act as a link between our students and the industry.
What advice do you have for Nigerian women?
The only person that can limit you from being who you want to be is yourself. The challenges are there but be determined to make it.  If you wait for the world to give you an opportunity, it may never come. Being a woman is great. It is an added value because God has put in us the capacity to be able to multi-task and do many things so, we must be able to believe in ourselves, value ourselves and know that you can make it without compromise.  We can stand tall and say I did it without compromise and  that is when people would begin to respect womanhood.