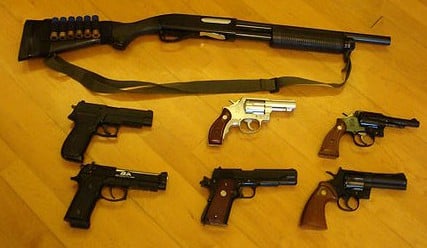 A seventy-five years old man, Olayiwola Araba and three other persons have been arrested by the police at the Zone 2 police command for allegedly being in possession of firearms.
The septuagenarian and three others namely: Olanrewaju Kabiru, Jide Akinola and Oladele Jacob were arrested by the operatives of the Zonal Intervention Squad, led by Gbenga Megbope, a Chief Superintendent of Police.
The image maker in charge of the zone, Dolapo Badmos confirmed the arrest of the suspect and added that the old man was arrested for supplying firearms to local security men with the approval of the government.
Badmos, while speaking on the arrest of the suspects said "We are holding the seller and the buyers for illegal possession of firearms, because the seller has no any document to show he has the approval of the police authority to sell gun to the public."
The zone 2 police image maker also added that "We are going to conduct a discreet investigation into the business to identify their routes at which the arms and ammunition come into the country. The arrest of the three other suspects who are vigilante members led to the arrest of the man who sold the gun for them at his residents at Gbagada area of the State."
The zone 2 police public relations officer also added that "it was through the arrest of the vigilante members by the ZIS team for unlawful possession of the firearms led to the arrest of the man whom they claimed sell the gun to them".
The seventy-five years old man however denied that he was selling firearms illegally, insisting that he had license from the police for his operation.
The old man said: "my father was into importation of gun into the country before he died. When he died I took over the business, and I got my own license from in 1974 to bring firearms into the country."
He also added that "It was when I was working with my late father, that I showed interest in the business. I don't import the guns illegally I got my approval from police to bring it into the country."
"When I was arrested I showed the documents given to me by the police but they did not believe me." The suspect said and added that "When the suspects were arrested by the police for unlawful possession of the firearms they told the police I sold it for them, that was how they came after me and got me arrested for selling gun."
He also insisted that "I have been dealing with reputable individual and companies, and I don't sell guns to criminal it the vigilante that were arrested did not used the guns for robbery, if they want to doubt my facts they should go the State Command for verification of my claims, I don't sell guns for criminals."