40th anniversary: Bishop Howells Grammar School to honour Jakande, Tinubu, 40 others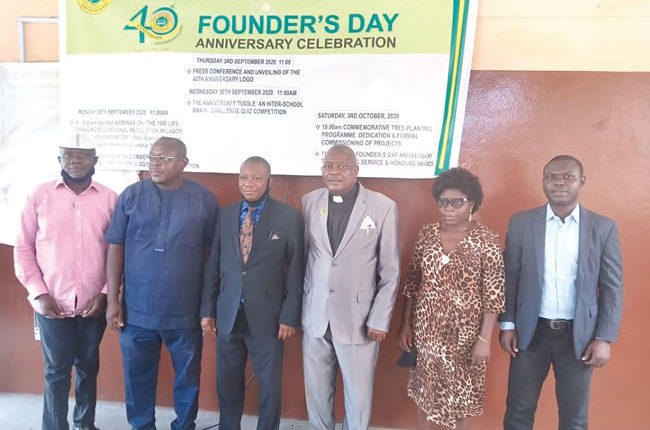 THE management of Bishop Howells Memorial Grammar School, Lagos, has concluded plans to honour two former governors of Lagos State, Chief Lateef Jakande and Asiwaju Bola Tinubu, as part of the school's 40th Founder's Day celebrations.
The school, which alongside Ajayi Crowther Grammar School, CMS Girls' Grammar School and St. Luke's Grammar School, emerged from the prestigious CMS Grammar School on October 3, 1980, will also honour 40 eminent personalities whose works have impacted the school over the years.
The chairman, board of governors of the school, Oluseyi Ogungbe, stated this at a press conference held to unveil the 40th anniversary celebration logo and activities.
Ogungbe said the weeklong programme which begins on September 28 will also feature a webinar, a commemorative gallery exhibition, inter-school quiz competition, the planting of 40 commemorative trees, the inauguration of infrastructural projects, the conferment of awards and the anniversary thanksgiving.
Ogungbe said, "The school has become a veritable assessment index and proud reference point for sound and round educational impartation not just within its immediate sphere of influence but across a wider latitude."
He added that a special posthumous award would be conferred on the school patron, Rt. Revd. Adelakun Williamson Howells.
The principal, Ven. Tunde Oduwole, noted that the school would honour Jakande because the school was founded during his administration as the first civilian governor of Lagos State, while Tinubu is being honoured because his administration carefully conceived the return of schools to their original owners.
YOU SHOULD NOT MISS THESE HEADLINES FROM NIGERIAN TRIBUNE
What I Told Trump About Christian Massacre Allegation ― Buhari
President Muhammadu Buhari, on Tuesday, revealed his response to President Donald Trump over the American leader's allegation that the Nigerian government was slaughtering Christians, telling him that the problem between cattle testers and farmers was a cultural thing rather than ethnicity or religion…
COMMENTARY: Four Reasons It's Stupid To Compare Nigeria's Petrol Prices With Other Countries, By Farooq Kperogi
In trying to justify Buhari's latest callous hike in the price of petrol (amid a pandemic, no less), Buhari's supporters increasingly sound like noisome idiots straining hard to be low-grade morons. Here are four reasons it's stupid to compare Nigeria's petrol prices with others…
Constitution Review: Middle Belt Congress Seeks Additional 19 States, Abolition Of Local Councils
Ahead of the proposed amendment of the 1999 Constitution by the Senate ad-hoc committee led by Senator Ovie Omo Agege, the Middle Belt Congress has submitted a memorandum to the Committee.
Investigation revealed that the MBC is seeking for the creation of an additional 19 states in the country to make the total number of states to 55…
50 Million Nigerians May Develop Mental Illness, Commit Suicide ― Expert
Contrary to what many people think, a mental health expert, Dr Jibril Abdulmalik has said that 50 million Nigerians stand a risk of developing mental health problems, and some culminating in suicide.
Dr Abdulmalik spoke at a one-day online training on mental health and suicide reportage for media practitioners in commemoration of the World Suicide Prevention Day (WSPD) 2020…