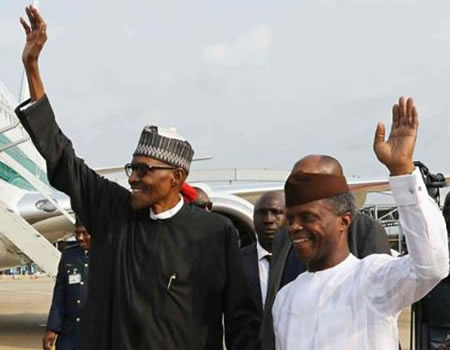 A group, Buhari, Osinbajo Hope Movement, (BOHM) at the weekend said it has constituted a grassroots mobilization teams in different parts of the country to ensure the reelection of President Muhammadu Buhari and Vice President Yemi Osinbajo in the 2019 General Election.
BOHM President General, Mr Seyi Bamigbade, disclosed this while speaking with journalists in Lagos, saying the group decided to constitute the team to be able to reach every Nigerian irrespective of their locations.
Bamigbade urged all members of the group to embark on mass grassroots mobilisation of Nigerians who had registered to vote for the victory of the All Progressive Congress (APC), presidential candidate, President Buhari and his running mate, Osinbajo, come February 2019.
ALSO READ: Obaseki lashes out at Anti-Oshiomole APC members
Seyi, who had earlier addressed the national meeting of the group held on Saturday in Abuja, said BOHM was one of the support groups working to ensure that Buhari and Osinbajo were reelected into office in next year's polls.
The association had vowed to do everything within the laws of the land to mobilize over 80 million Nigerians to vote for Buhari/Osinbajo in 2019.
Bamigbade commended the Board Of Trustee Chairman, National Committee For Support Group (NCBSG) Senator Abu Ibrahim and Hon. Gideon Sammani, Senior Special Assistant to the President (Political) for their dedication to the nation's development based on continuity.
Also speaking, the National Coordinator of the group, Hon. Ike Okafor, while urging members to brace up to do it again by ensuring more vote in the coming election, said President Muhammadu Buhari became the flag bearer of APC not by fortuitous, but by hard work and commitment to make Nigeria great again.
"It is the responsibility of all our members to go to all the nooks and crannies of our country, Nigeria by campaigning based on issues for Buhari/Osinbajo ticket," he said.