2019: Atiku, Fayose, Gbenga Daniel task electorate to protect their votes
 As PDP takes campaign to Osun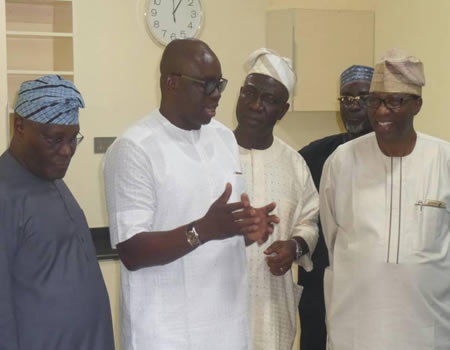 THE presidential candidate of the Peoples Democratic Party (PDP), Alhaji Atiku Abubakar, immediate past governor of Ekiti State, Mr Ayo Fayose and former governor of Ogun State, Otunba Gbenga Daniel on Tuesday charged the electorate as Nigerians prepare for next month general elections.
The trio spoke in Osogbo, Osun State capital at political campaign organised to drum support for the presidential ambition of Atiku Abubakar.
They contended that Nigerians must ensure that their sacred votes to elect Atiku as the next country president are effectively guarded with a view to rescue the masses from the clutches of poverty and deprivation.
According to Atiku, the ruling All Progressives Congress (APC) under the leadership of President Muhammad Buhari had failed to deliver on its electoral promises, thereby dashing the hope of the people.
He stated: "Buhari promised jobs. Has he done that? He promised security, but we have insecurity in all the zones of the country. Don't allow APC to steal your votes. We have information that INEC had been giving uncollected PVCs to APC governors.
ALSO READ:  VIDEO-PHOTOS: Abdulrazak whisked away as thugs attack APC members in Ilorin
Atiku, however, promised to give 40 per cent of appointments in his cabinet to youths if he wins February 16 presidential election, stressing that enabling environment for women and youths would be created across the 36 states of the federation.
In his remark, immediate past governor of Ekiti State, Mr Ayo Fayose said "Atiku has brought good tidings to the people of Osun State. But, the electorate must resist all forms of rigging by INEC and the APC.
Similarly, former governor of Ogun State, Gbenga Daniel recalled that "Buhari promised to restructure, but when he gets to the government, he jettisoned the idea."
He averred that: "Before Buhari assumed the leadership of the country, only Borno was facing insecurity challenge. Now, Katsina, Zamfara, Kaduna, Benue are battling with insecurity. If Buhari cannot secure his home state, will he be able to secure other states, including Osun."
Addressing the crowd, the national chairman of PDP, Prince Uche Secondus lamented the hardship Nigerians were experiencing in the last three and half years, saying that Nigerians have made a costly mistake by voting President Muhammadu Buhari's led government into power.