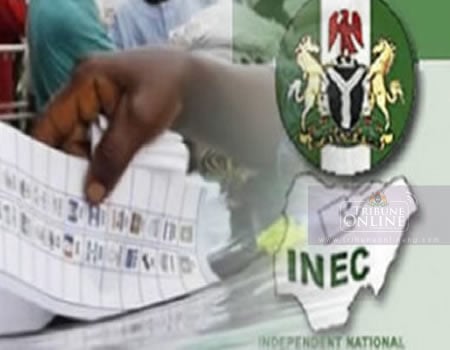 THE candidate of the All Progressive Grand Alliance APGA, Chief Victor Umeh, has been declared the winner of the Saturday's   senatorial rerun election at about 3:05 am on Sunday morning.
The former APGA, National Chairman, who challenge the emerges of Senator Uche Ekwunife of the People Democratic Party PDP, at the Appeal Court, on the ground that was not duly nominated by her party, that made the senatorial seat vacant since 2015, scored 64, 879 votes to defeat  13 other candidates that contested with him.
The APGA candidate won all the seven local government areas in the district.
At the INEC Awka, venue of the collation centre, the Deputy Vice-Chancellor of the Nnamdi Azikiwe University Awka, Prof Charles Esemone who is the chief returning officer, announced that "Having scored the highest number of votes and having certified the requirement of the law, Chief Victor Umeh of All Progressives Grand Alliance (APGA) is hereby
declared Winner of Anambra Central Senatorial Rerun Election and return elected".
The breakdown of votes for the election in the Seven council areas of the senatorial district is as follows:
NJIKOKA LGA
ACCORD – 5
ACD         – 5
ADC         – 3
APC         – 158
APGA.     – 11,506
GPN        –  7
ID            –   0
KP          –   2
LP          –   17
MPPP    –  69
NPC      –   3
PDC      –   0
PPA        – 16
UPP      –  7
AWKA NORTH LGA
Accord    – 2
ACD        –  2
ADC        –  4
APC        –  81
APGA     – 7,572
GPN       –  3
ID           –  2
KP          –  1
LP          –   5
MPPP    – 11
NCP       –  3
PDC       –   0
PPA        –  4
UPP        –  1
IDEMILI SOUTH LGA
Accord    – 5
ACD         – 0
ADC         – 4
APC         – 104
APGA      –  4,647
GPN        –  5
ID            –  3
KP          –   0
LP           –  11
MPPP     –  0
NCP        –  1
PDC        –  0
PPA        –  12
UPP        –  4
DUNUKOFIA LGA
Accord    – 5
ACD         – 3
ADC         – 6
APC         – 124
APGA      –  7,307
GPN        –  7
ID            –  3
KP          –   2
LP           –  9
MPPP     –  4
NCP        –  6
PDC        –  3
PPA        –  41
UPP        –  8
AWKA SOUTH LGA
Accord    – 7
ACD         – 12
ADC         – 22
APC         – 231
APGA      –  12,384
GPN        –  13
ID            –  4
KP          –   2
LP           –  23
MPPP     –  10
NCP        –  23
PDC        –  1
PPA        –  8
UPP        –  6
ANAOCHA LGA
Accord    – 8
ACD         – 1
ADC         – 10
APC         – 120
APGA      –  12,245
GPN        –  7
ID            –  0
KP          –   4
LP           –  19
MPPP     –  14
NCP        –  1
PDC        –  1
PPA        –  19
UPP        –  12
IDEMILI NORTH LGA
Accord    –  3
ACD         – 10
ADC         – 8
APC         – 157
APGA      –  9218
GPN        – 6
ID            –  2
KP          –   1
LP           –  11
MPPP     – 3
NCP        – 35
PDC        –  0
PPA        –  16
UPP        –  17