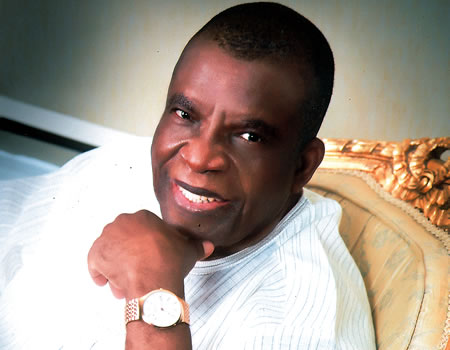 To say Prince Samuel Adedoyin, chairman of Doyin Investments Nigeria Limited, a conglomerate and foremost indigenous group of companies is an accomplished businessman, industrialist, entrepreneur among other earned attributions would be an understatement, unknown to many, Dr Adedoyin who has become a household name today started out as a palm wine tapper. The octogenarian in this interview shared his humble beginning with YEMISI AOFOLAJU and how he became an industrialist par excellence. Excerpts:
How would you describe your growing up years?
This question has been asked over and over again, I have narrated it several times as well, it's not new as far as I'm concerned. I'm told I was born in Lagos State but raised in Kwara State because at that time, my father relocated there as I was told. But there was a dispute between my parents. In fact, I was so close to my mother, though I felt very bad about that development. I later decided to take my destiny in my hands because at that time, my father did not even want to see me.
Why this disposition of his?
Maybe that was how God wanted it to happen. This singular incident made me to decide to stowaway to start a life of my own. All arrangements were made to travel by cargo ship.
How old were you then?
I was just 12 years old then, a Standard 4 pupil. We used to get mails and catalogues from England, Lennard Shoes, hoping to start my life in England and while doing this I would be able to study and work over there, but I was caught in the ship in Takoradi, Ghana, and that was how the journey ended. I worked as a steward with one Indian family, but I was sacked after 10 days because I never did that kind of job before and I didn't know how to do it properly. Later, I went to meet a family from Offa, Kwara State in Kumasi, Ghana, and I got engaged in petty business (worobo) dealing in padlocks, hinges, nails and other items.
How did you get money to start such a trade?
It was not much money, I think I had one pound and 20 shillings. I asked a man to be giving me the goods to be paid for in the evening. He was happy doing business with me because I was able to sell all the items he gave me on credit, he decided to increase the credit facility. This was how God started my journey into solvency.
What was your mum's reaction?
I didn't even tell my mum because if I had told her, she would not have allowed me. She did not even want me to come to Lagos in the first instance, but I insisted. Since going to England failed, I became a trader in Ghana. In less than two years, the business thrived. I was able to come home with 52 pounds after two years.
At that tender age of yours…
On my arrival home, members of family on seeing me began to throw sands at me as they believed that I was dead long ago and that I resurrected. But I told them that I was not dead and that I attempted to migrate to England and ended up in Ghana. My mum was indebted to so many traditionalists 'Babalawos' and others she consulted about my whereabouts. I empathised with her and I also spent all I had to settle her debt. I was stranded in the process which made me to go into farming at 14 in Agbamu. My dad hated me the more because he said his people said that he had used me for money ritual being his first son. After several pleas, he said the only thing that would make him to accept me was if I could be a palmwine tapper to raise money and go back to Lagos. As a result of his directive, I had to learn palmwine tapping against my will. In fact, there was no enough food to eat at all times. My mum always brought solid pap on Sundays. She was residing five kilometres away from my dad after they separated. It was this solid pap only that we would feed on till the following Sunday hence the reason for my hatred for solid pap till date. Although there were many fresh fruits (banana, pawpaw, plantain) by the river side among other fruits that were not planted with bush meat that were shot by game hunters who were fond of setting farmlands on fire every December in order to force animals out of their hiding.
On a fateful day, I saw a parcel of land with cassava that got burnt and I decided to plant maize there. I discovered that the remnants of the burnt cassava tubers meant the land was fertile because there was no other way I could source for money for farming then. I closed from my father's farm about 2:00pm to plant some maize. When I went back the fourth day, I saw all green well cultivated farm. Thereafter, I sowed in the land. On the seventh day, when I went back the farm wore another beautiful look as the maize had all germinated which I kept to myself. By two months, the maize farm had grown well as it was bigger than where seven of us were working for our father. Barely three months, the crops became so big, but my father wouldn't trust me. I decided to invite him to the maize farm. He couldn't believe what he saw. He wondered how I got the land as I told him that I stumbled on the farm land when I was looking for pawpaw to eat. In fact, I had to borrow a barn to store the harvested maize which I later sold for 54 pounds. I used my mother's dress to sew my Xmas dress as against what young men were wearing in Lagos then. Velvet was the vogue in those days. I bought suade shoes, new clothes and 'Coral Adele' that filled my suit-case with just two pounds from the maize sales. I threw it at my people that 'Coral Adele' has reached lazy man though I was ignored! When I was in Agbamu, the people in my community wanted me to be their councillor and I accepted it to be on part-time basis. This was how I became a councillor at 14. I left the council after running the office for over a year. I gave my mum four pounds out of the 52 pounds I realised as maize proceeds and I took the remaining to my father for blessing. He even followed me to Lagos where we met one Chief Somorin from Sagamu, Ogun State of Somorin Pools at 37/39 Idumagbo Avenue and it was through him I hired a two-by-four feet shop where I started trading.
Selling what?
I started selling umbrellas and I was making money on a daily basis. There were days I realised six shillings, five and four which were properly documented in an exercise book that I keep till date. There was an Indian who was giving me umbrellas on credit and he forgot to collect 12 pounds from me. I told one of my cousins about this development and he counselled me not to return the money as he made reference to a saying that 'when you get to Lagos, you will see 'ire Olokun' and 'Ire Olosa' and that it was blessing from God and that I should keep the money, but I couldn't sleep until I took the money back to the Indian. He rewarded my sincerity by appointing me as his distributor that made all his customers to buy umbrellas from me. Then there was a rumour doing the rounds that I had made money ritual (LUKUDI). The appointment became a huge blessing that I bought my first piece of land at 18 and also a Volkswagen car for 200 pounds. At 19, I built a 27-room apartment at Mushin, Lagos.
One can conveniently say by God's grace…
It is more than God's grace. It was a miracle. This was how I started receiving blessing from God till today. I added school bags which was hot cake whenever school children were going back to school as well as umbrellas that were imported from Hong-Kong.
In essence, you did not obtain loan from any bank…
Not yet then. I took my time to look at how the school bag was produced with tarpaulin. I took a razor blade to remove every other stitch to get the design/template. I later got some machines to produce the school bags. That was the beginning of my adventure in manufacturing. I decided to travel in order to enhance the efficiency of my business especially assembling umbrellas as the prices of the Lennards branded products were exorbitant. I went to Singers Sewing machine's Company, I came home to put into practice what I learnt at my first business trip to England. Within six months, I got another building. Within two years, I started my first factory at Ilupeju, Lagos producing school bags and umbrellas. It was a miracle as people came to deposit money for the products before they were even ready. As at then, I had four buildings, bought another piece of land for 7000 pounds at Ikoyi, my lawyer then was L.J. Dosunmu. My dad came to me and expressed worry that I had not built any house,  but I told him that I had houses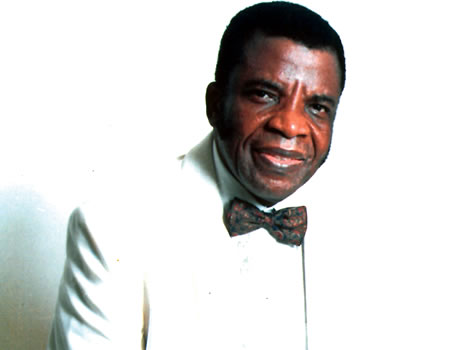 already. I took him to all my houses because there was nothing like a traffic jam in Lagos then. I took him to the lawyer for verification, but he still didn't believe me, it was at that point that the lawyer walked him out of his office. Then, I had bought a Mercedes Benz 240 car which we rode to my house at Surulere. At night, he began to shed tears of joy as he was convinced that all he had seen were true. From that moment, he believed me and he begged me to build a church in Agbamu, which I started the second week. By the grace of God, the building is still standing. I also built a dispensary and later a general hospital in my village. I also tarred the 13km-road leading to my community over 30 years ago. I gave the hospital to the Kwara State government, but I was not satisfied with the running of the hospital and that made me to come in till date. I diversified into a lot of sectors. I went into banking business with the bank named City Express. I am 82 now. God has been kind to me all these years.
As a child, what did your parents hammer into your consciousness?
The most important thing I gained from my father is truthfulness. He died at 64. My mum suffered seriously because of me, her life taught me perseverance, she was over 100 before she died three years ago.
How stubborn were you as a boy?
Never told I was, but I used to hear from God even though I was not a devout Christian. I dreamt that I would be rich without farming! But those who queried my being wealthy were there when God led me into maize farming. They were unable to sell 500 shillings worth of maize when I realised 54pounds! All those who came from Agbamu to Lagos then came through me. I sent all of them to school, there are professors, lawyers and doctors among them today.
When did you join the 'Millionaires Club'?
I was already a millionaire at 24.
Why didn't you go into academics?
I had Standard Four certificate till date. I passed the examinations at this level. I am using the certificate till today, but I am well travelled. I once had a London office where there were expatriates working for me, I closed it down with the advent of GSM that made communication easy with any part of the world and the tax managers showed me hell. I decided to invest more in Nigeria, as I observed that we are not loved and not seen as equals. In England I live at 'Millionaires' Avenue' but we are not seen as equals. I decided to have all my investments in my country.
How much did you start with?
I started with 48pounds. I only borrowed two pounds when I started manufacturing business from Standard Bank now First Bank for importation.
What motivated you to start Doyin Global Soap and Detergents?
As human beings, I believe we are equally talented as the expatriates and that anything they can do, we can equally do passionately. We always talk about indigenous technology and I believe that Nigerians are capable of doing this and this has been the driving force behind my success. We are into pharmaceuticals, hospitality services, estate, oil and gas, automobile. I have not given up on my first love-farming as our farm in Agbamu satisfies raw material needs of other industries in the production of ginger, tomato, pepper, cassava, palm wine among others for the production of starch and oil palm.
Is there any business you regretted doing?
Yes. The establishment of my bank is the only business I regretted being involved in. I thank God for taking the bank away from me, because looking at the evaluation of the shares which was then N13! Generally, the banking sector is not doing fine. But God has been taking me from one tribulation to greater heights.
Is it luck that has kept you this long in business?
It is strictly the power, blessing and grace of God that keep me going. The one who was and is, it is not my wisdom or strength but strictly the grace of God.
How have you maintained the bond among your children?
It has been God all the way who has kept them together.
When are you going to stop being at your desk at 8:00am, are you not thinking of leaving the scene for your children?
I have delegated the running of my business concerns. Since you (journalist) have been here, how many businesses have been brought to my attention? I will still delegate, but at every point in time I must have something doing because the body is made like a machine. It must work. It is likened to a car parked for six months without being used, it will need to be serviced before it can move. The body is made to move and to be used. My mother farmed to an embarrassing age. Since God has given the brain and ability to use the body, I must be engaged at every point in time.
How social are you?
I think I am social enough, though not so addictive. I am well connected through God.
Why have you not been active in politics since you have the wherewithal?
I hate politics.
What has life taught you?
Life has taught me to belong to God. Listen to His voice and directive. To serve and adore Him and that He in turn will do wonders for one that the world cannot do.
What has become of Doyin Babes Football Club?
I am actually not a sportsman. It was one of my managers who sold the idea [of running a football club] to me and he is no longer working with me which affected coordination of the club. Don't forget that the club was based in Ilorin while I am based in Lagos. I get involved in giving back to the society in other areas, especially church activities.
What is your dream of Nigeria?
My view of Nigeria is totally different from others. Some will say Nigeria is not growing, I will say it is growing. Before independence, there was no Victoria Island, Federal Palace Hotel was just built. To me, Nigeria is growing and developing, I bought the land on which my office was built for N13,000, but you cannot buy it for N130 million today. The distance between Epe and Badagry is over 100 kilometres, which is all built up. From here to the Redemption Camp along Lagos-Ibadan Expressway is all built, is that not development? In South Africa and many parts of Africa, you cannot get billionaires as we have in Lagos alone. We have people that employed thousands of indigenous workers. Is that not development? The economy is growing, to me, we can do much better if stealing in high places is stopped and everyone is honest with ourselves. What we don't have enough of is power. Nigeria is the largest economy in Africa. Those who are stealing should stop stealing and those who are not investing in Nigeria should start investing and industrialising the country. They should believe and have trust in Nigeria because we have no other country but this. At independence, how many cities could we count in Nigeria? But now in every state, we have at least two cities. We have 36 states and the FCT and Nigeria has over 100 cities. So how would you say we are not developing? At independence, there were about two or three airports, but now, almost all the states have their airports. How would you say Nigeria is not developing?