Nigerians from all walks of life on Monday converged on Lagos to celebrate the sage, Chief Obafemi Awolowo's 108th birthday. BOLA BADMUS reports.
P ROMINENT Nigerians from all walks of life on Monday converged on Lagos to, once again, celebrate the sage on his 108th birthday. Celebrating the posthumous birthday of the iconic leader is something that has become a tradition since his demise 30 years ago.  And it was a gathering, in set up and colour, worthy of Awo's stature as an iconic nationalist, former opposition leader in the Federal House of Representatives in the First Republic and former Deputy Chairman of the Federal Executive Council.
It was really a gathering of who is who in the country with former Head of State, General Yakubu Gowon, under whom the sage served as Federal Commissioner for Finance, not only being in attendance but chairing the event at the Nigerian Institute of International Affairs (NIIA), Kofo Abayomi, Victoria Island, where a befitting lecture titled, "The Awolowo Legacy and its Message to Nigerian Youths," was delivered by an eminent scholar, Professor Banji Akintoye.
Other dignitaries who gathered at the 2017 Obafemi Awolowo Memorial Lecture, included the Osun State governor, Mr. Rauf Aregbesola; Lagos State Deputy Governor, Dr Idiat Oluranti Adebule, who represented Governor Akinwunmi Ambode; Ogun State governor, Senator Ibikunle Amosun, who was represented by his Chief of Staff (CoS), Mr Tolu Odebiyi; former Secretary-General of the Commonwealth, Chief Emeka Anyaoku, who is Chairman, Selection Committee, Obafemi Awolowo Prize for Leadership; immediate past governor of Delta State, Dr Emmanuel Uduaghan; former Ogun State governor, Chief Olusegun Osoba; Afenifere chieftain, Chief Ayo Adebanjo; former World Court judge, Prince Bola Ajibola and National Coordinator of Odu'a Peoples Congress (OPC), Chief Gani Adams.
Others include former governor of old Western State, General Adeyinka Adebayo; war leader NADECO chieftain, General  Alani Akinrinade; Chief and Mrs Adekunle Ojora, Vice Chancellor, University of Medical Science, Professor Friday Okonofua; former Editor, Daily Times, Chief Areoye Oyebola; Executive Director, Nigerian Export Promotion Council (NEPC), Mr. Segun Awolowo; former secretary of the sage, Mr Odia Ofeimun, among others.
Royal fathers on hand included the Ooni of Ife, Oba Eniitan Ogunwusi; the Obi of Onitsha and Patron, Obafemi Awolowo Foundation, Igwe Nnaemeka Achebe, among others.
The event, which was organised by the Obafemi Awolowo Foundation, under the leadership of its Executive Director, Ambassador (Dr) Olatokunbo Awolowo Dosumu, also witnessed the attendance of a good number of youths, who were the main targets of the anniversary lecture.  It was also designed that the youths benefit by sharing from the knowledge of the life and times of the sage, who rose from Ikenne, weathering various storms and challenges as a youth to become a renowned lawyer, journalist, politician and statesman, who is still being celebrated long after his physical exit from the world and would still continue to be remembered for a long time to come based on the enduring legacy that he left behind.
Chief Awolowo, who one of former British Prime Ministers said could rule Britain and Nigeria successfully, and who was described by the late Chief Emeka Odumegwu Ojukwu, as the best president Nigeria never had and who the former Nigerian Military President, General Ibrahim Babangida said had remained "an issue in Nigerian politics," would have been 108 years old if he were to be alive.
By 11am when the lecture was to kick off, nearly all those invited to grace the occasion had been seated, an indication of the seriousness that was attached to anything that has to do with the sage, even 30 years after he had separated from this world. To borrow from the Ooni's statement at the occasion, "everyone would die and leave a spirit, but one must always be concerned about how he wants to be remembered thereafter." The impressive event is an indication that the sage, Awo, is being remembered on the bright side of history.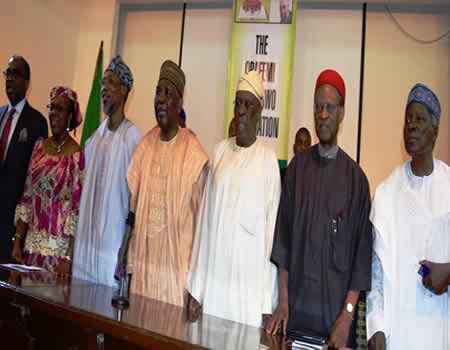 Chairman on the occasion, and former Head of State, General Gowon, affirmed that Awolowo was not for Yoruba alone, but for the entire Nigerian nation. He recalled that Awolowo, who led the Unity Party of Nigeria (UPN) in the Second Republic, played a vital role in keeping Nigeria one by joining hands with him to effectively prosecute the Civil War without borrowing a kobo. It was a difficult time in the history of the country, General Gowon could recall.
He said that the Nigerian youth need to benefit from the wisdom of the sage.
"Awo worked with me at a difficult time in the life of this country, but throughout this time, he kept sharing ideas for the development and survival of Nigeria. Together, we succeeded in keeping Nigeria one without borrowing a kobo," Gowon said.
According to Gowon, Awo never did, nor accepted anything by half measures, saying his life and times would forever remain a reservoir of knowledge for all Nigerians, especially the youth. This was just as he declared that Awolowo as statesman was loved, not just by the Yoruba nation, but others as well, all over the country.
He, however, highlighted some of the qualities in Chief Awolowo to include loyalty, perseverance, focus, hard work and sacrifice, among others.
Former Secretary—General of the Commonwealth, Chief Anyaoku, in his own remarks, was particular about the current situation that Nigeria had found itself, saying it was indeed certain that the country's founding fathers, including Chief Obafemi Awolowo, Dr Nnamdi Azikiwe, Sir Ahmadu Bello, among others, who fought for the independence from colonial rule would be full of lamentation and disappointment were they to be alive today.
According to Anyaoku, who is also the Chairman, Selection Committee, Obafemi Awolowo Prize for Leadership, Awolowo and other late nationalists would be mostly full of lamentation and disappointment for the state the country had found itself, having no viable federating unit as it was the situation at Independence.
"I have often wondered how Nigeria's founding fathers- Nnamdi Azikiwe, Chief Obafemi Awolowo, Ahmadu Bello-would feel if they were to rise up to see Nigeria as it is today," Anyaoku said.
He said he had no doubt that Chief Awolowo, who championed the cause of true federalism and as premier, brought about very effective rule in the old Western Region, would especially be filled with deep disappointment, seeing that all those benefits had now vanished.
"Chief Awolowo would be disappointed that, instead of having a few viable federating units in which effective human and economic development can thrive under a peaceful atmosphere, the country now has non-viable federating units with an all-powerful centre," he said.
According to him, such a situation had allowed, among other things, a do-or-die politics, which, in turn, had exacerbated the ethnic and religious divisions in the country.
Osun State governor, Mr. Rauf Aregbesola, who Mr. Segun Awolowo, the grandson of the sage had introduced as radical Awoist, declared that truth was that Nigeria as a country is in real dilemma, even spiritually. He wondered what statements Awolowo would have uttered on the state of the nation were he to be alive today.
Aregbesola, who said he too believed so much in the call for restructuring, however said that restructuring was not the real challenge facing the country.
The real problem that Nigeria needed to address, according to him, is how the country's income is being distributed, contending that such inadequacy had been the basis of poverty in the country.
He cited the case of the whole of Europe that was redeveloped after being ravaged during wars and Britain, which suffered hunger for months with no food being allowed into the country, still came out of those problems.
"Until income is predicated on production in either good or service, we are going nowhere. Blaming leaders or followers, we are only chasing shadows. What cannot be measured cannot be managed," he declared.
Lagos State governor, Mr Akinwunmi Ambode, in his own speech, asked Nigerian leaders, both old and new, to see the need to exemplify Awolowo's character, not only by the relationship one had with him, but putting into practice what the elder statesman stood for and demonstrated while he was alive.
Ambode, who was represented by his deputy, Dr Idiat Adebule, described Chief Awolowo as a foremost politician, an administrator, a prudent manager of resources, among others, adding that the gathering to celebrate his life was an opportunity to remind the people, both the old and new generations, on what true leadership was all about.
Ogun State governor, Senator Ibikunle Amosun, lauded Chief Awolowo, who also spoke through his representative, Mr Odebiyi, pointed out that Awo's strides in education, industry were commendable and, therefore, worthy of emulation. He said that the occasion of the lecture was another opportunity to show case the sage.
Amosun revealed that Ogun State is already demonstrating the vision of the sage by being a proud owner of two universities and currently the fastest growing industrial state. He also promised that Ogun would remain an enviable state in the country.
"Ogun State right now is a proud owner of two universities and currently the fastest growing industrially," he said.
The Ooni of Ife, Oba Ogunwusi, who added a royal voice to the dialogue,  lamented what he called the unguarded crave for materialism, which he said had been Nigeria's bane.
The Ooni, while describing Awolowo as a beautiful spirit that had separated from the world 30 years ago; still being celebrated through such gathering and would still be celebrated for a long time to come based on what he represented and fought for, enjoined all to be mindful of what would be said about them after they must have died.
According to the traditional ruler, who was said to have promised to continue with the warm relationship that had existed long between past Oonis and the Awolowo family, it is not about wealth and estates that one left behind that he or she would be remembered for, but the positive impact he or she would have made on the lives of people.
"We crave for materialism today and other earthly things jettisoning the legacies of the nation's forefathers. But, we've forgotten that death, which is a necessary end, will come, whether young or old. But the question we should ask ourselves is: what type of legacies are we trying to leave for those coming behind us after we might have died and separated from the spirit.
The Ooni said: "We gather here today to remember a living legend. It is by virtue of the spirit that we are all here. We all have our spirits living with us. We are still celebrating a beautiful spirit 30 years after he has left.
"It is not about wealth and estates that one left behind that he or she would be remembered for, but the positive impact he or she would have made on the lives of people.
"They wouldn't remember the estates. They are ephemeral. All those things will leave you when the separation comes. It is  food for thought. What will people say about you?"
Earlier, in her welcome address, the Executive Director and founding member of the Obafemi Awolowo Foundation, Dr. Tokunbo Awolowo Dosumu, reiterated the commitment of the Foundation to keeping the positive memories of the sage alive.
On the choice of the topic of the lecture, she said it was in tune with Awo's disposition towards the youth as the obvious leaders of the future, describing the guest speaker, Professor Akintoye, as an example of such disposition. She also recalled that the Professor was one of the few living Nigerians that learned at the feet of the sage as a youth.
She expressed her appreciation and delight at the support the foundation had been enjoying from Nigerians since it was set up  few years ago.
Guest lecturer, Professor Akintoye, who many dignitaries at the gathering acknowledged as having done justice to the topic, called on Nigerian youths to see it as their duty to restructure the country and not wait for politicians to do it. He added that the youth needed to see the onerous task as solely their responsibility which, he said, must not be left in the hands of politicians.
He defined the youth as those within the age bracket of 18 to 40 years, adding that they constitute about 55 per cent of the nation's population.
Prof. Akintoye said that the youth must not allow the struggle for the full restructuring of Nigeria to be championed by politicians, warning: "Do not leave the struggle for the restructuring of Nigeria to politicians, they are playing with your future."
The guest lecturer, who served as a senator in the Second Republic, identified a number of things he tagged "The Awolowo ways," saying a youth who wishes to also leave an indelible mark in the sands of  time must emulate and strive to achieve.
According to him, any youth who chooses to learn from Awo stands a chance to live a life that influences others, while such knowledge would in turn enrich and build for him or her a respectable image all over the world.
"Though things are tough in Nigeria today, things will eventually work for those who are given to learning and who continuously strive to learn new ideas. This is the Awolowo way.
"Papa Awolowo relentlessly put himself in search of knowledge, therefore, anyone of you can also start from somewhere in search of knowledge," he said.
Reiterating his call on the youth, Prof. Akintoye reminded everyone at the gathering that at 37, Chief Awolowo had already stepped into greatness by forming the Egbe Omo Oduduwa, a feat, he said, was followed by the publication of his first book which was channelled towards Nigeria's greatness two years later.
"This is a reminder that we can achieve anything we set our minds on. This is a message to our youths in these terrible times and history of our country," he said.
Dwelling on the recurring issue of restructuring, Akintoye warned that except proper recognition was given to individual ethnic nations, in line with the dreams of Chief Awolowo, Nigeria is heading for disintegration.
This was just as the retired university lecturer, who has an enviable record of being one of the few who enjoyed very close relations with the sage, recalled that it was through giving individual ethnic nations recognition as enjoined in Nigeria's Independence. Constitution that each region in the country was able to develop at its own pace, with the South-West region leading in all areas of development then.
Akintoye also said were Chief Awolowo to be alive now, he would not be happy looking back at the state of the nation, especially when considering his dream of a Nigeria where the rights of any tribe, irrespective of population, or location, would be respected.
He cited the gross neglect of individual ethnic rights under the guise of building a central government system as being responsible for the decay being witnessed in the country today.
"Over-concentration of power in the Federal Government is the root of all evils threatening Nigeria. Except room is given for proper restructuring of Nigeria where no single tribe's rights is subsumed by another, Nigeria is heading for disintegration," he maintained.
"If you deny any nation such as the Igbo or Yoruba nation or others of their nationality, then we are piling up more problems for the future," he warned.
While paying further tributes to Chief Awolowo, he reminded the guests of the free education system that he ran in then Western Region as premier.
"There are thousands of Yoruba professors scattered in different universities in the United States and other parts of the world. Majority of these are products of the free education programme initiated  by Awolowo.
"Awo remains alive because his legacies continue to impart the lives of Nigerians,"  Prof Akintoye concluded.