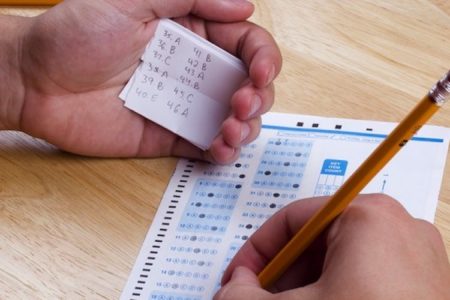 THE West African Examinations Council (WAEC) has expressed concerns over what it described as "alarming rate of collusion" cases in its examinations.
It also decried the effects on its examinations of poor infrastructure in schools and poor supervision by teachers, calling on stakeholders to complement its efforts at stamping out the menace of examination malpractice.
These are part of the highlights of the communiqué released at the end of the 65th National Examinations Committee of the council held on Wednesday 28th and Thursday 29th of March, 2018 in Lagos.
The committee observed that the bringing of mobile phones and other electronic devices into examination halls by candidates to perpetrate malpractices had increased, and stressed the need for government at all levels to exercise the political will to clamp down on examination malpractice in public examinations.
The committee, among others, considered a report on the conduct of the West African Senior School Certificate Examination (WASSCE) for Private Candidates 2017 and 2018 First Series, as well as irregularities arising from the examinations.
It also received report on the Irregularity, Special and Clemency cases arising from the conduct of the WASSCE for School Candidates 2017 earlier considered at its 64th meeting.
The committee approved appropriate sanctions for all established cases of malpractices, including cancellation of entire results (CER) or cancellation of subject results, as the case may be.
Some candidates were also barred from the council's examinations for a certain number of years.
The committee commended WAEC for organising the International Summit on Examination Malpractice and urged the council to further organise periodic orientation programmes for examination malpractice for stakeholders to sensitise them to the harm being done by the scourge.
It also approved the immediate deployment of the Item Differentia Profile Application for the detection of examination irregularities in multiple choice questions with effect from 2019.