Will drought-resistant hybrid maize seeds help Nigeria attain food security?
With the potential to grow maize for local consumption and exportation from the Nigeria's vast arable lands, will farmers, who now depend on drought-resistant hybrid seeds to get optimum farm yields, help the country attain food security? IFEDAYO OGUNYEMI reports the various sides to this issue.
IT was a sunny Tuesday morning in Ido Local Government Area of Oyo State and time for the weekly meeting of over 50 members of Owonikoko Asejere Multipurpose Farmers' Cooperative Society. The venue of this meeting, held in August, was not the almost-cozy top-floor room of the three-storey shopping complex where they usually meet, but a farm in the outskirts of Ibadan, the state capital.
Dozens of farmers and stakeholders in the agriculture sector had converged on the farm located opposite Iyana Aba-Oke to familiarise themselves with the insights and challenges of using hybrid seeds, a development experts believe will help the country attain and maintain a just and sustainable agri-food system.
The meeting and field trial became necessary at a time when an estimated 720 to 811 million people faced hunger in 2020 globally as a result of conflict, climate variability and extremes, economic slowdowns and downturns and the COVID-19 pandemic, according to the Food and Agriculture Organisation (FAO). In 2019 alone, 34 million people globally experienced food shortage due to extreme levels of climate change going by figures made available by the United Nations Office for Humanitarian Affairs.
To end hunger, food insecurity and malnutrition globally, the FAO developed a six-point agenda including scaling up climate resilience across food systems that can "provide affordable, sustainable, inclusive and healthy diets" for all.
It is for this reason that farmers in Oyo State are now turning to climate-resilient hybrid seeds to bring about optimum farm fields that first address local food consumption deficit and then exportation needs that affect the country's economy.
Complete, optimum harvest
On Abdulkareem Adesanya's farm, four portions of arable land measuring up to an acre were being used as an experiment for drought-resistant hybrid maize seeds and those obtained from the open market.
A section of the ripe-for-harvest maize crops had yellowish-green leaves. The crops on a quarter of the farmland were planted with open market seeds and were used as control for the purpose of the field engagement. Another quarter of the land had crops planted with pioneer maize hybrid seeds which had green, mushy leaves while seedlings were sighted on the other half of the one-acre farmland.
"The hybrid seeds that we have been using give us optimum harvest compared to the others we find in the open market. The difference is clear between hybrid and open market seeds. The seeds gave us what one can call complete harvest," Adesanya, who is also the chairman of the cooperative society, said. "I planted one seed per hole and the output was as high as 95 percent, unlike the open market seeds."
Both sets of ready-for-harvest crops endured about seven weeks of drought from the point of planting and while the hybrid crops were manually watered once, the open market crops were watered several times before harvest period – at least 80 days after planting.
But that did not surprise Adesanya. He told Nigerian Tribune that in 2020 when there was a reduction in rainfall which affected farm yields, "we made bountiful harvest and optimum profits on these hybrid seeds which we used to supplement the setbacks in profits of the open market seeds."
Now and in 2020, Adesanya planted Pioneer Maize Hybrid 30Y87 and P4226 seeds, produced by Corteva Agriscience, alongside other seeds because they have high yields, stay-green characteristics, uniform ear placement, good standability, high protein contents, husk cover, and are tolerant to drought, grain diseases, leaf blight, curvularia leaf spot, downy mildew, maize streak virus, rust and turcicum, unlike the counterpart in the open market.
Whilst they are certified okay for planting in forest southern guinea and northern guinea savanna ecologies, and reach maturity stage between 85 and 100 days, they have a minimum-maximum yield of 5-12 tons per hectare against an average of 3 tons per hectare by the conventional variety.
Blast from the past, but not yet enough
When embraced by peasant, subsistence, smallholder and large-scale farmers nationwide, Adesanya hopes hybrid maize seeds will help Nigeria – with 84 million hectares of arable land – address its deficit of 4.5 million metric tons of maize which it imports annually while complementing the estimated 10.5 million metric tons of maize produced for local consumption annually, according to the Federal Ministry of Agriculture and Rural Development.
While data from the United States Department of Agriculture (USDA) says Nigeria's production capacity is ten times higher than what used to obtain in 1960, the demand for maize, a staple food in sub-Saharan Africa and key input in manufacturing companies and the poultry industry, has increased.
It will be recalled in August 2019 that the government closed its land borders and banned importation of food items among others, boosting local production of maize variety to address local consumption deficit, dependence on imports that come through these borders could come in handy in a bid to achieve food security while translating into more income and a stable economy.
"I make bold to say that all pioneer hybrid seeds in the market this year were bought up and used by our members. They just told us three days ago that a new batch of seeds are now available for purchase," he said, while noting that the knowledge and application of these hybrid maize seeds are cascading to farmers in neighbouring communities, particularly "on how we reap bountifully on these seeds."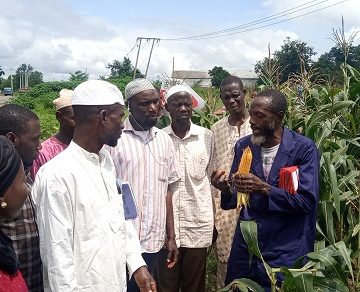 He added: "My farmland is even smaller compared to the farmlands of my colleagues and we even plant in the government reserved areas for farming, located between Omi-Adio and Eruwa."
Speaking to Nigerian Tribune during one of the visits, Field Agronomist for Corteva Agriscience in Oyo State, Dr Felicia Temisan, said the major challenge faced so far by these seeds is the delay in rain, but noted that harvest was not affected because the seeds are drought-tolerant.
She said: "The delay in rain did not affect pioneer seeds. We had about six to seven weeks without rain after planting. This is not me saying this, it is what the farmers told you and testified to."
Pockets of concerns
According to Adesanya, the treatment the seeds require include application of NPK fertilisers, insecticide, urea from the point of planting to about 12 weeks, noting that application of insecticide helps to ward off pests and Fall ArmyWorm (Spodoptera frugiperda) which is a challenge for maize and could cost about 80 percent yield losses if not properly managed. Excessive use of chemicals to fight FAW could lead to rejection of maize exports in some European countries.
While the hybrid can go for N100-N150 ($0.24 – $0.37) per one in the retail outlets, consumers want two for N50 ($0.12) as they buy the open market maize crops, as such farmers like Adesanya supply dry hybrid maize crops to feed mills, poultries and sometimes the market too. According to him, a sack will contain about 50 – 100 cobs of hybrid maize unlike the 150 – 200 of open market maize crops.
The Ibadan-based International Institute of Tropical Agriculture (IITA) in 2017 put the value of Nigeria's maize industry at N2.5tn ($6bn). This industry has had its own share of problems that were exacerbated by the COVID-19 pandemic.
In spite of the benefits that hybrid seeds offer to the sustainable agri-food system, it is not yet Uhuru for farmers in third world countries including Nigeria whose yields, health and safety, food and water, security and socio-economic development, are gravely affected by climate change, insecurity among other host of other challenges, according to the State of the Climate in Africa 2019 Report.
This was also corroborated by Temisan who advised farmers "to be in groups when going to farms" and to regularly "engage the NSCDC and other paramilitary agencies that can help handle insecurity."
Other challenges highlighted by Adesanya was the lack of tractors in the six LGs that make up Ibadan "less city", funds, and hike in cost of manpower and production.
"As of the time we planted that, NPK was N10,000 ($24.34) but now it goes for N12,000 ($29.21). The insecticide used costs between N1,300 and N1,800 ($3.16 and $4.38) but now, the insecticide is now N2,500 ($5.84)," Adesanya lamented.
According to him, a bag of hybrid seeds for one hectare is about N28,000 ($68.15). Open market seeds cost between N2,000 and N2,500 ($4.87 and $6.08) for eight cups depending on how each cup is sold for.
The cost of production for hybrid and open market seeds as of the time of Nigerian Tribune's first visit stood at N50,000 and N40,000 ($121.69 and $97.35) respectively. During the second visit, Adesanya said he made N180,000 and N80,000 ($438.09 and $194.71) respectively on an acre of land each. Adesanya's profits on hybrid seeds rose by 125% compared to open market seeds. "I would have realised more if the hybrid crops were allowed to dry. The dry ones worth more value than the wet crop," he noted.
Maize seeds are not the only hybrid species he plants; he alternates between watermelon, cucumber, beans seeds depending on the season, so as to "enrich the soil itself," adding that if farmers can persevere and get these hybrid seeds, "they will be the ones to reap the harvest and profits. I see my farmland like a child. It is how you take care of your child that determines how he/she grows up."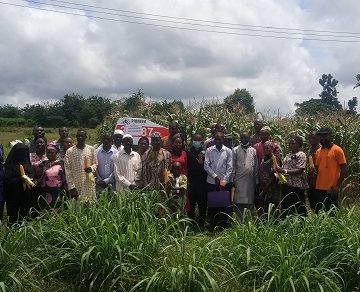 Another farmer in the community with visual impairment who participated in the field experiment, Raimi Owoeye, clamoured for the subsidisation of the cost of the seeds, noting that such will entice more farmers to take it up.
He noted that the financial obligations of farmers are numerous and a spike in cost of seeds could discourage farmers who are yet to come to terms with the benefits.
While noting that the food system has been plagued by global climate crisis in form of conflicts, environmental and socioeconomic shocks and the need for "building resilience for vulnerabilities, shocks and stress," an environmental health expert and Principal Consultant at Enviromax Global Resources Ltd, Gboyega Olorunfemi, called for scientific research and development to assess Nigerian crops to document their resilient profiles.
He also stressed the need for the integration of climate-smart agriculture to be strengthened while advocating for "cold value chain to be deployed using solar energy for preservation of food products to minimize losses."
This report forms part of the Climate Tracker Food, Farming, and Climate Journalism Fellowship with support from Nourish Scotland, UK.