Why documentary photography should be explored —Olawoyin
Olawoyin Smile is an entrepreneur and a professional in a field called documentary photography. He shared the story of how a disappointment led to his entry into ohotgraphy and the significance of the work of a documentary photographer with PAUL OMOROGBE.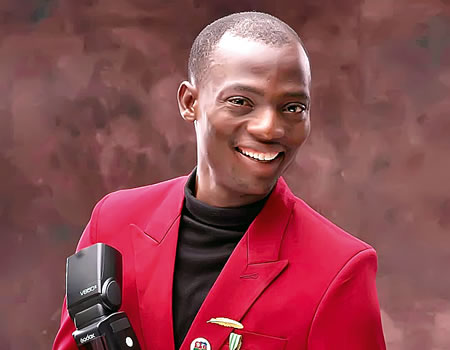 How did your photography dream start?
I didn't start photography as a dream but photography chose me.  I organise a called the Annual Youth Empowerment Summit. During the seventh edition, I engaged a photographer to cover the summit for the first time. Guess what? The programme started by 9 am proposed to end  by 12 noon, and the photographer arrived 11:30 am, which was 30 minutes to the end of the programme. After the summit, I called my crew for a meeting and I said that in the next edition, we will use our personal camera. They looked at one another and said, 'How will we get money to buy a camera?' because then, we were all students. I made up my mind to use my final year school fees to buy camera. That great sacrifice led me to where I am today.
5 sober prophetic predictions for 2019
After the eighth edition summit, things were so hard for me that everybody thought I would  dropout because I used my school fees to buy camera, but guess what, I didn't see myself as a dropout. God really helped me. So, I commercialised my camera till I got money to pay my school fees.
Since I took photograohy serious,  I began to dream big about it and today 60 per cent of my dreams have  come to reality.
I have been officially commissioned to document former President of Mexico (2006-2012), His Excellency, Felipe Calderon by Mexican Embassy in 2018.  I was also officially commissioned to document the First Lady of Ghana, Her Excellency,  Rebecca Akufo Addo by Nigerian Presidency.
I was officially commissioned to document the current President of Togo, His Excellency Faure Gnassingbe by Nigeria Presidency, in addition to being commissioned to document the 80th Birthday of former President of Nigeria, His Excellency Chief Olusegun Aremu Obasanjo.
I have documented the swearing-in of four Governors in Nigeria: Oyo, Osun, Ekiti and Ondo State.
I have been commissioned to document the Executive Director of Nigeria Export Promotion Council (NEPC), Mr Olusegun Awolowo; and to document a series of training projects of University of Chicago.
I have also documented the funeral service of the first governor of Kwara State, General Bamigboye and Ekiti State's General  Adebayo. I was recently commissioned to document the first Intra-African Trade Fair in Cairo, Egypt.
Is there a difference between conventional photography and documentary photography?
When we talk about documentary photography as the name implies, the documentary is about telling a story in a visual way that there won't be any room for argument or controversy because there is picture evidence. We can have documentary on any subject of interest or personality, which gives full details, in-depth details on the subject matter.
As a documentary photographer, your duty is to give full details of any moment by showing us the nature, colour,  texture, mood, line, light, shape and theme, because moments change every second. It is only the documentary photographer that can document yesterday for the purpose of the future. Documentary photography is not all about a shoot for news, but history because news lasts for 24 hours but history remains forever.
A documentary photographer works like a security agent. If you are commissioned to document a political figure or any personality, you are expected to document every moment because what you think doesn't matter might be the subject that will rescue a nation. So, you don't joke with the moment.
I remember when I was commissioned to document a foreign personality, she was wondering why I was taking pictures every moment of all elements around her in all outings. I always do that because if anything happens, my work will be needed in the time of the investigation.
I also recall that a documentary photographer played a major role during the investigation of the death of President John F. Kennedy of blessed memory.
A documentary photographer is a great asset for any political figure, public figure, president or governor.
Conventional photography is all about taking pictures for fun and other purpose.
How is a documentary photographer a great asset to a political office holder?
I said it earlier in my previous question, a professional documentary photographer is more or less like a visual security watchman. Some  years ago, the former president of the United States was assassinated and it was the work of the documentary man that traced the assassination that pulled the trigger. The man was able to capture the moment the bullet traveled.
In another  interview, the security man that that was close to John. F. Kennedy who rescued his wife said, "We security services failed because we didn't do our proper job, but thank God for the documentary photographer who captured the whole moments."
The committee's panel of photographic experts examined specially enhanced and stabilised versions of the Zapruder film for two purposes: (1) to try to draw conclusions about the timing of the shot from visual reactions of the victims; and (2) to determine whether the other large fragment recovered from the floor of the limousine had no lead in it, and therefore was not subjected to neutron activation analysis.
Let me come back to Nigeria, The impact of a documentary photographer can never be underestimated in this current administration. Previous administration underrated documentary photographers and you can see that there is no visual communication so that the people can see what the government is doing.
Visuals communicate to the spirit, the mind, the soul and the heart of the people. People believe in what they see and not what they read because pens do lie and visual doesn't. Even when a visual is doctored, it can be easily detected. People are complaining about President Buhari but I have one of my mentors who is the documentary photographer to the president, Mr Bayo Omoboriowo. Whenever people complain about Mr President's administration, he will release a visual image to let the people know that there is more to what they read. That is why that Mr President's documentary photographer will release  a photo of the mammoth crowd that cheers the president whenever he is outside Aso Rock so the people will know that the president is loved by all.
As a political holder, if you create an office for a documentary photographer in your administration, you command what is going out there because if you don't, the media will publish what they are not to publish about your administration. I want to urge political holders to create the office of the documentary photographer so that the general public won't have the wrong perspective about your administration.
Look at President Barack Obama, he created an office for a documentary photographer and whoever hated this man changed their perspective whenever they see images of where he is making efforts for the betterment of the United States.
Do corporate entities also need a documentary photographer?
Yes. People are looking for content and the best person to tell a story is the documentary photographer. We are trained to do that. Your customers want you to tell your story about your product. It is the work of the documentary photographer to sit down and do the research and to capture a good story that will sell the product, the brand and the company. If you want to perfect your story, make it visual and sound. Every corporate organisation should also create the office of the documentary photographer.
Any relationship between the communications/media department and the documentary photographer?
The three work together because documentary photographer is still under the communication department, but the photographer communicates in visual. Whatever the media will use, it is the documentary man that will create it. It is the visual communicator that will give you the reality of any story.
Lastly, don't you see technology as a challenge to documentary photography as a profession?
Technology is not a major challenge. Technology is creating needs for government, corporate organisation and people to create an office for a documentary photographer because they know their job. No matter the phone you are using, you can't beat them.