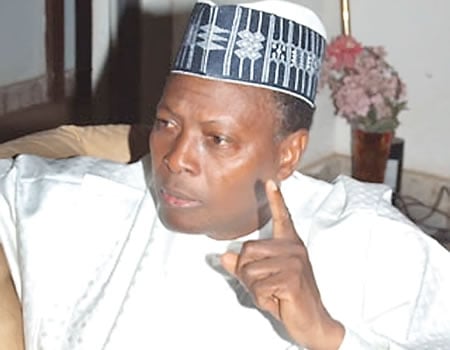 Dr Junaid Mohammed, a frontline northern politician and a former federal lawmaker during the defunct Second Republic, has remained resolute against bad governance and a constant critic of the President Muhammadu Buhari administration. In this interview by DAPO FALADE, Mohammed takes a look at the state of the nation, three years into the life of the present administration, declaring that the president is not good enough to take Nigeria out of the woods.
2019 is around the corner and politicians are already heating the polity. On the front burner is the second term ambition of President Muhammadu Buhari. Why are you opposed to it?
Let me say this: Sincerely, any political leader who is qualified can come out and compete and that applies to Buhari. But let me say also that, sometimes, you avoid doing the right thing, not because it is wrong, but because it is something that doesn't work. As far as I am concerned, Buhari has been president twice and in both instances, he is a disaster. As far as I am concerned, it will be better for the country, if he really loves Nigeria, to simply sacrifice and circumscribe his own ambition this time and let somebody else come and try it. This is because clearly this man, Buhari, has been a monumental disaster, both nationally and internationally. Nigerians are very proud, even though we don't make a lot of noise, but we don't like being embarrassed.
Buhari has embarrassed the country; he has embarrassed Africans; he has embarrassed quite a lot of people who are coming from the developing world. I have spoken with some of the leaders: they were absolutely astonished at his incompetence. Here is a man who does not read, except to read the newspapers and most of what he reads are the headlines. He must be very careful about wanting to push his ambition too far against the interest of Nigeria. I believe those who talk to him, especially the elements in the Kaduna Mafia, should advise him. Otherwise, if he should insist, he may, willy-nilly, drive or push this country into another civil strife. It is quite possible and this may surprise you, but it may happen in the South and it may happen here too in the North.
Another thing you should understand is this: In the whole of Buhari's campaigns here in the North, he specifically said to some people, including the late Maitama Sule that he doubted if I am a Muslim because I have always been criticising him. Though Maitama Sule is now dead, but there are people who were with him when he said so in the presence of Maitama Sule. But I know more about Islamic history than him. He has been saying this at my back that I cannot be a Muslim simply because I have been criticising him and his government. If that is the way he is going to campaign, then we are going to be in a very serious trouble. A lecturer in Bayero University, Kano (BUK) showed me a piece of paper they have been distributing in mosques and may be some other people are doing the same thing. This means his campaign is going to be that at the end of the day, it is going to do more harm than good.
There have been reports of stock-piling of arms and ammunition, as the 2019 elections approach. Why would politicians be this desperate?
I think it is a very straight forward answer; we don't need a genius to tell us what may likely happen. If people are collecting arms and ammunition and hiding them somewhere else, it means they plan to make use of them. Secondly, is the propaganda which is now going on across the country and which is now becoming so severe and so incendiary. Thirdly, forget about propaganda, the fact is that the person who is keeping arms is going to use them against whoever is the target. In addition, and this is also important for you to know and also understand, is that propaganda does not work on nothing. It somebody comes and abuses you, he abuses you because he believes that you are going to be angry and if you are angry, you are going to react. Now, this man has nothing to offer as the president of Nigeria. The only thing he can do is to tell some people behind other people's back that he is fighting for the North. But let me tell you: Since Buhari became the president, this time around, he has done nothing for the North and he has done nothing for Islam. Those who heard about Islam will not go and use Islam for politics and I don't believe that Buhari is the type of person who can stand and talk about Islam. I don't believe he has done anything in the North to come and tell us that he is a political leader of the North and so he has the people's back and that he has the backing of the nationalities, especially here in the North.
Taking a look at the state of the nation, how has been the journey so far, three years into the President Buhari administration?
Talking about the State of the Nation, it is bad. In fact, very bad. President Buhari inherited a bad situation, but he made it extremely worse. It became worse and he is not sincere. People are prepared to withstand difficulty and suffering provided that they are being told the truth. But we are in this situation because of insincerity and in truth they are prepared to withstand difficulty if they believe the person who is leading them. Clearly, since it took the Buhari administration about six months to appoint his own ministers, Nigerians have ceased to have faith in him; in his government, in his competence or his level of preparation for the job. I make bold to say the following: Buhari is the least competent, least listed, least exposed leader of Nigeria from the time we became independent on October 1, 1960. To make it worse, Buhari has shown absolutely no inclination to learn on the job. And when you don't have knowledge and you are not prepared to learn, then you have clearly prepared to lead the people into disaster and that is what exactly happened with the Buhari administration.
But the president appears to be making some headways in some areas, particularly…[cuts in]
He has itemised the issues that he wanted to confront when he was coming to power. One is that he said he is going to finish off or destroy the Boko Haram insurgency. But you and I know that the Boko Haram is far from being finished; even there is a new chain of thought. They are no longer talking about finishing or destroying the sect. he and his spokesmen are now talking about degrading them, whatever that means. Secondly, by his own definition, Boko Haram was finished because they were not in control of any territory. But let me tell you that whoever says that the Boko Haram members are not in control of any territory, from Buhari all down the line is lying. Boko Haram are very much around; they are very much alive and they are very much in control of resources and territory and they are still a very dangerous menace to the ordinary people who are living in the North East in particular and other parts of the northern parts of Nigeria.
Next, the same Buhari promised to do something about the economy. But I also want to repeat myself by saying that of all the leaders who led Nigeria from 1960, even from 1914 to date, Buhari is the least listed and I am not the first person to say this. Obasanjo [former President Olusegun] was there before him twice and he said so. Other Nigerian leaders have also said so that his economic illiteracy is a threat, not only to Nigeria but to the entire West African sub-region.
Thirdly, I also want to comment on his so-called fight against corruption. The fight against corruption, for the record, was not started by Buhari. It was started by Obasanjo, with the encouragement of international men of goodwill from outside the country who were prepared, not only to encourage Obasanjo to set it up, but also to encourage the organisation [the Economic and Financial Crimes Commission] by training them properly and also by making sure that they are well-connected. So, if anybody must take credit for EFCC, it is not Buhari, but Obasanjo, in spite of own faults.
I also want to say it clearly that if anybody should take credit from the time that Buhari was sworn in since May 29, 2015 till date, the man who should make the claim is the young man who is the chairman of EFCC, Ibrahim Magu because clearly, but for the tenacity of Magu, whatever his own faults also, there would have been no EFFC today. Anytime you see the organization being too slow or refuses to say the truth, it because EFCC is getting the wrong signal from the presidency and from Buhari himself. This means, when the chips are down, it is the lack of the political will on the part of Buhari, on the part of his agents and government that is holding back the fight against corruption. So, if I were to assess Buhari on the three parameters that I just highlighted, I will give him 30 per cent on anti-corruption; I will give him 30 per cent on the economy and I will give 35 to 40 per cent on the fight to end terrorism in the North East.
The president claimed to have inherited a weak economy in 2015.What is your take on this?
First and foremost, in government and this is something that Buhari needs to get: Let us accept that he inherited a weak economy, but in inheriting a badly managed economic situation, but he didn't improve on the situation by refusing, first, to get a government in place in time. At least, for the first six months, there was no government in place. Secondly, Buhari also showed contempt for everyone. When you look at the ministries and you look at the people he appointed there, you can see clearly that he did not set in motion a process that would pull the country out of the recession which it was during his own time. So, whatever you say about the corruption and irresponsibility of Jonathan Goodluck [former President], the fact was, yes, he was largely responsible for the problems, but it has to be said also and in all truth that the situation was not as bad as this and that it was under Buhari that the problem actually became clear and became manifest. So, Buhari and his propagandists can now argue their way, but it was out of their incompetence, ignorance and, of course, corruption, but they should accept that the situation became worse under their watch because once something happens under your watch, if it is good, you take the credit; if it is bad, you take the blame. But that is what Buhari does not understand. He has not done well for the country. He has not done well for the economy. He has not done well in the fight against corruption and he has not done well in the fight against terrorism.
ALSO READ: Lalong debunks allegation of witch hunting of former public office holders
Some international organisations like Transparency International and Amnesty International don't see positive things about this government. In fact, there was a threat to expel the latter from the country over its stance. What do you think are the implications for Nigeria, should such a threat be carried out?
First, those international organisations will not want to lose their credibility. Transparency International and Amnesty International have been here before Buhari and I am sure that they are going to be here and in the other parts of the world, long after Buhari would have been history. Secondly, these international organisations are not dependent on Buhari for either contract or for bribes and they are not afraid. They are international organisations that have gathered credibility over a long period of time.
In addition also, in assessing what Transparency International has done, you must be conscious of the fact that what they have measured is not just about corruption but Transparency of Corruption Index (TCI). So, whether it is measurable or not, it is none of Buhari's government business. The issue is this: You are driving on the road from Kano to Ibadan and 20 or 30 policemen stop you and ask you for N20, that creates a perception in you about what the country is. When you land at the airport, people who want to take in your luggage will start asking for something. That also gives you a level of impression of corruption. When you go to any Nigerian pubic office, you will still come across this scourge of corruption. In the case of Nigeria, we are so much involved in corruption. What happens, one man who steals a guinea fowl is sent to jail and another man who steals billions of naira is allowed to go free; in fact, he may be given a national honour.
As far as I am concerned, Transparency International and Amnesty International are too powerful and too well-established for them to be handled by Buhari. He is threatening every time to fight people and that he will deal with them, but he should know that there is a wall of difference between international organisations and the type of kamikaze institutions like the Nigeria police, the armed forces and some of this people in prisons or immigration uniforms. They are different and he should know that he is not an island. It is a very complex world and you can connect with it. He is trying to bring sanctions to which he does not have the capacity and the brain. He should be very careful.
What about the reports that the oil subsidy era is back with us?   
First and foremost, even in the real world, there is no country that does not subsidise the system. For example, if you are one of those Nigerians who like to fly to Europe of America any time they have headache of flu, you go there because of their health services and part of that health service, most especially in the East Europe, is highly subsidised. But here, we should be ashamed of ourselves because we are not even enjoying the subsidy. Secondly, you check out the quality of service to see if there is subsidy. Thirdly, you have to be very careful about the pure capitalist note, that is, the dog-eat-man, man-eat-man situation. A society must have some measure of compassion to help and assist those who cannot take care of themselves, especially in health, education, agricultural production and industry until we are sure that they can stand on their own. So, I have no problem with subsidy, provided that it is done honestly and people are being told the truth.
But in the case of fuel subsidy under successive administrations, nobody knows the truth and this is what is causing anger among the people of Nigeria. We are not small boys and we have a population of about 200 million people. if you are subsidising something for us, tell us and let us know. For example, in their talk about subsidising agriculture and privatisation, what they are stealing from the country, whether through the NNPC or the Ministry of Finance, is not what they are subsidising. The bulk of the money is being stolen. What is being stolen from NNPC nobody knows because everybody is just there to steal for himself and they are not ready to tell the country how much we are spending in terms of this subsidy issue.
Unless, we have a government that is honest-and this government is dishonest, dishonourable and definitely arrogant-we are not going to get to the root of the subsidy issue. At some point, I am sure that subsidy will have to be eased out gradually. But I also believe that it can only be done gradually and honestly if things are to improve for the people. Nobody can tell me how much NNPC earns in a week, in a month or in a year. We don't even have access to what is being subsidised. How are we sure they are not stealing our money and stealing our crude oil, selling it and leaving the money outside the country, only to tell us that the money has been lost to subsidy? Nigerians should be very careful to caution and monitor the government very closely because it is stupid to approach the government and they are playing deaf and tin god. It is demanded of the government that, at any time, the people are vigilant and they are cautioning the government. The National Assembly should be alive to its responsibility and we should know the salaries and allowances they are being paid. No government or public servant anywhere around collects the kind of salary the members of the National Assembly are collecting. So, they should now come out and honestly do their job in superintending the works of government and tell us exactly what is happening, what is wrong or what is going to happen.
A few days ago, the entire public space was shut down in most parts of the South East. What are the implications of this continued hostility along ethnic lines, over  50 years after the cessation of the Nigerian Civil war?
Let me be honest with you: A lot of this noisemaking is nothing but shakara and political agitation. There are some people who believe that political power should be given to them on a platter of gold and so they continue agitating. But we are in a democracy and you can only get power through the ballot box and it is not a matter of 'it is my turn. It is my zone or it is my time to be this or that'. The issue with the South East is a very clear one: they believe they can blackmail the other parts of the country into handing over power to them and they also cited an example that it was when the Yoruba agitated for power that it was given to them. That was a complete misrepresentation of history because if the Yoruba had a say in the matter, Obasanjo would never have been the president of Nigeria. If politicians have convinced themselves that it is their turn to have power and that they should be given power because a lot of things have happened to them, and you cannot do anything to them, a similar allegation brought them the civil war which cost them over one million people. Unfortunately, out of this people, many of these were my friends who were killed. It was an unfortunate event and I don't wish them to bring such upon themselves.
But let me say this: who among these agitators will make Biafra real? Is it the leader of the Independent People of Biafra (IPOB) who is now in exile and who ran away after he had made so much noise? Why can't he stay here to come and face the music? Those of them who think they brow-beat anybody, I think they are late as they are two generations behind their time. The time when democracy was just taking off and when they can stand and say, 'I must have power or else…' is gone. If they try it, they are going to face trial for mass murder and stuffs like that. As far as I am concerned, whether they declare today, yesterday or the day after tomorrow, it doesn't matter.  In the former Biafran enclave which they now call the South East, if the people don't go to the market for one week, many of them will starve because they don't have the land to farm. so why should they continue to deceive themselves simply because they wanted to register a political message?