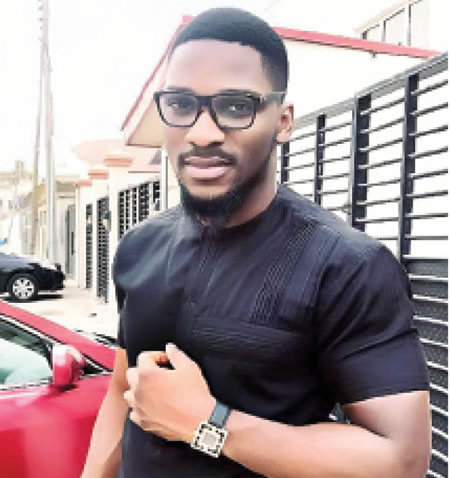 Oluwatobi Bakre is one of the most-talked about ex-Housemates of the 2018 Big Brother Naija Reality TV show, also known as Double Wahala. A photographer and ex-banker, Tobi championed the conversations and controversies that surrounded the three months reality show streamed from South Africa. Even after exiting the BBNaija House, Tobi has also remained a topic frequently discussed among viewers and fans. In this interview, the University of Lagos graduate, who now majors in the movie industry, speaks to Newton-Ray Ukwuoma about his new found life, passion and aspirations. Excerpts:
How has it been since you left the Big Brother Naija House?
From being in Big Brother (Naija),leaving Big Brother House and looking at the things, I have accomplished so far, I can only say it's been a good year for me. It's been amazing.
Was banking boring after four years?
It was very interesting for me actually I used to be a currency dealer. I traded security straight to currencies. I also worked on the money market desk. It was interesting for me, but the banking life generally is a bit routine. And I had a lot more I wanted to do that I wasn't exploring. I love photography. I wanted to be a media person as well. I am not really an office person. Generally, it is a routine life, everyday is the same, but the life that I have now is different, every day is different. I feel better. I feel alive living the kind of life I have now.
Big Brother Naija received over a million applications/auditions for the last show after which you emerged a Housemate, what if you weren't picked and nobody knows Tobi now,what would you have done?
Before now people knew Tobi Bakre, but it wasn't on this scale. It is a lot more international now, but in my own zone, I was still doing okay. if the opportunity in Big Brother didn't come, I probably would have changed jobs or been on my same job but still just trying other opportunities. And I was doing photography, which I found very interesting.
Are you doing anything about your photography?
Yes, I am doing an exhibition at the end of the year, a photo art exhibition.
You are in the DSTV campaign, how did you get involved?
I am in the DSTV campaign, it preaches versatility, which is what my brand is centred around, the ability to be anything, more than one thing. That is really what the campaign pushes. You can be different things depending on what you want to be. You do not have to limit yourself to one thing.
We have seen you in a couple of movies.  Is acting one of the privileges of BBN or a passion?
Working in the bank, I always wanted to do something more versatile, I wanted to be in the media, but at that point, I didn't have the patience or, say I couldn't just leave the banking hall to start attending auditions and all that so I needed a platform to do the things I wanted to do. Right now, a lot of people can see what I can do and are hiring me for it.
Do you think you need a professional training or is acting natural to you?
Eventually, I will still go to the school of acting just to cross my T's and dot some I's, but generally, acting is naturally for some people and in a way, acting is natural for me. But I know I still have to brush up. It is interesting for me.
What got you interested in acting?
I have always wanted to act. It was more of the platform. Now, everybody notices that I could do it while I was on the show. This is why I am getting the roles. It is just to do more and show people the range of my passion.
How was your first time on set?
It was very weird. Well, then that's how first-times are really. When I got there, I was thinking, 'So, now you are trying to be somebody you are not?' But that is what acting is about. Yes, it was pretty weird in an interesting way. And it was challenging. And seeing the growth so far has really motivated me because I remember the first time I had to be on set a week and two after I saw the improvement I was impressed with myself.
Did you have people you admired before you joined the movie industry?
Yes. Kunle Afolayan, Ramsey Nouah, AY, Genevieve, Rita Dominic… because they have done it back to back. And now that I am in the industry I know it is easy to criticise when you are outside, but when you are in it you will get to respect these actors more. I respect the young actors doing the everyday hustle too.
Who are those you would like to act with?
All of the veterans, because the older people have more to teach you when it comes to acting. I have been on set with Sola Sobowale. From day one, I already had a lot she was telling me. When you act with such people you become a better actor faster.
Would you want to act with Genevieve Nnaji?
Yes. It will be nice to act with Genevieve. I have been saying it. I want to say it again so that the dream can come through. From my mouth to God's ears: I would like to be in one of Genevieve Nnaji's productions.
You said something about not wanting to queue up for auditions, does it sound belittling to you?
It is not belittling. What I mean is that the Big Brother gave me the platform to show people what I can do. Apparently, you can't just leave four years in the banking and what to start from the scratch. You have to know exactly what you wanted to do. I needed a platform and being on Big Brother gave me the platform. Already a lot of people know what I can do prior to doing it.
What do you like most about being an actor?
The fact that you have the power to be anything. If you are given a script whether you like the character or not, you have to act the part. Every role you are given has to be challenging because you have got to do it well. When they say be a mad man, I am able to lay it out.
What kinds of role can't you take?
For me, when it comes to acting you have to be versatile, you can't really limit yourself, except it is a role preaching immorality to a large extent I am not going to take that.
Sex scene role?
In Hollywood, I would consider that, but not in Nollywood.
What makes you different from other actors
There is always the Tobi vibe from some of the roles I have played. So, if you want the lover boy Tobi, it is different from the Pastor Tobi. In every role I play, I infuse a bit of my personality to it. that makes me different.
Talking about the lover boy Tobi, what is your relationship with Ceece at the moment?
No comment
Who is the Tobi we do not know?
You pretty much saw him in Big Brother. That was no part of me I held back. A lot of people know me personally because they have seen me for three months on TV. I didn't hide anything.
What can make you cry?
Hunger. If I am hungry.