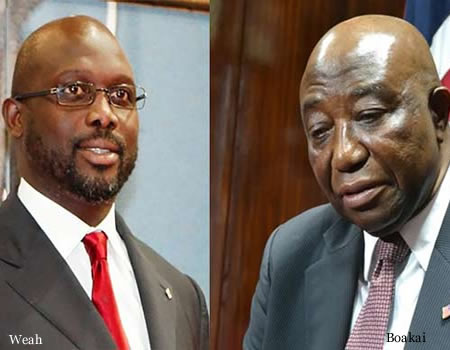 Liberian election officials began tallying votes on Wednesday from Tuesday's presidential election, as Liberians awaited results that should usher in the country's first democratic transfer of power in over seven decades.
Election magistrates, in a soccer stadium outside the capital Monrovia, began compiling vote totals from the country's 15 counties after Tuesday's run-off between former soccer star George Weah and Vice President Joseph Boakai.
Weah's camp said its own tallies based on results from individual polling stations showed him winning with about 70 percent of the vote. Unofficial partial results announced on local radio stations also showed Weah in the lead.
The election commission said people should wait for official counts. A news conference which had been expected to announce early results on Wednesday morning was postponed until the afternoon, with final results due on Thursday.
Turnout for Tuesday's poll seemed low but people in Monrovia expressed relief that the vote had gone smoothly, after a first round in October that several candidates said was marred by fraud.
The Supreme Court ultimately dismissed a legal challenge brought by the third-place finisher and backed by Boakai but the proceedings delayed the second round by over a month.
"The election was free, fair and transparent," said Kelly Johnson, a 29-year-old trader. "No one was forced to do anything. We went there freely and we voted freely."
Weah and Boakai are vying to succeed outgoing President Ellen Johnson Sirleaf, whose 12-year rule cemented peace in the West African country after civil war ended in 2003.
Many Liberians have criticised Johnson Sirleaf for not doing enough to root out endemic poverty and corruption and are eager for fresh leadership.
Weah, who in 1995 became the first non-European to win European soccer's player of the year award, is widely considered the favourite, having taken 38.4 percent of the vote to Boakai's 28.8 percent in the first round.
"It is clear. We are only waiting for the (election commission) to announce the results and declare him president," Morluba Morlu, Weah's deputy campaign manager for operations, told Reuters.
"We are calling on… Boakai to concede defeat and congratulate George Weah," he said.
Officials from Boakai's ruling Unity Party were not immediately available for comment but at the party headquarters, supporters were more circumspect.
"We are listening to the result that the radio is giving. At least we are satisfied with Lofa County results," said Jerry Mulbah, referring to Boakai's home county in northern Liberia, where unofficial results showed him in the lead.