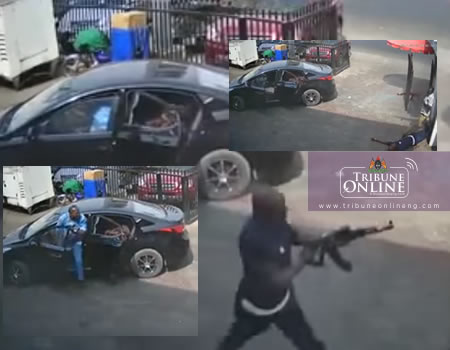 Robbery footage of a first generation bank captured on a Closed Circuit Television (CCTV) has gone viral on the web.
The video of the robbery incident which happened on February 22, 2017, showed fully armed four-man robbery gang gaining access to the bank in a Toyota Camry, driven by an armless man in blue native attire.
A gunshot supposedly from the bank's security man was seen fired from a small room beside the bank's gate, but was retaliated by the robbers who started shooting sporadically as they came down from the vehicle.
In the process, one of the robbers was seen shot dead by the bank's security guard, before he fled the scene.
One of the robbers, in a less than three minutes operation, was seen coming out of the bank with a bulky polythene sack, which suggests that they had trailed a customer to the bank.
The robbery operation was said to have left three policemen and five bank customers injured and one of the armed robbers killed.
Watch the video below: