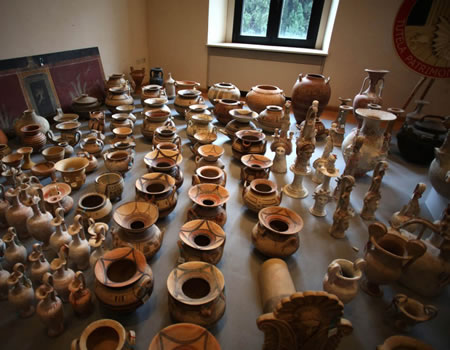 ANTIQUITIES are valuable all over the world, and as such, they gives room for criminals to aim at stealing and trafficking in them.
A good example of this is the theft and sale of stolen artifacts from Syria and Iraq, which reportedly provided large sums of money towards the financing of terrorism.
In Nigeria, and on the African continent, stealing artifacts is also common, as such are sold to international buyers who then traffick them out of the continent.
In the past, we have heard about stolen African artifacts in European museums, and the efforts being taken to have them returned.
While determining the origin of stolen artifacts on the international market is extremely difficult, several non-governmental organisations have now been working towards having a database of artifacts from different parts of the world, thereby making it difficult for such valuable items to be stolen and sold.
One international technology organisation is already providing cutting edge liquid forensic 'nanotechnology' with encrypted data, which is being used by law enforcement agencies worldwide and has profound implications for the protection of the world's cultural heritage that is currently under threat.
This organisation is focused on assisting law enforcement agencies secure convictions in court.
One good thing is that this technology is being used for more than just home break-ins, and for the first time, this organisation is creating a viable and profound solution to protect against illicit antiquities looting and trafficking.
When applied to archaeological sites, artifacts, and other heritage property, any object moved from its resting place and found elsewhere can be linked back to its place of origin, just by shining the green light and reading the code.
Though this is new to antiquities trafficking, it comes at a critical time for the cultural heritage of several countries of the world where antiquity theft are common.
It provides hope for the protection of antiquities from future trade on the illicit market and not end up in global art markets where the high demand for artifacts means they may never be seen again.
While the National Commission for Museums and Monuments (NCMM), which supervises museums in the country, may yet to subscribe for this technology, it is necessary that in order to secure our heritage from theft, such technologies used in tracking stolen antiquities must be embraced.
Akanbi is of National Museum of Unity, Ibadan, Oyo State.