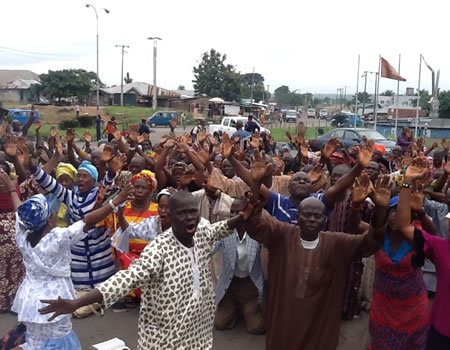 There was mild drama in Osogbo, capital of Osun State on Thursday when aggrieved retirees under the aegis of Forum of 2011/2012 pensioners stormed the frontage of Osun State secretariat, Abere to organise a mock Fidau prayer for Governor Rauf Aregbesola.
Though Fidau prayers are usually organised for the repose of the soul of a dead person, the enraged pensioners argued that they were embarking on a mock Fidau for Aregbesola to underscore the pains, anguish and death suffered by some their members over unpaid pension arrears and allowances.
Numbering over 250, the pensioners converged on the frontage of the main gate, leading into the secretariat around 7.48am chanting solidarity songs to denounce what they termed the lackadaisical posture of the state governor to their plights and welfare.
The pensioners, who divided themselves into two groups later held Christian and Muslim religious services on a section of the road in front of the secretariat gates, where some Islamic clerics among them recited a whole Quran to buttress their argument on the urgent need for Aregbesola to pay their allowance.
They later slaughtered a white ram and a black he-goat to signify the "mock fidau" for the state governor.
Speaking during a chat with journalists, the leader of the 2011/2012 Forum of Pensioners in Osun, Alhaji Yemi Lawal said "we carried our case to the creator, Almighty Allah to help prevail on Aregbesola to yield to our yearnings. We started this struggle since 2013 and all our efforts have not resulted into any positive results because the governor has remained adamant."
According to him, "despite the second tranche of Paris loan refund the governor received, coupled with the accumulated IGR of the state and local government and the monthly allocation of about N5.2billion, the governor have refused to pay our pension arrears and gratuities."
"The governor only paid arrears of July 2015 and not all categories of workers receive the payment. Some teachers and local governments' workers did not get it. So we carried our case to his (Aregbesola) creator, who can arrest and release. If Aregbesola refuses to grant us our request, tomorrow he may cease to be the governor of Osun State again", Lawal remarked.
He continued, "It is Allah that ordained him as a governor and he can remove him. This programme is just to cry to Almighty Allah to help us touch his heart. If Aregbesola fails to pay us our money, this might be his own Fidau prayer."