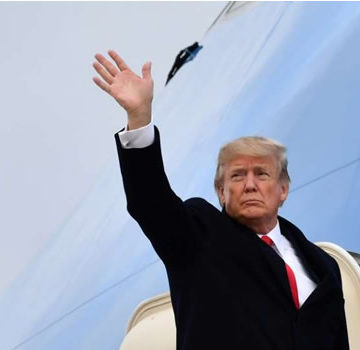 PRESIDENT Donald Trump on Sunday arrived the Southeast Asian city-state, 36 hours before his highly anticipated summit with North Korean leader Kim Jong Un is expected to kick off.
Trump boarding Air Force One arrived at Singapore's Paya Lebar Air Base at 8:21 p.m. local time, and he was received by Singapore's Foreign Minister. Vivian Balakrishnan.
DPRK leader, Kim, had, five hours earlier arrived at Singapore's commercial airport on an Air China Boeing 747.
Asked by reporters as he arrived in Singapore how he feels about the summit, Trump said, "very good" after which he climbed into his limousine and headed for the hotel.
Earlier before jetting out to Singapore, Trump was in Canada, where he participated in a contentious G7 summit that came after he triggered a trade dispute with several of the US' closest allies.
The quick succession of combative G7 meetings and his arrival in Singapore for a summit with North Korea's dictator set up a striking contrast best captured by a pair of tweets Trump issued after leaving Canada in which he slammed Canadian Prime Minister Justin Trudeau as "very dishonest & weak" and reneged on the United States plans to sign a joint communique with the G7 leaders.
ALSO READ: Trump-Kim meeting: First of its kind if it ever happens
"Based on Justin's false statements at his news conference, and the fact that Canada is charging massive Tariffs to our U.S. farmers, workers and companies, I have instructed our U.S. Reps not to endorse the Communique as we look at Tariffs on automobiles flooding the U.S. Market!" Trump tweeted.
Hours earlier, Trump had claimed his relationship with Trudeau and the leaders of France and Germany "is a 10" and slammed a CNN reporter as "fake news" for suggesting the US' ties with its closest allies had frayed.
During that same impromptu news conference at the G7, Trump said he felt optimistic about his meeting with Kim, which will be the first between a sitting US president and North Korean leader. But he also made clear Kim has a "one-time shot."
"I feel that Kim Jong Un wants to do something great for his people, and he has that opportunity. And he won't have that opportunity again. It's never going to be there again," Trump said on Saturday. "He's got an opportunity, the likes of which I think almost — if you look into history — very few people have ever had. He can take that nation, with those great people, and truly make it great. So, it's a one-time — it's a one-time shot. And I think it's going to work out very well."