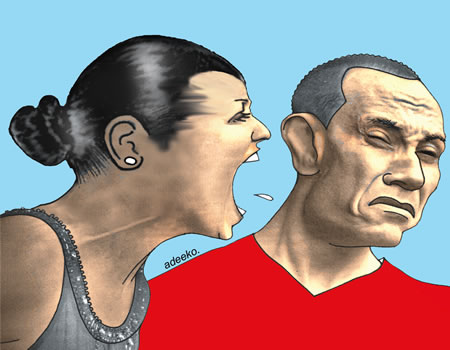 EBENEZER ADUROKIYA, OLUWOLE IGE, ONYEMA GODWIN, MICHAEL OVAT and SYLVESTER OKORUWA examine the growing concern over broken marriages among Christians and the role of the church in the society.
Marriage is one of the oldest institutions in human history, and the significance attached to it among Nigerians is the belief that connubial tie confers maturity and being responsible on the couple, beyond the issue of procreation and fulfilment of scriptural obligations. But the rising cases of failed Christian marriages have called to question the importance attached to the institution by couples, even in spite of matchmaking gradually becoming a vogue in a number of denominations.
It seems the inherent messages in two verses in the Holy Bible have not the least discouraged many a couple from saving their homes from the harrowing trauma of divorce. One of the verses is in Matthew 5:32, which reads: "But I say to you that everyone who divorces his wife, except on the ground of sexual immorality, makes her commit adultery, and whoever marries a divorced woman commits adultery." The other verse can be found in Ephesians 5:31, and states, "Therefore a man shall leave his father and mother and hold fast to his wife, and the two shall become one flesh."
Partners in divorce cases involving Christian couples usually list the reasons to include infidelity, external interference, especially from parents, who sometimes dictate specific types of partners for their children, as well as covetousness, lust as against love founded on piety, as well as lack of conjugal (sexual) fulfilment.  Failed marriages have consequently inflicted on both parties mental and emotional stress, improper child upbringing, mutual distrust, child abuse, street kids and abandoned children. So, there's no doubt that the divine institution of marriage has been under threats in the body of Christ, as a lot of Christian marriages have broken down irretrievably, while some are on the verge of collapsing. And one of the critical questions people tend to ask include: how can the trend be stemmed in order to achieve a better family and societal life? What do church leaders, especially have to say on the issue?
Bishop Peter Ogunmuyiwa, Bishop of African Church, Abuja
The Church has a procedure which every intending couple must follow, which will help intending couples to understand themselves and this will motivate them to always do the right things when they get married. However, because of the establishment of all kinds of churches, most of the marriage procedures like marriage counseling; knowing what the church says about marriage are not properly followed, resulting in the collapse of many marriages. At a church wedding I attended recently, the Pastor of one of the Pentecostal churches advised the couple that marriage was for better for best and not for better for worst. These so-called mushroom churches teach only prosperity and not how a couple can live a life of sacrifice. So, some of the things that break up marriages in Nigeria are social and economic pressures from the society, peer groups and family. The foundation of failed marriages are usually not properly laid, because men and women now marry for selfish reasons. You hear things like the girl is beautiful; the man has money, and so on, and when those worldly things that determined their marriage are no longer available, they resort to cheating and unfaithfulness which is the shortcut to divorce. Therefore, the high rate of divorce among Christian couples is a serious problem, which needs to be properly look into by the church so that the marriage institution will not be totally destroyed.
Renowned economist, Professor Pat Utomi (married for 35 years)
There is no perfection in marriage because two strange fellows from different backgrounds come together to live; they must be ready to play the fool's game if they want their marriage to last. Every person has a defect; a couples must be ready to adapt to each other's lifestyles and be ready to forgive at all times so that peace can reign in that marriage. Many marriages break up these days because couples harbour so much in the hearts and are not willing to let go. This is dangerous because without forgiveness, no marriage can stand. On some major causes of divorces, first cultural differences; young couples want to practise the culture of the white race in Nigeria. One of the couple, either the man or the woman, wants his partner to do what the white or a different culture does, when he or she refuses, there will be tension in the marriage. The second one is the materialistic tendencies of some women; some women now marry for the material comfort, and not for true love. When the material comfort is not available, the women tend to want to move up to someone else, who can provide the needed comfort they so desire. The masculine egoism also comes in here. When the woman earns more than the man, he feels threatened; he feels that his wife is richer than him. Such inferiority complex can gradually cause problem in a marriage if it is not properly handled. The third one is technology. Modern technology has led to social connect among people thereby distracting couple as they easily find love online and resulting in unfaithfulness and lack of trust. It is a serious issue that is fast-destroying marriages. Many marriages have broken up because a husband or wife finds his lover cheating on him or her through the social media. Cases of unfaithfulness are regularly discovered on their spouse phones. For marriages to last the test of time, couples must be ready to forgive, no matter what the case may be. That is the only secret to a happy marriage life.
Right Reverend Dr.  Humphrey Bamisebi Olumakaiye,   Anglican Bishop of Lagos Diocese
Couples no longer follow the marriage manual. The Bible is the Manual Guide for every marriage but when couples refuse to follow it then, there will be problems in that marriage. The marriage manual, the Bible states how a marriage should be practice. Couples are given a copy of the Bible during wedding in the church.  They should read it together and practise the guidelines and follow them religiously. That is the only secret to a successful marriage. On the reasons for the divorce rate in Nigeria, first cultural problem,  couples trying to import bad cultural influences from aboard which in most cases, may not be acceptable by the other partner. This will cause bad blood and indifference and if not properly managed, may case tension in the marriage. Intending couples should learn to marry who they are compatible with to avoid this kind of situation. Secondly, couples of these days are not submissive to one another due to modern civilisation. The Bible advised couples to be submissive because this is the only way true love can grow between them. The jet age mentality of freedom and independence has really affected our women, who are no longer submissive to their husbands thereby causing quarrels, fighting and unfaithfulness. The third one is forgiveness as and without forgiven no marriage can last. Forgiven is the key to the success of every marriage. The moment this key ingredient is lacking in any marriage such marriage will surely hit the rock.
The fourth one is material greed. The Bible says when two people get married they become one body and soul. They have to be open to each other and share what they earn together but if one is selfish, greedy, materialistic, then such marriage will only survive through the special grace of God. We see cases now of women building house and hiding it from their husband when the husbands find out, it becomes a serious problem. Couples should be open with one another, let your spouse have access to your phones so that they can build that trust that will help the marriage to grow.
ALSO READ: Demolition of Ayefele's Music House was self-inflicted —Arulogun, Oyo Commissioner for Information
Venerable Paul Whiskel, Vicar, Cathedral Church of St. Andrew (Anglican Communion), Warri Diocese, through spokesman, Mr Christian Chibuzor Chukwu
Every marriage is an institution ordained by God. Lack of communication is a major factor that collapses marriages these days. Communication is a key factor when it comes to marriage. It's one of the pillars that hold marriages. Once communication is lacking in a marriage, problems will creep in. Sex is also a very important factor in a marriage. "Asking a lady seeking divorce the reason on why she wanted to divorce her husband, she said that most of the times her husband didn't meet up to expectations, That her husband would carry her to make her to attain reach orgasm, but the man would be unable to continue, leaving her unsatisfied.
Bishop Seun Adeoye, founder, Sufficient Grace and Truth Ministry and Director of Publicity, World Bishops' Council (WBC) Africa
Patience is a virtue that is critical to peace and tranquility in marital lives. For a marriage to last very long, couples would need to endure. As a counselor, I also know that intolerance kills home very quickly. If anyone thinks there won't be storm in a marriage, such person is only living in a fool's paradise. So, anyone who desires a perfect partner should seek that in the kingdom of angels. I have never at any time strongly believed or recommended church engaging in the match-making. I rather encourage individuals to seek God fervently when looking for husbands or wives. The danger of match-making is that if such marriages fails, the blame is shifted to church leaders. Those who desire good and stable matrimonial homes must be patient.
The real solution to collapsed marriages is that couples must first of all realise that the institution of marriage is ordained by God. So, if they truly believe in that God as Christians, they must do everything within their powers to obey His instruction that 'whatsoever God has joined together, let no man put asunder.'
Pastor Kayode Oladunjoye, of the Redeemed Christian Church of God, Youth Province 4, Winner's Embassy, Osogbo.
Over and underestimation of wife and husband about each other's personality, character upbringing, beliefs and motives before and after weddings also fuel incidence of collapsed marital homes. Marriages also break down today because of the over-bearing influence of parents, families and peers. Prayer-less lifestyle of the spouses in this generation marriages is equally a contributing factor of marriage collapse. The most potent panacea for this premature breakup of marriages is to ensure the foundation of every marriage is solidly laid on Jesus Christ, the chief cornerstone of every dominating family that had ever lived and living in the present time.
Reverend Fr. Emmanuel Obinna (aka), Ebubemonso, Spiritual Director, Holy Ghost Adoration Ministry Uke, Anambra State,
He blamed marriage collapse to women liberation advocacy, as increasing call and approval of equality between women and men have spilled into marital lives. According to him, women now equate themselves with their husbands against the biblical doctrine that advises women to be submissive to their husbands and that men should love their wives as well. He said the rising cases of collapsed marriages in Christian families were a common trend in the western world because people in such places had thrown the dictates of God to the wind and imbibed self-made laws that confer on them near-absolute freedom. This, he said, was partly the reason behind the laws approving homosexuality in such countries.
Pastor Akeem Idoniboye, Senior Pastor, Glorious Destiny Family Church, Port Harcourt
People are no longer patient with their spouses. I don't know of churches where matchmaking takes place because such practice is not scriptural. People should be allowed to make their own choices; it is not a decision anyone can make for another because there are responsibilities involved and spouses should be made to understand that. Marriage is not just about age, people should not just rush into marriage simply because they think they are of age. Couples preparing for marriage should also grow spiritually, emotionally, mentally and even financially". Just like Adam, in the first ever marriage, he was walking with God and with that consistency he grew into marriage. Conflicts come naturally in marriage but how you handle it is what matters. If there are issues, you have to handle it and move ahead, that is where the maturity is displayed. People should not just run away at the slightest sign of a conflict.