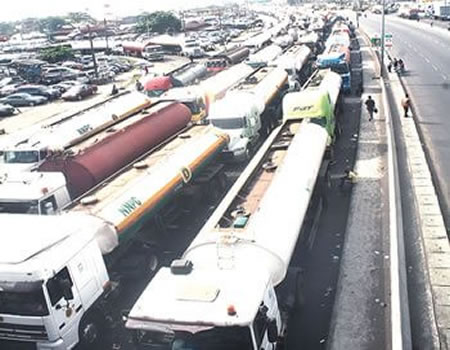 Various criticisms have continued to trail the petrol tanker explosion that happened in Lagos on June 28, 2018. A large chunk of this has been centred on making the transportation of tankers safer. Few and I have personally not seen one, have addressed the fundamental issues. It is not making transportation of petroleum products through tankers safer, the fundamental issue is: how should petroleum products be transported? How many countries in the world transport petroleum products by road? There is perhaps a more fundamental question preceding that; when are we going to stop importing refined petroleum products?  This is a huge aberration hanging on the neck of Nigeria? How can a country with humongous crude oil and natural gas deposit, a country that exports millions of barrels of crude oil continue to import petroleum products more than five decades after the black gold was discovered? It breaks my heart and that's only one symbol of our backwardness.
This is not the first time a fuel tanker explosion occurred. It isn't the last either as another fuel tanker collided with a trailer on Minna-Suleja road the next day. I understand there are measures put in place to make the transportation safe, but as this has shown, there can be breaches and fatal ones at that. So, what are the options?
For now, as refineries cannot be built by wishful thinking, the government can make things better by directing traffic away from Lagos. It's absurd that fuel tankers are coming from every corner of the country into Lagos for petroleum. Whatever happened to other ports? The other seaports should be put into use. This will not only reduce the pressure on Apapa especially and Lagos generally, it will also reduce travel distances of the tankers and hence, reduce accidents.
If the government is committed to achieving this, we can have efficient refineries producing more than enough refined products for domestic use. There is a big problem in oil bunkering and pipeline vandalism and that's a big hindrance. But it's time the government turned to technology in solving this. The Nigerian military can design or adopt drones in the effective monitoring of pipelines. With drones covering and giving feedback -which will be acted upon by military/paramilitary agencies all around the pipelines, oil bunkering would be drastically reduced.
By now, Nigeria should have been a major exporter of refined petroleum. I know stakeholders are waiting for the Dangote refinery which is scheduled to start operations next year. But, when it does start operations, will the products still be moved by tankers? I heard of extensive pipeline layouts. They would also have planned adequate security. We all have a stake in making our roads safer.
Adeyemi Abiodun, adeyemiahmedabiodun@gmail.com