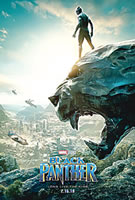 Friday Treat, with the help of top movie reviewers, Techradar, among others, looks into some of the best new films coming out of 2017 with release dates and that may dominate cinemas this year.
Black Panther
Release date: 9 February 2018
Starring: Chadwick Boseman, Michael B. Jordan, Lupita Nyong'o, Danai Gurira
What we know: After debuting in Captain America: Civil War, Chadwick Boseman is back as Black Panther, Marvel's all-African superhero who just also happens to be a king.
The mostly black cast looks like a huge step forward for superheroic diversity, and it doesn't hurt that the action is probably going to be pretty top-notch too.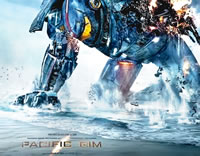 Pacific Rim: Uprising
Release date: 23 February 2018
Starring: John Boyega, Scott Eastwood, Rinko Kikuchi, Charlie Day, Burn Gorman
What we know: Giant robots meet giant monsters. Again. This sequel to Guillermo Del Toro's masterpiece of monster mayhem comes from TV veteran Steven S. DeKnight, and stars John Boyega (of Star Wars fame) as the son of the first film's Idris Elba character. This time the robots are sleeker, the monsters are bigger, and it's gonna be great.
Maze Runner: The Death Cure
UK release date: 26 January 2018
Starring: Dylan O'Brien, Kaya Scodelario, Thomas Brodie-Sangster, Katherine Emmanuel
What we know: The third (and final?) Maze Runner movie finally arrives after lengthy delays caused by an on-set injury to star Dylan O'Brien, promising answers once and for all about just why maze running is so great anyway. Will there be mazes? Maybe. Running? Probably. Improbably attractive young stars wooing each other in the midst of it all? Absolutely.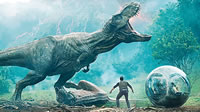 Jurassic World: Fallen Kingdom
UK release date: 7 June 2018
Starring: Chris Pratt, Bryce Dallas Howard, Jeff Goldblum
What we know: Jeff Goldblum is making his grand return to the Jurassic universe in the sequel to the massive hit Jurassic World. Once again, a host of unlucky characters have to somehow be persuaded back to an island full of deadly dinosaurs – this time to save the poor critters from going extinct all over again courtesy of an active volcano.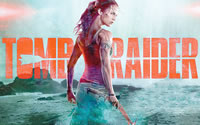 Tomb Raider
Release date: 16 March 2018
Starring: Alicia Vikander, Walton Goggins, Daniel Wu, Hannah John-Kamen
What we know: Tomb Raider stars Alicia Vikander as Lara Croft, aged here at just 21. The film is set seven years after her eccentric adventurer father's death, and shows her determined to go against his wishes and discover what really happened to him. She sets off on a perilous adventure to his last-known destination, a fabled tomb on an island off the coast of Japan, and it's here that she earns herself the name Tomb Raider.
Ocean's 8
UK release date: 22 June 2018
Starring: Sandra Bullock, Cate Blanchett, Anne Hathaway, Rihanna
What we know: This is the all-female take on the classic Ocean's heist franchise, with Sandra Bullock stepping into George Clooney's shoes for another daring robbery – this time of a diamond necklace from the middle of the Met Ball. It could be hilarious, daring, and progressive – but on the other hand it does have a James Corden cameo, so we're reserving our judgement for now.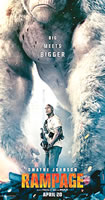 Rampage
Release date: 13 April 2018
Starring: Dwayne Johnson, Naomie Harris, Jeffrey Dean Morgan
What we know: Dwayne 'the Rock' Johnson stars in this retro video game adaptation, which pits him up against a giant gorilla, wolf, and crocodile. Not coincidentally, it's from the director of San Andreas, which pitted him against an earthquake, so we're hoping for similar levels of so-bad-it's-good thrills.
Avengers: Infinity War
UK release date: 27 April 2018
Starring: Robert Downey Jr., Chris Evans, Mark Ruffalo, Chris Hemsworth, Scarlett Johansson, Chris Pratt…
What we know: All of the superheroes ever are joining forces in the biggest Marvel movie yet, as Josh Brolin's long-teased Thanos finally arrives to claim the six Infinity Stones and basically murder everybody. The cast is absolutely stupidly huge, but it all leads into the as-yet-untitled fourth Avengers movie in 2019, which will probably thin the herd a bit.
 Spider-Man: Into the Spider-Verse
UK release date: 14 December 2018
Starring: Shameik Moore, Mahershala Ali, Brian Tyree Henry
What we know: This is the Spider-Man movie you didn't know you should be so excited about. Phil Lord and Chris Miller (of The Lego Movie and the Han Solo movie until they were replaced) direct this animated take on the webslinger, featuring Miles Morales rather than Peter Parker behind the mask. It looks absolutely gorgeous, like no other comic book movie before, and even teases multiple Spideys in one film. We can't wait.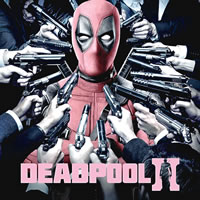 Deadpool 2
Deadpool 2 release date: 1 June 2018
Starring: Ryan Reynolds, Morena Baccarin
What we know: Ryan Reynolds is back as the Merc with a Mouth in the sequel to 2016's surprise R-rated hit. The first proper teaser, titled 'Wet on Wet', begins with Ryan Reynolds dressed as TV painter Bob Ross. Intriguingly bizarre, the trailer kicks off with some Deadpool-appropriate innuendo-splattered comedy and then we quickly get into the action, which involves explosions, guns and a funeral, but nothing in the way of spoilers.