There are unhealthy rivalries in the Nigerian movie industry —Actress, Bayray Mcwizu
After winning the third Amstel Malta Box Office (AMBO) reality show in 2009, Nigerian actress, Eberechukwu Nwizu better known as Bayray McNwizu, has become one of the most prominent actresses in the Nigerian Movie industry. In this interview with FEMI OGUNTAYO, she talks about her pet project, Girls Achieving and Leading Together (GALT) and her love life, career and other issues. Excerpts: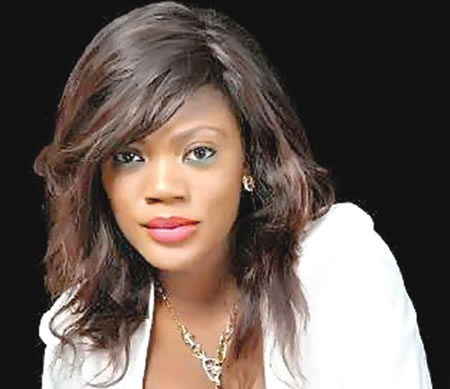 What is new with Bayray Mcwizu?
A lot of things are new with me. I recently did my directorial debut with my first film which I produced as well, entitled 'Ask Gina.' A lot has happened both behind the scenes and in front of the screen as well. One of the things my foundation, Girls Achieving and Leading Together (GALT) just to promote healthy competition and healthy association among young girls and also distributing sanitary pads to young girls in rural communities. Last year, we were at Ife in Osun State, to distribute sanitary pads in secondary schools. So it's been a really nice experience so far.
Is GALT an NGO?
It is currently not an NGO, GALT is a movement for me, while the aspect where we distribute sanitary pads to young girls is an NGO, but it is a branch of my GALT movement. It was formerly called 'Girls Rock'; we just changed the name.
What motivated such initiative? 
You know, last year I was just thinking about how much unhealthy competition among our girls, not just in Nigeria alone but around the world. When young girls who started off as best friends and all of a sudden, let us say when they get to Jss1 or Jss2, start competing with each other in unhealthy manner. You will notice that when they were still young and are still babies, they are best of friends and do mostly everything together but when they start growing up and become mature, they start comparing themselves with each other. So, I went to tell young girls out there, little girls, out there that you don't have to be Beyonce or Rihana, you can be your own kind of brand or beauty. I have to let them know, you can be anything you want to be, you can be everything you want to be and do not compare yourself. Do not have unhealthy rivalry with others girls.
What are the recent activities of the movement apart from the Osun event?
This year, we have not really done much. It was just last year we had some kind of competition and conversation on our Instagram page, GALT family, asking them questions on how to promote healthy competition between girls and a lot of them came out with beautiful answers and of course, the winner got $100 prize, which is on the GALT page. We are looking forward to greater things and more events this year.
Talking about unhealthy competition and rivalry, would you say this is playing out in the movie industry too?
Yes of course but it is unnecessary. At some point in your career, you have to give yourself some 'brain', because having unnecessary unhealthy competition will take you nowhere, you are really just poisoning yourself and putting roadblocks on your part. Every time you are wishing someone bad, you are actually wishing yourself bad. You can actually look at someone's life and say wow, if she can actually do this, then I can do this as well. You don't even need to applaud the person, you don't need to be that person, and you just build your craft and improve on yourself too.
So, there is definitely competition and rivalry in the movie industry too. It is normal, though it is about human consciousness or individual awareness that, I don't really have to be jealous of this person. There is no need of being jealous of another person, instead of putting so much energy in envying, backbiting and other things about the person, like why don't you just put that same energy in use for yourself and promote your own craft?
You seem to be a fashionable person, why are so much conscious about what you put on and, are you a kind of designer or what?
(Smiles) Well, I think it is just growing up; my mother was someone like that. She was very fashionable, so I can say I took that from her and I love fashion also and I really think I could go into it as a business.
What would you say you do differently, which stands you out from other actresses?
That is a huge question actually, because every time you think that you know, you just find out that you do not know. So, it is a good thing that I know that I have not arrived yet, because there is always room for improvement and all that. But I will say what I do and I pay attention to is the fact that I like to listen. If we are both on set right now, I would listen to what you are saying. Sometimes, even when I started my career, when we are acting, I just want to just say my line and you say your line that is it. But, there is a difference in when you are acting and you are listening, whenever you listen when you act, it is always a different reaction and the viewers can tell.
Do you have an international idol, one who you admire so much and you look up to?
There are plenty o! But, I will say Dwayne Johnson (The Rock)
Why him?
I love what he is doing with his career and I like the fact that he has not allowed anyone to put him in the box. He does what he does and his films are always family-oriented which to me is very important for such a time like this in our world.
That is it?
(Laughs) Yes, of course. You want me to say, he's hot, oh my God! Nah, he is married, so nothing for me there.
Talking about marriage, why are you still not married?
Well, I am currently not married yet, that is all I can say about it.
Have you given up on love?
No, I could never give up on love. Love is the greatest thing ever.
What does love mean to you then?
Love is work, I look at love like a business in the sense that, people pay so much attention to their business and they think that they do not have to pay the same attention to their love life. Like they think, if I am to go into a business, I will think of how much capital I need, I will think of the next five years, I will look at how much profit I will have to make and all that. But when it comes to love, people just think it will take care of itself, no, it doesn't work that way. It is whatever you put into it that you will get back.
Is there any guy around the corner?
(Laughs) No guy around the corner, which corner?
Well, I mean should we expect someone or something soon?
Hmm, we are working it out.
A lot of celebrities shy away from the social media, is that the same with you?
I am not shying away, I stay away from social media (laughs), I like to keep my private life private.
Since you came into the limelight in 2007, would you say acting has been paying your bills?
Of course, acting has been paying my bills definitely.
Any other business you do apart from acting?
I don't push drugs oh, so I don't know which other business you are talking about. Well, that is why I went into production too, because to me, acting is a business on its own.
You studied Philosophy, which means you have not worked anywhere with your certificate?
Well, I worked with my mum since when I was nine years old till I was 23. My mother was a barrister, she is late now. She actually wanted me to become a lawyer, she was hammering on it, that I have to become a lawyer. It was tiring and I just didn't want to become a lawyer, though I could become a lawyer now because now, my mouth is very sharp (Laughs). I know how to use it very well. However,  right now I am into advocacy and I think it's the same thing. My sister is a lawyer so that is fine.
Why is the movie 'Ask Gina' so important to you?
It is important to me because it contains a lot of elements that I see in everyday life and it was inspired by a true life event by the way. When I saw the script, I was like; this is exactly what I want. Though it is a 'fun-fun' film and entertaining, it has Kunle Remi in it, Kenneth Okoye, myself, Chinonso Yong and so on. So, it is an interesting movie to watch out for.
What are your plans moving forward in the New Year?
I just want to enjoy my life, do more movies, and meet new people every day, go on vacations and holidays. My movie, 'Ask Gina' should be expected in the cinema and I just co-produced a movie with a very good friend of mine and business partner entitled 'Not just enough', which starts Tony Monjaro and Belinda Effah. It should be a must watch movie because we shot it properly and with a lot of funds as well.
You do not seem to be too controversial and do you think being controversial is good for actresses?
Well, I disagree with that, because there have been controversies about me and it is funny because I do not really care. You know, I was like the black sheep in my family, though not in the negative way. Even from school, there was always something different about me, in my family, they just know that. My parents were worried that I didn't attend to my studies, because I could rap and sing every song, I will be acting and just be entertaining, it is just that, I was carved out for that. Though some people believe being controversial works for them but the thing is I don't care.