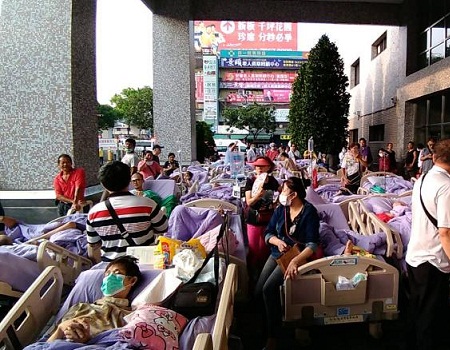 FIRE ripped through a hospital in Taiwan Monday, killing at least nine people and injuring more than a dozen, authorities said.
The fire broke out in the early hours of the morning on the 7th floor of the Ministry of Health and Welfare Taipei Hospital, in Xinzhuang, New Taipei City, which was being used as a hospice, state news agency CNA reported.
The victims included patients, nurses and caregivers, CNA said, quoting hospital officials.
Eleven patients were in a critical condition following the fire, while four others sustained minor injuries, according to Taiwan's Ministry of Health and Welfare.
ALSO READ: Adeboye's son, 1,602 others ordained as Pastors
Fire department chief Huang Te-ching said the cause of the fire is still under investigation, but denied that the sprinkler system had malfunctioned, Channel NewsAsia reported.
"The sprinkler device was on but there's some distance between its location and where the fire started so the fire couldn't be immediately put out," he told reporters.
A Facebook post by the fire department warned civilians not to get too close to the scene, and images show hospital windows glowing orange from the blaze.
Almost 250 firefighters and 79 firefighting trucks were used to put out the fire, which was extinguished about an hour after it began.
---
---