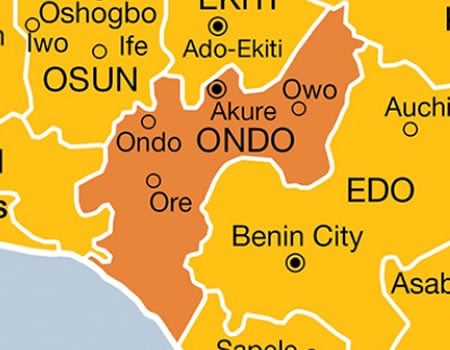 MEN of the Ondo State Police Command, are on the trail of a suspected madman, who allegedly hacked to death a young man, Idowu Seewo, with a cutlass in Olomu village, in the Okitipupa Local Government Area of the State.
According to the police source, the suspected lunatic whose identity was not revealed was said to have machete the victim to death on Friday night.
A source explained that the suspected mad man who was living on the same street with the deceased went berserk and killed Seewo in the process.
He said no one knew the reason behind the suspected madman action as he was said to be gentle though always moving around with a cutlass.
The source said "most people in the town know the man to be mentally unstable, and he is always moving around with cutlass anytime you see him.
"He attacked Idowu with the cutlass for no reason, leaving a deep injury on his head. Nobody knew what went into him to have done the dastardly act.
"People tried to revive the deceased but he gave up the ghost shortly after the attack. The madman however took to his heel immediately after committing the crime. We are still looking for him since then".
The State Police Public Relations Officer (PPRO), Mr Femi Joseph, who confirmed the incident said the lunatic was a well-known person in the community.
ALSO READ: Outrage in Ekiti over demolition of Ayefele's radio station by Oyo govt
Joseph said that the suspected madman had been terrorising the members of the community for a long time but said the residents did not take any precaution against the aggressiveness of the suspected lunatic.
Joseph, however, said, that the police command had commenced an investigation on the incident, and confirmed that the suspected madman had taken to his heels.
The PPRO said, "The alleged killer and members of his family had run away from the community, nobody had been arrested over the matter. But we can confirm from the resident of the community that the killer is a madman."
Joseph said the remains of the deceased had been deposited at a mortuary.