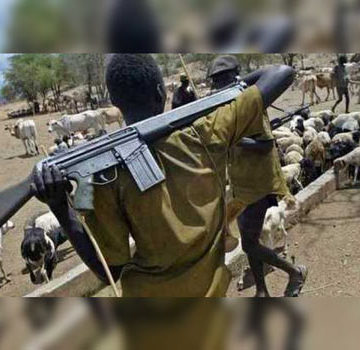 SUSPECTED herdsmen said to be Fulani Bororo have killed a 32-year-old father of two, identified as Tunde Olayemi, in Ipao community in Ikole Local Government Area of Ekiti State.
Chairman of the council, Mrs Abiola Ajayi, who announced this while speaking on the incident, claimed that the murdered Olayemi was returning from his farm at the Ipao Farm settlement when he met his death.
According to Mrs Ajayi, the incident occurred on Saturday when Olayemi, said to be a commercial motorcyclist, was returning from his farm, where he was said to have gone to harvest cassava.
Ajayi said: "The deceased was a commercial motorcycle rider, who also has a farm in the (Ipao) settlement. He had gone to his farm to harvest some cassava and he was with one other person.
"They were heading back to town from the farm and had loaded the motorbike with cassava when they saw some Fulani herdsmen coming towards them. The two of them were said to have been surprised at seeing the herdsmen.
"They said it was at that point the herdsmen brought out their gun and the two farmers had to run for their lives.
"The Bororos were said to have pursued the two men and eventually got Olayemi, who they massacred like a cow. We have reported the matter to the nearest police station and the Divisional Police Officer (DPO) has since swung into action.
"The police have gone to the scene of the murder to take the corpse and also commence investigation."
Speaking on the incident, head of the local hunters in the community, Adebayo Odeyemi, lamented the development and announced that they had declared war on the killer herdsmen.
ALSO READ: What was destroyed in a twinkle of an eye is worth millions of naira —Farmers lament herdsmen invasion of Ondo community
Odeyemi, who expressed anger at the murder, said the community would not allow such development to be repeated.
He said: "We haven't attacked any herdsman but they have killed one now and right now, we will ensure they are not allowed to do this again.
"We are valiant men, not cowards and we will face them this time around. They have massacred one of us mercilessly and this won't happen again."
Meanwhile, the incident has thrown the community into confusion as the people are now said to be living in fear.