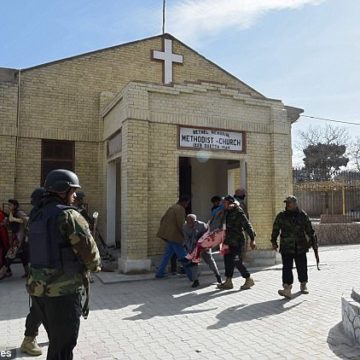 TWO suicide bombers have attacked a church in the Pakistani city of Quetta, killing eight people and wounding 42 others.
Sarfaraz Bugti, home minister for the southwestern Baluchistan province, said hundreds of worshipers were attending services at the church ahead of Christmas.
He said the attackers clashed with security forces, with one assailant killed at the entrance while the other made it inside.
Baluchistan police chief, Moazzam Ansari, praised the response of security forces guarding the church, saying the attacker who made it inside was wounded and unable to reach the main building.
He said: 'Otherwise the loss of lives could have been much higher.'
Quetta police chief, Abdur Razzaq Cheema said a search is underway for two suspected accomplices who escaped.
Wasim Baig, spokesman for Quetta main hospital, confirmed the attack's toll, updating earlier accounts from officials.
No one immediately claimed the attack. Muslim extremists have targeted Pakistan's small Christian minority in the past.
Local television showed ambulances and security patrols racing to the scene while women and children were being led out of the church's main gate.
Hospital officials said two women were among the dead while another five women and two children were among the wounded.
A young girl in a white dress sobbed as she recounted the attack to television, saying many people around her were wounded.
Aqil Anjum, who was shot in his right arm, told The Associated Press he heard a blast in the middle of the service, followed by heavy gunfire. 'It was chaos. Bullets were hitting people inside the closed hall.'
Dozens of Christians gathered outside a nearby hospital to protest the lack of security.
Pakistan's president and other senior officials condemned the attack, Dailymail reported.
According to BBC, attacks in the mainly Sunni Muslim region are not uncommon, often targeting the Hazara Shia Muslim community in suicide bombings.
But Pakistan's Christian minority has also frequently been the subject of militant attacks, and guards had been placed near the church in Quetta as a result.