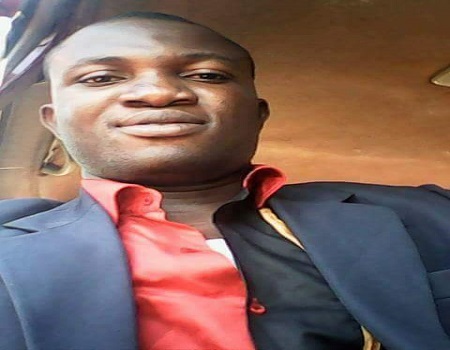 A youth group known as Ohanivo youths vanguard, has advised its counterpart of Umuekumenyi to stop meddling into affairs of Ohanivo political activities which they described as a ploy to cause disaffection and heat up the polity with a warning notice of 48hours to retract their statement.
They gave the warning following a statement made by the Unwuekumenyi youths that Governor David Umahi, has withdrawn his support to Hon. Linus Abba Okorie member representing Ohaozara Onicha Ivo at the National Assembly.
According to the President of Ohanivo youths vanguard in a press conference, bearly 24hours Umuekumenyi youths released a statement seeking for Governor David Umahi to withdraw all automatic tickets issued to all sitting national Assembly members from Abakaliki bloc by the Peoples Democratic Party, PDP, the same way he withdrew automatic ticket to Hon. Linus Abba Okorie and Lazarus ogbee, advised Sunday Orogwu the President of Unwuekumenyi youths organisation, to tender an unreserved apology within 48 hours stating that the statement is capable of causing political turmoil in the state as he called on his members to remain Calm and steadfast not minding the provocation which the statement has caused the people of Ohanivo as he charged the government and the PDP, in the state not to sweep the outrage of this group under the carpet as the motive behind it should be unraveled and dealt decisively.
Nwagwu who wondered whose interest the group was serving to have defied their geographical composition of Umuekumenyi to now serve as an advocate for them at Ohanivo if not to breach public peace and unleash an unhealthy political atmosphere between the people of Unwuekumenyi and Ohanivo in the state described Okorie as the best representative in Ebonyi state.
Highlighting the numerous performance of Hon. Okorie, Nwagwu said:
"While we do not intend to provide the report card of Hon. Linus Okorie, we must highlight a few of his numerous achievements. Just recently the forum of beneficiaries of employment opportunities courtesy of Linus Okorie celebrated a thanksgiving service where over 80 beneficiaries extolled Okorie's enduring leadership qualities.
Hon. Linus Okorie has trained and empowered over 5000 Ohanivo youths and women in various agricultural value chains within his constituency in addition to his numerous legacy projects that include the introduction of the vitamin A Cassava ( now called Egburu Linus), Microsoft approved 270 capacity ICT centre, first ever modern abattoir, mass electricity reticulation, bridge, intervention for critical health services across the clan already covered , over 5000 persons benefited etc."
"However, we wish to give 48hours to the so called Unwuekumenyi youths Asssembly to retract the statement and tender unreserved apology to our representative Linus Okorie and the good people of Ohanivo, failure of which will indicate that the group is really desperate to stir the hornets to create a chaotic public disorder in the state.
"We Indeed wonder why stakeholders and leader's of Unwuekumenyi welfare Association would sit back and allow this group to muddle the integrity and respect which the people of old Abakaliki bloc enjoy by serving as a willing tool for political destabilization.
"Wo doubt if not for mischief and vicious campaign of calumny against the people of Ohanivo, the group would have focused its vituperations and grievances on issues if any relating to members of the National Assembly and other political office holders in their bloc."
"Indeed the achievements of Linus Okorie have become such a reference point that Governor David Umahi the leadership of the people's Democratic Party PDP both in the zone and state , religious leaders have extolled and emplored other national Assembly members and the political class to emulate."
Meanwhile, Nwagwu, charged the public to bare the fact that Hon Linus Abba Okorie has distinguished himself as the most outstanding National Assembly member in Ebonyi state as they unanimously backed Governor Umahi who had justified the sterling performance of Hon. Linus Okorie and openly endorsed him for a third term automatic ticket.
He advised the Unwuekumenyi youths that need the assistance of Hon. Linus Okorie, as part of his Caring Heart Mantra, to come openly and indicate instead of brazenly antagonizing their leader.