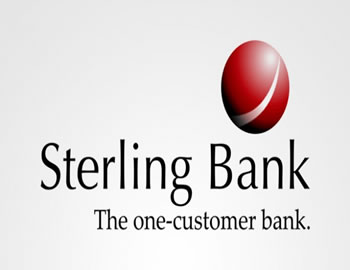 TO set a new global record as the world's first fully digital, Sterling Bank PLC has launched an end-to-end blockchain based commodity trading and financing platform.
Developed in partnership with Binkabi and AFEX Commodities Exchange, the platform would decentralise Agric commodity trading in Nigeria and all emerging economies, helping to reduce intermediation in trade while distributing profit more widely across the value chain.
Speaking at the press briefing announcing the platform on Tuesday, Chief Executive Officer, Sterling Bank Plc, Abubakar Suleiman, said Nigeria loses about half of its agricultural products yearly to post-harvest processes.
"By introducing and establishing a viable and efficient agricultural commodities exchange platform, we are able to tackle this sort of challenge. Cereal grains such as rice, maize and soya beans which are among the basic staple foods across Nigeria suffer the most loss among all agricultural commodities. By applying some of the latest scientific storage technologies and providing liquidity, we can help reduce this problem and increase margins for the farmers.
"In addition, this is a medium to long-term value investment for us at Sterling Bank. The productivity gain from the partnership is that the Agric sector will be de-risked and our farmers will become more viable for commercial lending. It will also create a pathway for more banks to lend to farmers without intervention funds making it possible for the Government to free up funds allocated to subsidising Agric sector to other industries."
Ayo Balogun, Country Manager Nigeria at AFEX Commodities said the commodity exchange was designed with farmers in mind, to help them mitigate risks and ensure payments are made through reliable financial service providers.
"A typical scenario at the exchange involves the use of warehouses across the country with modern facilities where farmers and traders can take their produce to minimise wastages. Farmers can deposit their agro commodities in certified warehouses and are issued receipts, which are recognised by the bank. We are excited that a reputable commercial bank like Sterling Bank has come on board to enable farmers to reduce exploitation by middlemen. As a result of this partnership, farmers can use their receipt as collateral to procure loans or other financial services. They can also sell the receipt on the commodity exchange market without transferring their agro commodities from the warehouse."
Quan Le, Founder and CEO of Binkabi, noted that the vision was to ensure that the commodity network becomes fairer and more profitable through collaborative efforts which leverage blockchain technology. We understand that if financial markets can fail ordinary people in the developed world then the agricultural markets are failing ordinary farmers in the developing world. The only difference is that these farmers don't have a voice-it is a silent crisis. This has motivated us to work with like-minds to develop a marketplace of end-buyers and end-sellers of commodities to help reduce intermediation in trade, distributing profit more widely in the value chain.
He added that "Binkabi offers an end-to-end solution for the entire trading process from sourcing to settlement and creating new opportunities. We are transforming agro-commodity supply chain in emerging markets for the benefit of farmers, SMEs and other actors. We understand that while banks want to lend to SMEs, the cost of acquiring and serving this sector as a result of additional human resource required to perform various checks on smaller transactions, insufficient credit information of borrowers, lack of measurable collaterals, and inherent higher credit risk associated with SMEs. Binkabi streamlines commodity trading process and allows banks to lend against warehouse receipts and contracts."