Rescue runs girls from the cruel police, exploitative mummies
There was a time when runs girls peddled their wares in Nigeria's red light districts. Then they moved to malls and high traffic streets where clients could spot them. With time, they realized that the streets were not friendly as patrons would use their services without paying, sometimes abandoning them in very remote places at night. Then there was police officers who would arrest them and lock them up in cells until they paid a fine of 15000 Naira. Because most of the runs girls could not afford these fines every day, they resorted to giving the policemen sex so as to be set free. Then they discovered mummies.
The university girls and Nigerian mummies
For a long time, mummies would rent a house in a posh estate in Nigeria where they would organize parties. As the parties continued, runs girls would start negotiating with the guests for services. Some guests would leave with the girls only after paying an agreed upon price to the mummy, who would later pay the girl her share. But mummies could not take a large number of girls. Only upto 10, depending on the space available.
"Most of the girls are university girls who are only doing this for survival. They are free to travel to other cities where clients pay well such as Port Harcourt. We only have 6 in Lagos but the house we have in Port Harcourt can accommodate 20. On Fridays it is always full,"explains a mummy who goes by the nickname 'Lisa.'
Working as a runs girl is not easy
The runs girls said that they are not willing to work as sex workers forever.
"This work is hard. You know people say that we are after easy money. I tell you it is hard ma. We go through a lot. I cannot do this forever. I have been saving some money and once I graduate from university, I will leave," narrates Vicky who is a final year student at Unilag.
She further explains that patrons prefer young girls of around 19 years.
However, some girls continue to do runs until later.
"Like me now, I am 40 and patrons still ask for me. There are some men who believe that older women are better in runs,"says Becky who has been in this industry for over 20 years.
Asked why she does not retire, she says that it is what she does.
"Where do you want me to go? I know most patrons prefer young girls but I have been doing this since 18. I cannot stay without it. Sometimes you get used to doing runs you just cannot leave. Even old ladies get patrons," she adds.
Online escort websites have changed the way sex workers do business
She also told us that business has changed with the introduction of online escort websites (www.exoticnigeria.com)
"I have started a salon that I run. Since I joined Exotic Nigeria, I just wait for clients to demand me. They can call, send a WhatsApp message or leave me a message on the website. All I do is make sure my phone number is connected to the internet for clients to see that I am online and send me a message," she said.
When we asked how that is different from social media and dating apps, she shrugged: "You don't know Exotic Naija? My brother, go and find for yourself am working nah."
When people Googled for Exotic Naija, we got this result: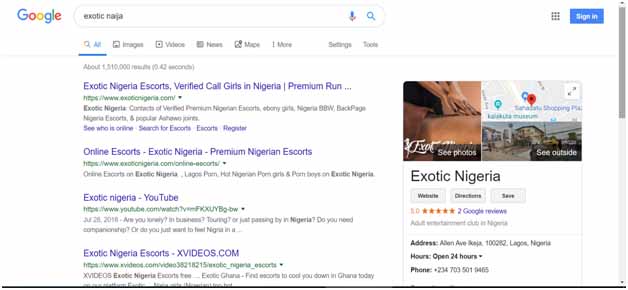 We decidedto send a message to the number displayed on Google. The gentleman referred us to Tom, the website owner who told us that they have a presence across Africa.
Exotic Nigeria keeps girls safe from abusive police and clients
Asked whether he was a pimp, he answered: "Stop insulting me bro. These websites are everywhere and the fact that we don't have a physical location tells you something. We are not in the business of selling women to the highest bidder. If you've visited our website, you will realise that these escorts work independently. We don't allow minors, we don't force people to do anything, and of course we don't set prices for them. So are we pimps? No, I am an IT guy who is helping people do what they have been doing better. If you ask me, these girls like our escort directory because it has kept them safe from police, from abusive clients and the cold nights on the streets. They are now living like bosses, deciding whom to meet, when, where and how much to charge."
Exotic escorts serve as travel guides
We visited their Youtube page where a video has been posted explaining what Exotic Nigeria is. According to the video, they help travelers or lonely Nigerians who need company to connect with the right person.
On the website, we sent messages to a few girls.
One said she is a nurse who uses her free time to meet travelers who need female guides.
"Just because I am an escort does not mean I offer sex. Yes, Nigerians love sucking boobs of women they meet online but I am a premium escort girl on a premium escort website. I pay to have scammers stay off, and only meet foreign men who find me on the Exotic Naijamessenger," explains Jane.
We found out that every profile had an option to send a message, which we learnt is used to make prior arrangements with clients who are not always looking for sex.
Exotic Nigeria (www.exoticnigeria.com) escorts sell companionship
"Most men want sex, yes. But this is why we are online. Exotic Naija is a premium service, every loaded man in Nigeria knows it. You don't just start sampling girls the way you do on the streets. You send me a message or call, then we discuss the services I offer and my rate as mature adults. If you are happy, you pay me then I come," she added.
Why pay before you come? Does someone collect the money for you? We wanted to know.
"No. You don't get it. When a Nigerian man tells you he wants service, you must make him pay first. Some are jokers. Though this Exotic Nigeria has some serious people, others will run away with your money. So we decided to be asking for pay first."
We also demanded to know whether the girls run away without offering service after receiving pay.
"You will be blocked. Exotic guys block you if a client complains you ran away with their money. And who wants to go back to Tinder and InMessenger where men just think you are a slut and keep asking for nude photos for free?"