Sokoto and her culture of 'service'
MARUF OLAKUNLE writes that the business of local aphrodisiac for men is thriving due to the desire by most men to satisfy their women, revealing that women also buy the drugs for their husbands, though medical practitioners call for caution on possible addiction and its effects on health.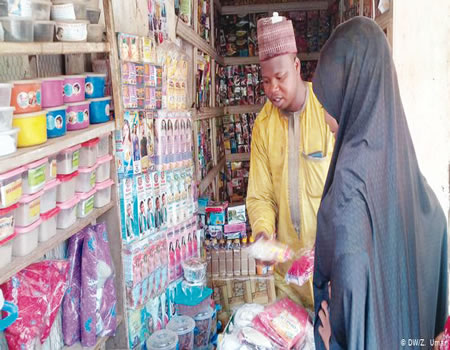 FOR a first time visitor to Sokoto, the mention of the word "Service" may sound like an ordinary English word. However, the word means only one thing to an average resident of the state, especially married men.
"Service" is also known as kayan maza or magani maza among others. They are all in the category of local sex enhancement products often patronised mostly by married men and Sokoto is reputed to have the best of the local aphrodisiac for both men and women. The customers as discovered by Arewa Live, patronise the products for different reasons.
Abdullahi Isa, 46, is a married man and according to him, he has been using "service" for more than twelve years. According to him he was a novice when it comes to women matters as of the time he got married, but soon learnt that he needed to spice things up in the bedroom in order to make his wife happy..
«I got married a bit late, I think I was around thirty three years old then. You know, coming from a very strict religious family, one was not used to certain kind of lifestyle. Our life as teenagers was from school to Arabic class and vice versa, no time for social life. So when I got married, everything about women was so strange to me, it was some of my friends who later told me the secret of the bedroom and how I will keep my wife happy.
"This is because once I did a round with my wife, I became so tired and usually slept off; this happened for some time until my wife opened up to me, saying she was not sexually satisfied anytime we had sex and that I should find a way round the issue.
"This prompted me to talk to my friends from where I got the solution. Immediately I told them, they all burst into laughter and said they have been waiting for a day like that.
"They brought out a pack of drug and ask me to use it before I get home, saying my wife will thank me after I make love to her and I will also feel satisfied.
"Lo and behold, that day was just like a honeymoon to me and my wife, we both felt happy and satisfied for the first time in our marriage. That was the beginning and up till now I still can't do without it," he added.
Also speaking, Alhaji Bello Nura, revealed that an average married man in the state patronises "service." He also disclosed that kayan maza as it is also called was introduced to him by his father many years ago when he newly got married so that he could do well "in the other room."
"You know it is more of a cultural thing to our people here to be physically and sexually capable and ready for our wives in the bedroom.
"Come to think of something, are you aware that when a woman is getting married, her family, especially her parents, normally prepare what we call "kayan mata" for her to make her emotionally ready for the duty of a newly married woman.
"Imagine if a man does not prepare himself well for such task, the woman will just be making jest of him or rather such marriage may not last. That is one of the reasons we make use of "service" to enhance our performance," he explained.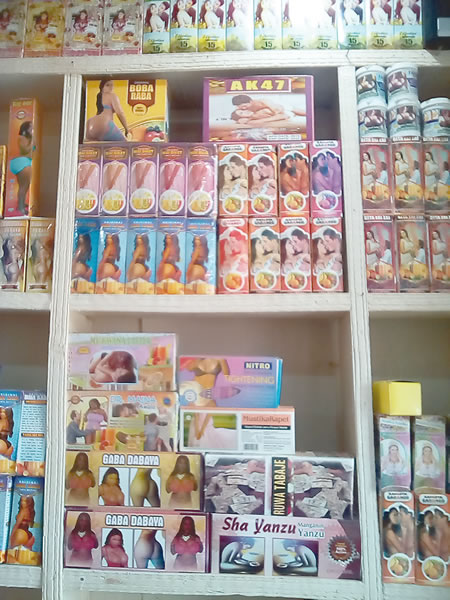 Nura, however, told Arewa Live that some people misconceive the idea of using "service" as some "people will be looking at you somehow whenever they see you buying it, whereas they are only pretending as they also make use of it. It is cheaper than the orthodox ones; they are very effective and come in form of chewing sticks, perfumes, powdery substances and many others.
When asked why "service" is very popular among men in the state, he stated that it is socio- cultural and very widespread throughout the Northern part of the country, narrowing it down to marital affairs.
"I am sure you know most people in this part of the country have between two and four wives. The belief of our wives is that whenever you sleep in the room of her rival, you must have done something together.
"Why will you now assume that you won't do such with her when it comes to her turn? Even if you didn't prepare for sex, they must have surely prepared for it themselves and you have no way to escape the trap.
"So my brother, you have no choice than to prepare yourself for the task. To be frank, an average man in the North has sex daily or at worst four to five days in a week. Now tell me, where the strength will come from if one doesn't make use of "service" to enhance his performance," he added.
Alhaji Nura Sanusi, a businessman who sells different types of the medicine including kayan mata, also spoke with Arewa Live on the business side of the local aphrodisiac. Some of his former boys are now big time dealers in 'service'. One of them is the popular Abubakar Sifawa.
"I started this business even before I got married, that was about twenty years ago and it has been a success story so far, though with one or two challenges which is normal in every situation.
"I have never seen or heard of any business that is as lucrative as this business of selling what I sell here. From this business, I got married twice; I have been to Hajj three times from this same business.
"I have been able to build about three different houses from this medicine business also. Three of my children are graduates while one of them is currently pursuing his Master's degree abroad.
"Can you please tell me if I have achieved something or not when compared with my mates who are medical doctors, engineers, politicians or even you journalists; so I am happy to tell you that I am happy doing this business," he said.
According to Alhaji Sanusi, he makes between N15,000 and N20,000 on a daily basis while some of the time, he makes far more than that.
"As you can see, if it is only this provisions and cosmetics I sell, my brother I would have closed this shop because of bad market and hunger, but thanks to " magani maza" which has helped me to live up to standard," he added.
He also added that surprisingly many women also buy for their husbands adding that "to be candid, some of the women you see know the best and most active of these drugs. Sometimes they are the ones telling us on what type of the drugs we should buy or have in stock because of their deep knowledge about the drugs.
"Also, some of our old men are not left out in the purchase of these drugs. You will be surprised that a man of around 80 years of age still patronises the drugs to enhance their sexual performance with their wives.
"They must make use of it or how do you expect them to satisfy up to four wives without using drugs to enhance their power. Don't also forget that most of these women also used kayan mata which literally means one must be physically and emotionally ready for the task.
Meanwhile, a medical practitioner, Dr. Abubakar Aliyu, who spoke with Arewa Live on the use of local aphrodisiac, condemned it, explaining that a lot of negative side effects are related to it in the long run.
He compared those who often use them with chain smokers, drunkards and drug addicts, noting that they often lack confidence or strength to do something unless they are under the influence of a certain substance.
According to him, "you know some people will tell you that they can't do anything without taking one or two bottles of beer, same goes for smokers or others always under influence.
"There are also several cases in hospitals where people use drugs and big problems often result, either to the husbands or the wives.
"There was the case of a man who used an overdose of the drug; you know it has no prescription or measurements of how to use it. It took him more than 24 hours before his privates came back to normal."
Dr Aliyu, however, said it is better not to become addicted to any substance and if need be, if there is any problem or deficiency in any area it is better to see a doctor.
"I will advise people, either married or not to report their problems to a competent medical practitioner who will know the best medicine or treatment for such persons," he advised.