Shun drug abuse, Mrs Obaseki tells youths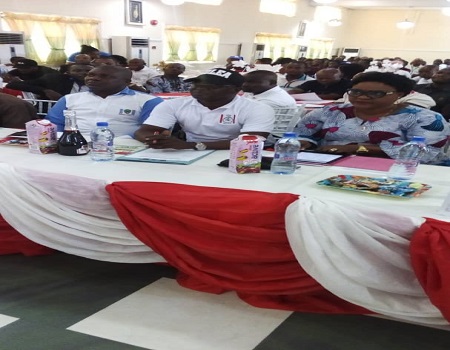 WORRIED by the increasing cases of drug abuse among the youths, the wife of Edo State Governor, Mrs. Betsy Obaseki has advised youths to shun drug and substance abuse.
MRS Obaseki who spoke in Benin yesterday at the occasion of the 2018 International Day Against Drug Abuse and Illicit Trafficking lamented that the abuse of prescription and non-prescription drugs has assumed a crisis dimension.
She told the large gathering which was comprised mostly of students and stakeholders from across the state that the growing abuse of prescription and non-prescription drugs was an impediment to realizing their future.
She said: "In our community, the effects of drugs are evident. The abuse of codeine cough syrups, tramadol and Rohypnol to mention a few is fast assuming a crisis dimension."
The wife of the Edo state governor noted that narcotic drugs and psychotropic substances have become commonplace thereby placing greater responsibility on stakeholders.
In her words: "Students are dropping out of schools on account of drug use. Children are becoming disobedient and deviant in nature. Spouse battering and broken homes have also been traceable to substance abuse. Others have damaged their organs leading to premature deaths. Drug use is also linked to heinous crimes like murder, arson, rape and cultism."
ALSO READ: Three natural steps to whiten your teeth
She noted that the theme "Listen First – Listening to Children and Youths" was very apt as it is aimed at encouraging preventive drug use that is based on science.
She said: "It brings to the front burner the fundamental role of parents and other agents of socialisation in the upbringing of children. I am glad that we have a large number of students from different schools in this event and I commend the National Drug Law Enforcement Agency [NDLEA] for mobilising these students."
Mrs. Obaseki urged parents to consciously prepare children who are future leaders for the daunting responsibilities ahead of them.
According to her, childhood is a period of significant development and a great opportunity, observing that as children advance through adolescence, they grow, explore, and have the chance to realize their individual unique potential.
While calling on the students to be responsible and cultivate a successful mindset, she remarked that as adolescents, they are vulnerable to unhealthy behaviours, including using drugs, alcohol and tobacco.
"Parents can give good advice and pay expensive school fees but the final forming of a person's character lies in their own hands. Students, I want you to learn to be responsible. I charge you to cultivate the right perspective to becoming accomplished. Merely wishing to become a medical doctor is one thing but it is another to take the right steps towards becoming a medical doctor."
Mrs. Obaseki told the students to define their goals, choose friends that support their mission, spend every minute working towards the goals and learn to say no to people and suggestions that are not important to the actualisation of their vision.
She added that winning the fight against substance abuse demands education and proper enlightenment about the dangers of drugs, pleading that all stakeholders must get involved at different levels.
She pledged to partner with the anti-drug agency in anti-drug abuse public education and counselling.
She said: "On my part, I will partner with the NDLEA in organising lectures and youth programmes on drug use prevention. This will provide children and youth with skills and opportunities as well as support science-based prevention to make them happy and resilient. We also hope to offer parenting skills to families and teaching social skills at schools."