She never loved me; threw her ring at me, walked out of our relationship-Husband
•He beat, left me with bloodshot eye, called me he-goat 'cos I don't have a child —Wife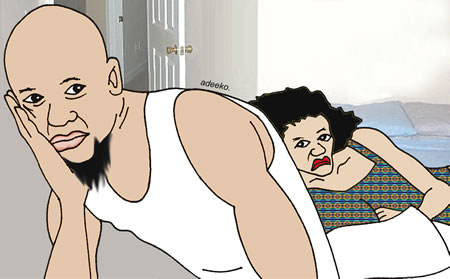 He promised to love and cherish me no matter what the situation was. A year and a few months after we got married, he took to scorning me, calling me a he-goat because we are yet to be blessed with a child."
"She once threw her engagement ring at me and walked out of our relationship. She has never loved me which explains her reason for not wanting to have a baby for me."
These were some of the claims and counter claims made by Rukayat Adedoja and Abdulafeez Adedoja at the Oja Oba/Mapo Court C Customary Court, Mapo, Ibadan, Oyo State.
Rukayat had approached the court, seeking that it stopped her one and a half year-old marriage to her husband on the accounts of irresponsibility and battery.
Abdulafeez when the claims were read to him conceded to divorce.
"My lord, I'm fed up with my husband. I'm also no more interested in our marriage because I derive no joy in it," Rukayat told the court.
"It's been hell living with my husband who treats me like a goat.
"Abdulafeez displays no love towards me. He does not care about my feelings. It's been long since we sat, played or discussed as husband and wife because he's not always at home. My husband has cultivated the habit of returning home late and when he's back, he turns the whole house upside down.
"He picks up a fight on trivial issues and beats me blue black. On many occasions, I go about with bloodshot eyes as a result of the blows he gives me.
"Abdulafeez would sometimes send me out of the house and on to the streets late at night after beating me. He would lock the door behind him and turn deaf ears to my plea and that of our neighbours who are now fed up mediating in our differences.
"Worse is the manner at which he scorns me. My husband has a caustic tongue which he uses in lashing me. He calls me either a he-goat or barren woman whenever we have a misunderstanding because I'm yet to have a child for him. This makes my heart heavy.
Untold stories of trials and triumphs of Tribune through the years
"My lord, I plead that you separate us so that I don't end up being depressed," the plaintiff stated.
"I agree to divorce, my lord," Abdulafeez told the court.
"Rukayat has never loved me. I'm the one who has consistently shown her love but she never appreciates me.
"My lord, she threw the engagement ring I gave her at me and walked out of our relationship a few months to our wedding.  She insisted our relationship was over and only came back after our parents mediated in our differences.
"Rukayat is not interested in having children for me since she doesn't love me. She has never shown any longing or desire to have children which is unusual with women.
"She suddenly took to fighting her rival and was always rude to her. The last time they fought, Rukayat would have stabbed her with a knife but for my timely intervention.
"My lord, my head hit her nose as I was struggling to take the knife from her and she bled. I have never beaten her in my whole life," the defendant concluded.
Giving his judgment, the court president, Chief Ademola Odunade, observed that their marriage had broken down irretrievably.
Odunade added that it was imperative that their union be dissolved since it involved violence.
Ruling, Odunade dissolved their union. Both parties were asked to maintain peace.