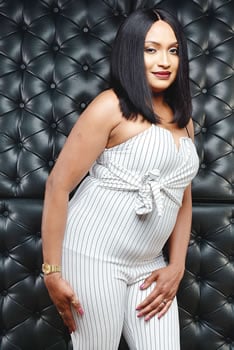 Nigerian UK-based Afrocentric soulful Jazz queen, Folashade Aboderin, popularly known as Shady Blue, is back after a long hiatus with a new single No Fall my Hand from her upcoming EP.
According to the songwriter, the new single produced by TeeBeeO, who has worked with the likes of Dbanj, JJC, Davido, Dammy Krane, Kayswitch, Shakar EL, Jaymalik, will be released online music platforms such as, iTunes, Apple Music, Amazon Music, Google Play, Spotify, Napster, 7digital, Emusic, and MediaNet.
She added that she and other producers, Pastorchild and 2Kriss are currently putting finishing touches to the EP.
Sharing her experience on the switch from Soul music to what she described as Afrocentric Soul/Pop, has been an awesome experience,  she said: "This is my first attempt at the commercial sound of Afropop/Afrobeat and I think I am enjoying the genre of music at the moment, because it is trendy. The new single is blended with English, Yoruba and Igbo languages."
The Oyo State-born singer, who was influenced into the industry by her father, a renowned Jazz musician and producer in Nigeria, is also warming up for her music tour of Africa later in the year.