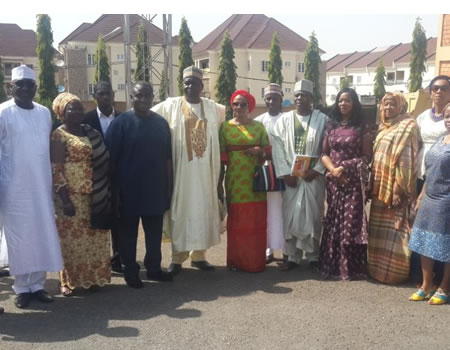 The Director-General, National Council for Arts and Culture, Otunba Segun Runsewe has commended the designers of the Wuye ultra-modern market in Abuja.
Runsewe, who was the special guest of honour said this during the opening of the 3rd Wuye annual trade fair held in Abuja.
He said that the market has a friendly environment for business with over 1600 number of lockup shops, a well- furnished fire station which will serve the whole of Wuye district and its environs.
This year's Wuye trade fair was declared open by the former Director-General of the National Orientation Agency, Mr Mike Omeri who appreciated the market management, All-Purpose Shelters limited and Abuja investment company limited for making the idea a reality and even sustaining the event for three consecutive years.
In his address, he said this trade fair which focused basically on fashion and art exhibition is channelled at promoting, made in Nigeria goods which can be enhanced to compete at the international platform.
"This edifice has generated employment opportunities for many youths from the security personnel to the artists, all of who deserved to be commended. He said this market is the network of new opportunities for entrepreneurs
In her remarks, Mrs Yemi Suswam, wife of the former governor of Benue State thanked the personalities that graced the occasion, promising to ensure that the market facilities are treated with utmost care and maintenance.
"To ensure the internal security of the market, there is an existing police post within the market. In like manner, the clinic is strategically positioned to cater for the health challenges in the market and indeed the entire Wuye district," she noted
Other primary facilities include; the crèche, laundry, meat stall, chicken stall, Farmers' Market, GMS/Computer repair, cool room, warehouses, Business Centres, Banking Halls, public toilets and workshop centres for the general public.