Residents panic over snack allegedly made of rat meat
•'Rat pie' not safe for consumption —Medical expert •We'll investigate —Govt
BOLA BADMUS, SUBAIR MOHAMMED, SHOLA ADEKOLA, AKIN ADEWAKUN and TUNDE DODONDAWA checked with communities and returned with intriguing stories of the fear of rats serving as the beginning of health wisdom.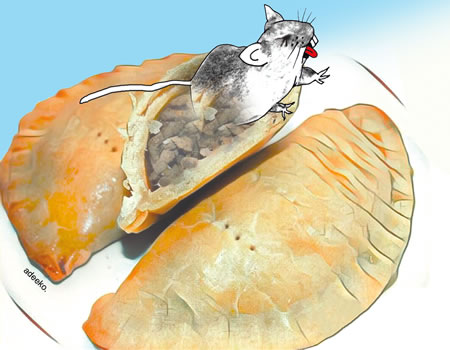 FOR some families and communities in the south-western part of Nigeria, rats are a delicacy. For many, however, the mere sight of the rodents is enough to ruin their day. But for both the eaters and the haters, there is hardly any home or community where you don't find the ubiquitous creatures in different sizes and despite being different in nature and species, people hardly worry beyond the desire to rid the environment of them all. Well, that was before the advent of Lassa fever, which is said to be caused by a special breed of rat known as the Mastomys natalensis or multimammate and the infection is gradually becoming a yearly problem during the dry season, when this particular breed of rats invades homes and contaminates everything they come in contact with.
Expectedly, there has been an outbreak this year and an index case victim has been identified in Nigeria's most populous mega city, raising concern and fear among the over 20 million residents of Lagos State.
Lassa fever is now deemed an indigenous disease to Nigeria because of its yearly occurrence and as stakeholders rally to contain it, the campaign against rat eradication has heightened everywhere, considering that the disease, described as a hemorrhagic virus, could afflict without the carriers knowing. At least, eight out of 10 people with the virus have been said not to have shown any symptoms, giving it room to affect their liver, kidneys or spleen, resulting in fatality.
Basically, the disease is transmitted through the urine and droppings of infected carrier rats, which are able to contaminate anything they come in contact with: surfaces, food and water. And they are prolific breeders. A female Mastomys rat can produce between 98 and 156 babies in one year.
The Lassa virus also spreads through human-to-human contact with tissue, blood, body fluids, secretions or excretions. This includes coughing, sneezing, kissing, sexual intercourse and breastfeeding. In hospitals, the disease is spread through contaminated equipment.
People become ill six to 21 days after they are infected. A fever is usually the first symptom, followed by headaches and coughing, nausea and vomiting, diarrhoea, mouth ulcers and swollen lymph glands. Some patients also complain of muscle, abdomen and chest pains. And later, patients' necks and faces swell and they bleed from their orifices and into their internal organs.
Enter Otumara community
Otumara community in Lagos Mainland Local Government Area is, by all standards, regressive when compared with other communities in the state. Apart from the challenges of lack of basic amenities such as potable water, toilets and a senior school for the community of over 500,000 inhabitants, the water-logged community, which occupies a filthy and unsanitary space is fast becoming a breeding hub for rodents, particularly rats which some residents claim are being used to prepare snack food, thereby fueling the panic of possible outbreak of Lassa fever among residents.
Some of the residents who spoke to Saturday Tribune alleged that rats which exist in large numbers in the Ilaje community are used as an ingredient to prepare 'rat pie' which is sold to people for consumption.
A resident who identified himself simply as Azeez claimed that for many years, he had been hearing about 'rat pie' being sold in the community but he had yet to see where it is being produced. Advancing reasons for the innovation of 'rat pie' as a delicacy, he said rats in Otumara community outnumber human beings with an estimated population of over one million.
This, according to him, explains why the pie makers usually choose them as one of the ingredients for the snack.
"Rats are a common sight in Ilaje community. They are everywhere running around the community day and night. They live with us in our houses, under our beds and in the plumbing pipes. This is caused by the open defecation in the lagoon many of us engage in and the unhygienic environment. One of the leaders in the community erected a wooden toilet on the lagoon where residents in the community pay to defecate. And as you know, rats thrive in unclean environments. They outnumber human beings in this community. Our environment is not clean. If not that we are in dry season but you must have seen how marshy the environment is. There is dirt everywhere. No potable water.
"The wet land does not allow for borehole to be sunk therefore we buy water from our baale to drink, bathe and for other domestic use. There are no toilets and other basic amenities. No secondary school for our children, too. The entire community needs a clean-up to prevent an outbreak of Lassa fever. Just imagine entering your room after a hard day's work and what stares you in the face is a fat brown rat sitting on your centre table and eating away your meal."
A community leader who pleaded for anonymity lent weight to the claim made by Azeez and other residents concerning 'rat pie'. He, however, claimed that he was yet to come across one.
But is 'rat pie' truly being prepared and sold in Otumara community? To unravel the truth behind this claim, Saturday Tribune took a walk around the marshy community in search of 'rat pie' vendors with the help of a guide, one Ayinde, without whom traversing the community would have been impossible. Apart from the filth and stress of walking the unkempt and unhygienic environment, all buildings appear similar with no sign posts or house addresses to distinguish one from the other.
Saturday Tribune team went from house to house inquiring about how to locate any snack shop around. Eventually, the effort yielded partial fruit as the team located a baker whose husband, Alhaji Afis Olonisakin said is into fish pie and not 'rat pie'. Saturday Tribune correspondents didn't have a bite for confirmation.
While denying any knowledge of 'rat pie' being prepared and sold in the community, Olonisakin said: "Maybe it is being sold by itinerant snack vendors that visit the community but I doubt if such a thing as 'rat pie' exists here in Otumara community. My wife sells fish pie and doughnuts which she prepares by herself. I have never heard of such a thing as 'rat pie' and even if it exists, it is definitely brought into the community by some vendors from the outside".
If the community is home to the special delicacy, then its production is either a well-guarded secret or the location is being well kept out of prying eyes. But so many residents have heard about it, and they say there is no smoke without fire. A more sophisticated surveillance may be required to save countless souls from possibly using their money to purchase what could be the proverbial last meal.
Considering the argument that a well-cooked rat is safe for human consumption, Dr Olatayo Mahmud of the Military Hospital, Ikeja, Lagos, said eating rodents in whatever form is not advisable. According to him, some bacteria and viruses can withstand heat above cooking temperatures.
He said, "Rats are not healthy for human consumption. It is harmful to human health. Aside from this, the cooking may not be thorough and some bacteria and viruses can withstand heat above cooking temperatures."
'Why we are afraid'
Lagos is always considered an endangered zone once contagious health crises break out anywhere in the world due to its population and its status as an international gateway for the country. The scenario has been similar for Lassa fever, only that this time, the concern of the residents is more about the activities around them than the likelihood of a visitor importing the disease into their midst.
The confirmation of the case of an infected person has now heightened their worries, due to environmental factors they believe could bring the Lassa rats closer to them. The anxiety is rooted in the heaps of refuse in many streets in the state due to the failure of the Private Sector Partnership (PSP) operators in many areas to resume picking up of refuse.
According to Mr Ugwuoke who lives in the Egbeda, there is the need to be worried because of the high rate of rodents and other reptiles now struggling for space with human beings, unfortunately made possible by the heaps of refuse taking over major streets in the city due to the irregular activities of the PSP operators. For Ugwuoke, it will be suicidal for both the federal and the state government not to prevent the spread of the disease to Lagos.
Mrs Shade Saliu, who sells tomatoes and pepper at Shasha, said residents have every reason to be fearful about the spread of the disease to the state. Pointing at a heap of refuse nearby, she lamented how the garbage had remained for seven weeks because the PSP operator assigned to do the evacuation on a weekly basis refused to show up.
Saliu said despite her lack of formal education, she was aware that the presence of smelly refuse attracts dangerous animals like snakes and rodents which find their way to the refuse sites to feed. Saliu maintained that these rodents use the opportunity of the dirty environment created by the abandoned refuse to access homes where they have contact with foodstuffs through which they transfer the Lassa virus to people.
Mr Sanmi Ajileye thanked God that the disease had not got to Lagos. Ajileye, who lives in Bammeke, urged the state government to urgently do something about the heaps of refuse in many parts of the state, including his area, where he claimed that most of the PSP operators assigned to rid the place of refuse failed to carry out the responsibility for up to seven weeks at times.
Lassa in Lagos
Health authorities in Lagos, Nigeria's most populous city, had announced that a person was diagnosed with Lassa fever on February 17 and was being treated in isolation. According to the state government through its Twitter handle, "sixty-three people that may have been in contact with the patient and who may have been infected in the process have been identified and are being monitored."
Since the confirmation of the spread of the disease to Lagos, residents have resorted to blame game, accusing the government of relegating the principle of environmental cleanliness to the background at the expense of human lives. Many residents who spoke to Saturday Tribune attributed the spread of the disease to Lagos to the filthy nature of the most populous city which they argued was brought about by the failure of the PSP operators assigned by the state government to evacuate the refuse dumps.
When Saturday Tribune undertook a tour of some parts of the state, including Bammeke/Shasha community under Alimosho Local Government Area, heaps of refuse were observed in streets with some almost blocking the frontage of many residential buildings.
According to many residents, the majority of the PSP operators allocated to Bammeke areas in particular don't show up, contrary to the agreement they signed with the state government on evacuation at least once or twice monthly. When asked the last time the PSP operators came to evacuate refuse in the area, the residents only pointed at the mountain of refuse in the various streets as evidence of their claim.
It is the same story in other parts of Lagos. Mrs Seun Kehinde who resides at Raji Oba Street has this to say: "PSP operators should clear our bins twice in a week as against the once-a-week they are doing right now. In my street, Raji Oba Street, you can see refuse being dumped by residents indiscriminately due to the fact that bins in their various houses are filled up and spilling all across the buildings."
She urged the state government to embark on mass orientation for residents to know the dangers of Lassa fever and the need for them to keep their environment clean and safe at all times.
Another resident, Mr Faleke Animashaun, blamed the past administration for mishandling the waste disposal system which he said had resulted in filthy environment. He, however, said the only thing the government could do was to ensure the waste collected from the communities are well and promptly disposed of.
"Government is a continuum and that is why the present government should correct the wrongs of the past and ensure that waste management is top-notch this time around. We can't afford an outbreak of Lassa fever or any epidemic in Lagos because of our population.
"Lagosians should keep the environment clean at all times. We should ensure that wastes are properly disposed of and our foods are well covered to prevent rodents from infesting them," he said.
He urged the state government to be proactive in terms of health policy by ensuring that public hospitals are well funded and equipped with basic infrastructure to handle outbreak of any epidemic, "considering the fact that there is another virus called Coronavirus which broke out in China but now discovered in Cote D'Ivoire."
A market woman who identified herself simply as Mama Daniel said: "It is only God that has been keeping us alive and protecting us. You can see (the heap of) refuse in front of our market. Although they will come and clear it before evening, it should not have been put in front of our market in the first place.
"People sell and eat food here, both cooked and raw, yet we can't do anything because we can't fight the government. We sweep the market every Thursday and I think we are doing our best to keep the market clean and tidy."
Emeka, a food stuff trader on Oba Falabi Street in the Ojodu/Berger area, said rats were not a threat to any of the food items he deals in.
He told Saturday Tribune that rats would not dare enter his shop, arguing that the type of big rats that are seen in the gutters and on the market streets could hardly be seen entering the shop. He maintained that gutters and streets remain the environment where they prefer to live. As Emeka was being engaged by Saturday Tribune, a very big rat was seen playing around the frontage of his shop and his attention was quickly drawn o it.
"Yes, I know what you are talking about. This kind of rat doesn't enter my shop. You will always see them around the gutters looking for leftovers and things like that. I have no problem with rats. They don't enter my shop and I don't use rat poison, of course," he claimed.
'Only compulsory monthly sanitation can halt Lassa fever spread'
The chairman of Olorunto Landlords/Tenants Association, Mr Matthew Olusegun Ajala, said the situation at hand had made it imperative for the state government to re-introduce the monthly environmental sanitation exercise usually observed between 7 and 10 o'clock in the morning of every last Saturday of the month, if it sincerely plans to prevent the spread of Lassa fever in the state. He expressed the belief that such a step would make the city cleaner since it would force residents of the state to stay at home and observe the exercise within the period.
"I think reintroducing the monthly environmental exercise will work since it is obvious that a lot of Lagosians no longer care about cleaning their surroundings, especially on environmental days, since we no longer do movement restrictions on the day. Let the state government reintroduce the exercise and restrict movements, even if it is going to be for two hours, instead of the regular three hours, to ensure compliance," Ajala said.
He called for the involvement of all stakeholders in the state. According to him, while both the state and local governments have a role to play in terms of sensitisation, residents, also have a part to play by ensuring their environments are clean. He said he had already commenced talks with other officials of the association on the need to ensure that the environment that they oversee does not become vulnerable to the disease.
"For instance, we have met and discussed the need to make sure that landlords and tenants here keep their surroundings clean by ensuring proper disposal of their wastes. Our plan is to educate the people around that refuse removed from the gutter should be packed inside a sack and dispose of whenever the waste trucks are around. And I believe that brings us to the issue of residents paying their refuse dues promptly. This is very important because if you are not paying your refuse fee, you are not encouraging the PSP operators to come. Besides, we plan to be going from house to house on the street to inspect the gutters, and any building that is found wanting, we will call the attention of the to the fact that his or her building is constituting a health hazard to the community. I will also advise that individuals find a way of getting rid of rats in their surroundings.
"When I first got here, we had a lot of rats in this place. But what I did was to make a conscious effort at eliminating them and this I achieved by applying different anti-rat solutions. Now the whole place is rat-free and my neighbours are surprised," he stated.
He, however, believes that the state government still needs to take more steps if it hopes to prevent the spread of the dreaded disease, one of which is to sanction areas that are naturally dirty.
We will investigate –Govt
The Commissioner for Information and Strategy, Mr Gbenga Omotoso, in a brief interview with Saturday Tribune, said, "I have not heard such report [of 'rat pie']. Don't believe this kind of report. You should first of all find out the source of the report because social media wants it to be established in the minds of the people and we are of the serious media, we don't have to follow the story. Why don't you let us find out whether it is true? Let us find out."
When asked about Lassa fever, he said, "The commissioner (for health) has spoken on that several times, even at press conferences. Just go back to what he said; it has not changed. We are prepared for it. We have quarantine centres. We are watching people coming and going out and any suspicious case we find, we follow up immediately. We are at alert and we are encouraging our people to keep personal hygiene. They should wash their hands. They should cook their food very well. They should watch the water they drink. They should not toy with rats. They should dispose of dead rats properly. They should cover their refuse bins."
On communities like Otumara and dirty markets, Omotoso disclosed that "there is an advocacy going on as I speak with you. It is headed by the First Lady and the council consists of wives of officials of Lagos State. They are holding meetings with market women and leaders to see how they can keep their markets clean so that there won't be problem of Lassa fever or any health challenges. Everywhere there are shanties, government has given some of them quit notice; that they should leave. I am not going to be specific about these places but there is a policy that the shanties have to be taken out."