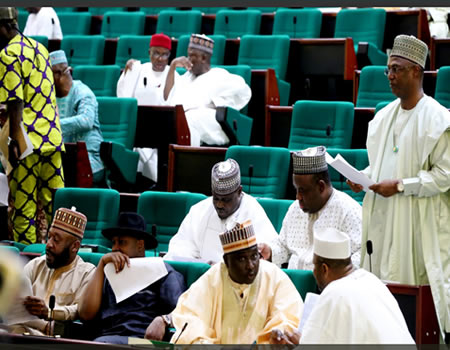 THE House of Representatives demanded for a reduction of the age requirements for employment into the Ministries, Departments and Agencies MDAs of Federal establishments lamenting that it had led to technical disqualification of eligible applicants for employment.
This followed the adoption of a motion under matters of urgent public important moved by Hon. Babajimi Benson on the matter on the floor of the House at the plenary.
The law maker while debating the motion stressed the need to review the age barrier in vacancies announced by Nigerian Police Force, Federal Road Safety Corps, Nigerian Prison Service, Fire Service, Standard Organisation of Nigeria and other federal government agencies.
The lawmaker further acknowledged the efforts of the Federal Government of President Muhammadu Buhari in trying to reduce unemployment ratio in the country through advertised vacancies by the government in Ministries, Departments and Agencies MDAs.
He pointed out that most vacancies in government establishments required that applicants must not be more than 30 years as at the time of applying for such vacancies.
ALSO READ: Obasanjo never forced me to resign as PDP chairman ―Ogbeh
The lawmaker expressed worry that with the unstable nature of Nigeria's educational system, it was difficult to determine and plan the age of graduation of students from tertiary educational institutions.
He argued that the discrimination of applicants on the basis of age was a breach of the fundamental human rights of citizens as contained in Chapter IV of the 19999 Constitution of Nigeria.
He also hinted that this anomaly would deny potential applicants the opportunity to be gainfully employed since the National Youth Service Corps scheme aimed at fostering nation cohesion begs its admissibility at 30 years of age.
The lawmaker also submitted that this development would result in old applicants into these MDAs falsifying their ages to benefit from available vacancies an action he noted would tint the integrity of the civil service.
He also expressed worries about the unemployment rate in the country and hinted that a report released by the National Bureau of Statistics in 2016 showed that the situation is prevalent for persons between 15-35 years of age.
While urging his colleagues to support the motion, the lawmaker argued that employment into the federal civil service ought to be by merit and competence after federal character considerations.
The House presided by the Speaker Hon. Yakubu Dogara consequently resolved that all MDAs should open their portal for applicants to apply and passed the motion with a voice vote.
The Speaker further mandated the House Committees of Labour, Employment and Publicity and National Planning and Economic Development to review the employability b criteria of all MDAs to ensure Justice on this matter while the House Committee on Legislative Compliance was mandated to ensure compliance to the resolution.